Thank you to our Writer's Fun Zone Guest Writers of 2018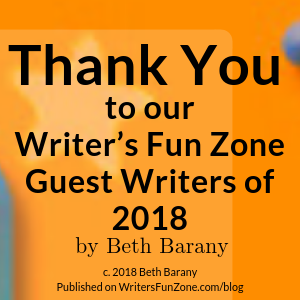 As part of my wrap up for 2018, I want to thank all my Writer's Fun Zone guest writers for past year. Thank you! Thank you for your sharing your passion with us!
I've listed the authors (and their bio) in alphabetical order by first name. Click on their 2018 article title(s) to read deeper into the topics they shared.
Some writers have been with Writer's Fun Zone for few years and are monthly columnists, but only their 2018 articles of listed out below. If curious to see their entire backlist of articles, click through to their complete lists.
If you'd like to inquire about writing for Writer's Fun Zone, go here.
The Writers of Writer's Fun Zone
Alice Gaines:
Getting the Author Off the Page by Alice Gaines

Alicia Rasley:
Why You Should Know The Grammar Rules… So You Can Break Them Better! by Alicia Rasley

Carol Malone: (A list of all of Carol's articles here)
What is Your Why? By Carol Malone
Finding My Own "Why?" by Carol Malone
Does Your Brain Always Storm With Creative Juices? by Carol Malone

Catharine Bramkamp: (All of Catharine's articles listed here)
The Magic of Journaling by Catharine Bramkamp
Good Reasons to Keep Journaling by Catharine Bramkamp
Double Vision: Vision Boards and Travel by Catharine Bramkamp
Writing Resistance: We Can Overcome! By Catharine Bramkamp
Making Mistakes: Why We Should by Catharine Bramkamp
Blogging on Books on Blogging by Catharine Bramkamp
Writing: Choose Your Weapon by Catharine Bramkamp
Literary Pilgrimage – Being in the Story by Catharine Bramkamp
What do you already know? by Catharine Bramkamp
Building a Fantasy World by Catharine Bramkamp
The Journey is the Story by Catharine Bramkamp
What is Transformative Journaling and Why is it Different from Regular Journaling? by Catharine Bramkamp

Chloe Adler: (All of Chloe's articles are listed here)
An Expensive VA Mistake by Chloe Adler
Burnout: The importance of Taking Breaks by Chloe Adler
How To Focus When Writing or Editing – Finding What Works for You By Chloe Adler

Crystal Jo Reis
How Did I Write This Thing? Jane is Everywhere by Crystal Jo Reiss

Debb Stanton:
How to Develop a Thick Skin by Debb Stanton

Delton Rhodes:
Blockchain Publishing: Improving Payments and Rights for Authors by Delton Rhodes

Ezra Barany
Book Marketing with Newsletter Swaps by Ezra Barany

Jordan Rosenfeld:
Staying Persistent on the Tumultuous Road to Publication by Jordan Rosenfeld

Kay Keppler: (All of Kay's articles listed here)
Say It with Subplots by Kay Keppler
Novelists, Don't Go It Alone: Try a Critique Group by @KayKeppler
Boost Pacing with Characters' Choices by Kay Keppler
Evoke Reader Emotions by Kay Keppler
Writing a Synopsis an Editor Will Read by Kay Keppler
Revise Your Way to Success by Kay Keppler
Dreams as Story Devices by Kay Keppler
Make 'Em Laugh by Kay Keppler
Find Empathy in Your Openings by Kay Keppler
Revealing Backstory through Nonverbal Communication by Kay Keppler
Find Your Character's Tipping Point by Kay Keppler
Lift Your Story with Character Archetypes by Kay Keppler

Kayleigh Alexandra:
6 Amazing Examples of Book Cover Art To Inspire Yours by Kayleigh Alexandra
Kelley Way: (all of Kelley's posts are listed here)
Trust vs. Corporations by Kelley Way
How to Manage a Copyright by Kelley Way
All's Fair in Love and War – But Not in Copyright Law by Kelley Way
Understanding Publishing Contracts: The Grant of Rights Clause by Kelley Way

Keri Kruspe (all of Keri's posts are listed here)
The Strange and Confusing Road to Getting Published by Keri Kruspe
The Strange and Confusing Road to Getting Published Part 2 By Keri Kruspe
To Be (wide) or Not to Be (wide)…That is the Question by Keri Kruspe
The ID of Promoting Oneself: The Strange and Confusing Road to Getting Published Part 4 by Keri Kruspe
OH NO! My Novel is Loose in the Universe…by Keri Kruspe

Margaret Lucke:
Learn How to Have a Life of Crime: Writing Crime Fiction By Margaret Lucke

Martin Haworth: (Martin's articles listed here)
A New Year, On Your Terms By Martin Haworth

MJ Post:
Tips on Food Writing by MJ Post
Nevada McPherson: (All of Nevada's articles listed here)
The New Countdown by Nevada McPherson
Harnessing That Lunar Power by Nevada McPherson
Deadlines Revisited by Nevada McPherson
Put Some Spring in That Step By Nevada McPherson
You Got the Look by Nevada McPherson
The Secret Gold by Nevada McPherson
The Prism Effect by Nevada McPherson
A Matter of Taste by Nevada McPherson
Now Boarding! By Nevada McPherson
Taking the Plunge by Nevada McPherson
It's All in the Journey by Nevada McPherson
Now What? (As If I Didn't Know) by Nevada McPherson

Rahima Warren:
Q&A with Rahima Warren

Tess Rider:
4 Formulas for Writing Taglines, Blurbs, and Teasers by Tess Rider

Tinthia Clemant:
Writing a Synopsis That Doesn't Suck by Tinthia Clemant
Vanessa Kier: (All of Vanessa's article listed here)
Help! I Bought Scrivener (Now What?) with Vanessa Kier
Scrivener, Why all the Fuss by Vanessa Kier
Setting Up Your Project in Scrivener by Vanessa Kier
Evergreen Links for Authors – Part 1: What Are They and How Will They Save You Time? by Vanessa Kier
Evergreen Links for Authors – Part 2 Three Free Tools for Creating Evergreen Links by Vanessa Kier
Three Tools for Planning Your NaNoWriMo Novel by Vanessa Kier
Apps to Keep Your Writing on Track by Vanessa Kier
Holiday Gifts for Writers by Vanessa Kier


Victoria Greene:
How You Can Use SEO To Generate More Traffic To Your Author Site by Victoria Greene

ABOUT BETH BARANY
Novelist, writing teacher, and coach, Beth edits Writer's Fun Zone and writes for it too. Many of her 2018 articles were re-published on Medium here.