Help! I Bought Scrivener (Now What?) with Vanessa Kier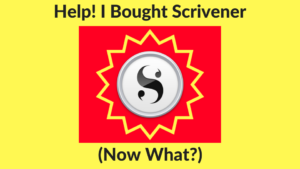 When I first wanted to learn Scrivener, I blocked off about 4 hours to pour over the tutorial, and figure out how I wanted to use the powerful writing tool.
I did finally figure out how I wanted to use Scrivener for planning and writing my novels, but I could have saved myself a lot of time and headache if I had taken my friend and fellow author and coach, Vanessa Kier's, course. (If it had existed!)
You can check out the details of Vanessa Kier's upcoming training here…
Learn the five simple steps to get you comfortable with Scrivener so you can get back to writing your novel. Join us for this webinar training with Vanessa Kier! http://writersfunzone.com/blog/scrivener-webinar/
***
Help! I Bought Scrivener
(Now What?)
NEVER FEAR!
This LIVE online class will teach you in 1 HOUR the SIMPLE STEPS for setting up your project in Scrivener and getting comfortable with its unique interface.
So you can start writing!
It's Time to Move Past the Excuses, Overwhelm, and Fear to Finally Learn Scrivener
Let's face it. Writing is more than simply putting words on a page.
Whether it's character descriptions or key resources for blog posts, you've got lots of pieces of information to track. And what happens when you want to rearrange the order of your pages?
Since you're checking out this class, you've probably heard other writers gush about Scrivener being one of the strongest tools in a writer's toolbox.
You're hoping to join the gazillions* of writers who have become more productive and organized with their writing by using Scrivener.
And yet, Scrivener sends a great number of writers screaming away in sheer and utter PANIC.
It's so different confusing weird!

It's so complicated!

It takes too much time to learn!
If you're reading this, you've decided to be among Those Who Did Not Flee. Congratulations. You have a brave heart.
This class will blow those excuses out of the water and get you up and running with Scrivener.
*My estimate only. This number is in no way endorsed by the Scrivener folks.
Time to bust some myths.
True or False? Scrivener is ONLY for writers who do extensive planning and outlining. FALSE
True or False? Scrivener is ONLY for discovery/organic/seat-of-the-pants writers. FALSE
True or False? Scrivener works for ALL types of writers. TRUE
***
"I was terrified, but … my curiosity about writing with Scrivener won out. I'm so glad I chose Vanessa, who makes Scrivener as easy as painting by numbers."
— Kathleen Casey (Writer)
***

To learn more and to register for this upcoming 1-hour training, go here. (Cool extras too!)
***
ABOUT VANESSA KIER
In her own words:
Wait. Who the heck am I?
Why should you learn from me?
Oh. Right. Need to do the bio thing.
I'm Vanessa Kier, Scrivener and tech coach for writers at The Writer's Tech Stop. I also write action-packed romantic thrillers, plus the occasional Tech Talk column.
I started off using Word to write and Excel to organize my character and scene details sheets, but it got too messy for me. Next I tried several writing-specific programs, because at that time Scrivener wasn't the robust tool it is today. But after losing work, I took another look at Scrivener. It had grown considerably, and so I switched.
I haven't regretted a single moment.
Now, in addition to using Scrivener for both my fiction and non-fiction writing (yep, I drafted this sales copy in Scrivener), I teach Scrivener to unsuspecting brave and enterprising writers.
I firmly believe that learning Scrivener can be fun.
Or at the very least playful.
Or at the bare minimum, less stressful than having your teeth cleaned.
***
Register for this upcoming 1-hour training, here. (Cool extras too!)
***
Check out the interview I did with Vanessa Kier's about Scrivener here.
MORE RESOURCES ON USING SCRIVENER on Writer's Fun Zone