The Strange and Confusing Road to Getting Published by Keri Kruspe
Today we welcome a new guest writer to Writer's Fun Zone, Keri Kruspe who is stopping by to chat with us today about "The Strange and Confusing Road to Getting Published."  Enjoy!
***
Session One – The Website: Beth Barany/Keri Kruspe on Tuesday, August 14th 2018
"Oh, what a tangled web(site) we weave," not to deceive….but creating a website is daunting, confusing, and downright scary.
Especially for those of us who are "technologically challenged" or "TC" for short.
As an aspiring, non-published writer, one of the first things I've learned is you must have a website to strengthen your aspirations to become a successful writer.
"Why?" you may ask. "All I want to do is write! I'll just put it on Amazon (or iTunes or Barnes and Noble, or….you fill in the blank), and sell my books there. I don't need a website for that."
Well, maybe that'll work for you, but the question is, what about your readers?
See, your website is for your readers….your "fans," once you've cultivated them. They need a place to connect with you (the writer of the worlds they love to visit) and discover what you are doing. It's a place you can announce to them about your next book coming out. A "heads up" place so they know months in advance when they can indulge again. A place where they can connect, not only with you, but with others who enjoy the same thing.
On the flip side, you have a great tool for your business. As a business owner (and yes, this is a business) you must take control, particularly if you will be an independent author.
Your website will house an invaluable key to your success: your mailing list.
Amazon may abandon publishing…Barnes & Noble may close….and iTunes may return to music.
While none or any of these things may happen, why take a chance?
With your own mailing list, it wouldn't matter if your venue of choice goes belly-up and deserts you. You will continue to have a viable means of keeping your writing dreams alive. It will be in your hands, not subjected to the whims of others.
Now, having said all that, how to get started on your website?
If you're lucky enough to know how to create and maintain your own domain, God love ya 'cause you're ahead of the game.
For those of us who are "TC," (technically challenged), it can be an overwhelming task. And being on a limited budget doesn't help.
So, I took a class from Romance Writers Association chapter (RWA), of which I'm a member, to learn how to create and put up a website through WordPress.
I was afraid that, because I suffer from "TC," I could only go so far.
I asked around (personally and on various Facebook pages) and finally broke down and hired someone to "tweak" it for me.
Let me tell you it wasn't cheap. But still, was the site ready to go? Was the layout, themes and colors right for my genre?
The only way to know for sure was to ask an expert. So who did I go to? That's right, I asked my writing coach, Beth Barany.
You know, that Beth Barany, of Barany's School of Fiction. On August 14th of this year, Beth sat down with me to go over my site and give me some invaluable advice.
Here's a brief overview of the important suggestions she gave me.
Self-Hosting
As I mentioned, I used WordPress for my site, but that's only half the story. You need a "host" to run that site (I went with Bluehost) This host gives you a lot of flexibility to make changes. It allows you to customize the design for your site.
Tagline
Your brand, a one-sentence statement of who you are is splashed across the home page. My tag line is "Author of Otherworldly Romantic Adventures." Hopefully from that, you'll be able to guess what I write.
Colors
The colors have to be eye catching and pleasing. Beth loved the overall color of my page but got stuck on the "blue" accents. I'm not sure if I finally found the right shade, but I can go in anytime and play with it.
Navigation Buttons
The buttons on the first page read, "Home," "Books," "Blog," "About" and "Contact Us." She thought they were great since we don't want to give too many choices. But, some customization was needed. So I changed the last two. The button "About" changed to "About Keri," to make it a little more personal. "Contact Us" changed to "Contact Keri." She reminded me the page was for my readers and they might want to contact me and write me some fan mail. (Eek!)
Call to Action
At the bottom of the page is my "call to action" that encourages visitors to sign up for my mailing list. After looking at the layout, Beth had some suggestions. The top should be my "hook." (Here, I asked the reader a "what if" question.) Then the covers of my upcoming books are displayed in their magnificent glory. Below the books, I ask, "Want to know when you can find out…" and below that question, I simply invite people to my mailing list. There they can do it by pressing the red "Subscribe Now" button. Easy, peasy!
Test Run
Here Beth clicked the subscribe button so we could see in real time what happened. The person who tweaked my site put in a "MailChimp" plugin. MailChimp is an automated email platform that helps keep track of campaigns. I'm happy to say, Beth is now on my mailing list!
Conclusion
So, where am I now? Well, after our conversation, I'm happy (scared) to say my website is live. I can't tell you how nervous it made me to hit that "published" button and let it loose into the world. But, nothing catastrophic happened and I feel better about my site after getting Beth's help.
My advice: Don't let the fear of being "tangled" up in something prevent you from letting your creative self out into the world. Your writing dreams are worth sharing.
***
ABOUT THE AUTHOR
Keri Kruspe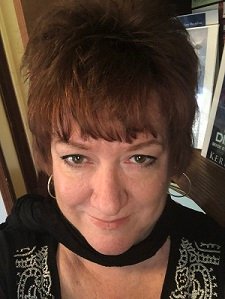 has been an author since the age of twelve and has always been fascinated with otherworldly stories that end in Happily Ever After. Her current works, An Alien Exchange trilogy will have its first release by Winter 2018. The trilogy conclusions — D'zia's Dilemma and Ki's Redemption — will soon follow by the first quarter of 2019.
As a native Nevadan, Keri now resides with her family in the wilds of Northwestern Michigan. An avid reader, Keri enjoys good wine, good food, and watching action/adventure movies. You can find her most days immersed in her fantasy world of writing or traveling with her hubby in their RV, discovering intelligent life here on Earth. Don't forget to visit her website at www.kerikruspe.com. Leave your feedback and sign up for her newsletter!