Taking the Plunge by Nevada McPherson
Let's welcome back monthly columnist Nevada McPherson as she shares with us "Taking the Plunge." Enjoy!
***
I've read about people doing it and it's an extraordinary challenge, but I've never really done it myself.
This year however I'm going to take that challenge. It will be hard, I know. Sometimes it's bound to be frustrating and I might even wonder what I've gotten myself into. Sometimes I'll get stuck and perhaps even a little cranky. The only regret I would have, however, is not doing it.
What is it, you ask?
Taking the Plunge — NaNoWriMo
I've made up my mind to participate in this year's NaNoWriMo, the challenge where hearty and fearless writers commit to writing an entire novel during the month of November. Many of you may be doing this, too, and some of you may have already done it numerous times. I salute you for your courage, and this year I'm proud to join you!
I wrote in an earlier post about how I plan on adapting one of my screenplays into a play. I'm still working on it but this year I feel motivated to write a novel as well, so I'm putting the play project on the back burner and turning the heat up on some good old-fashioned prose. This means I might not get much sleep in November (hence the aforementioned crankiness) but that only means that the occasional nap will be in order and that suits me fine. The end justifies the moodiness.
Not only am I excited about the prospect of writing a novel in one month, I'm relieved that this limited amount of time means that at the end of the month I'll have a completed work. Even if it is rough, it'll be finished. It has to be, or it won't count for the challenge.
(It'll count for something all right, but it won't for the NaNoWriMo).
I'll also be honing my writing skills and upping my level of discipline and my confidence. I'll finish 2018 strong so that 2019 will be even stronger.
What will my novel be about?
That I'm not sure about just yet. I read an article in Script Magazine the other day, encouraging screenwriters to adapt their screenplays into novels, so thanks to Script for the inspiration!
If you're thinking "Oh, no—another screenplay adaptation? That's not the same as starting from scratch," I beg to differ.
As mentioned in the article, the screenplay serves as a great outline, but as I've discovered with the as-yet-unfinished play project, the two forms are so very different. It feels like starting from scratch, so it might as well be. In fact it's really better if it is.
So I don't know yet what the subject of my novel will be, but I'm thrilled at the prospect, and I can't wait to get started.
I'd love to know if any of you are participating in NaNoWriMo, and if you've done it before, please comment and share your thoughts.
Here's to a fabulous, productive autumn and a wonderful writing adventure!
***
Good luck, Nevada!
Editor's note: Want more tips on getting ready for Nanowrimo? Check out the tips here.
***
ABOUT THE AUTHOR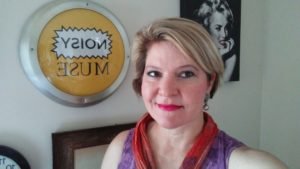 Nevada McPherson lives with her husband Bill and rescue Chihuahua, Mitzi in Milledgeville, Georgia, where she is an associate professor of Humanities at Georgia Military College. Nevada received a BA in English/Creative Writing and an MFA in Screenwriting from Louisiana State University-Baton Rouge. She has written over a dozen feature-length screenplays, plays, short stories and the graphic novels, Uptowners and Piano Lessons. Queensgate, the sequel to Uptowners, is her third graphic novel. For more information, visit www.nevada-mcpherson.com.