Are Author Websites Still Necessary in 2022? by Dave Chesson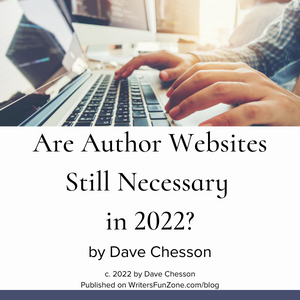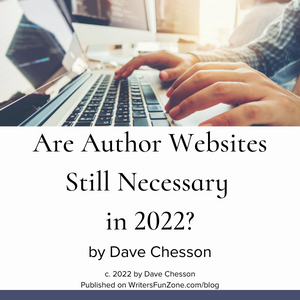 Let's welcome back Dave Chesson as he shares with us "Are Author Websites Still Necessary in 2022?" Enjoy!
***
When you're just starting out as a self-published author, it can be a little overwhelming as you try to juggle writing with publishing and marketing. Spending time on everything from advertising to social media can really wear you out.
One of the strategies that comes highly recommended is to build your own author website.
But this has been the advice for a while, so what about today in 2022? Are author websites just as important now as they were five years ago?
The short answer is: yes.
But why?
Well, there are a number of reasons why websites are a good idea for authors. So let's run through a few.
You Own It 
If you are building a following on social media, you don't actually own the platform you are using. You can't own Facebook Likes, which is why Facebook has more power over the following that you have on their platform than you do.
With an author website, you control what's going on. That's one of the most important advantages that a website has over a social media platform.
You Can Run Ads to It 
Your website can be a form of marketing, and as stated above, you have full control over what is seen on your website.
Once you have content on your website, you can use advertising to gain traffic to specific pages. If you optimize these pages for sales of your book or other products, that advertising can be lucrative.
And as we will discuss, ads are not the only way to get people to visit your website.
It's the Best Way to Build an Email List
Email lists are another essential form of author marketing, perhaps the best form of marketing if we're being honest.
In fact, if I had to pick only one form of marketing for authors, it would be email.
Your website is the best place to get people to sign up for your email list. You can embed sign-up forms, direct people to specific links, and use any other tactic to invite people onto your list.
It Looks Professional
Having an author website can be a lot like having a business card. It looks good. 
It looks professional.
This is especially true if you want to establish yourself as an authority on any particular subject. When this is the case, all you need to do is make sure your website is clean and fits the image you are trying to portray.
It Can Attract Organic Audiences
We often talk about the Amazon algorithm when discussing book marketing, because getting your book to organically show up for readers on Amazon is one of the key methods of making money there.
But there is another algorithm that is almost as important, especially if you have an author website, and that is Google's search algorithm.
By creating content on your website, you have a chance of sending organic visitors to that content through Google. 
This allows you to target very specific audiences, people who are already searching for the kind of content you can deliver.
I especially recommend this tactic for authors of nonfiction books, but it can be useful for fiction authors as well (see, for example, this fantasy author's website that focuses on mythology).
Cheat Sheet: How to Build an Author Website
All right, so we've established that building an author website is a good idea. How do you do it?
While this question is a bit outside the scope of this article (see this post for more information about how to create an author website), here is a quick cheat sheet of what you need to know:
Decide on a domain name

Find a good server (HostGator is often a good pick for beginners)

Select your platform (I recommend WordPress)

Find a web theme for WordPress or whatever platform you're using

Create content for the Homepage, About Page, and Books page to start

Make sure people can sign up to your email newsletter

Make sure the design fits your genre

(Optional) Create blog content
Ultimately, an author website doesn't have to be a lot of work. 
A simple WordPress or Squarespace website can be thrown together in minutes if you're building off a good template.
But in 2022, if I had to pick one form of author platform to use, I would pick a website over any social media service. 
So if you're pressed for time and mental energy, I would recommend dropping something else and keeping a website around in your planned marketing strategies.
***
ABOUT THE AUTHOR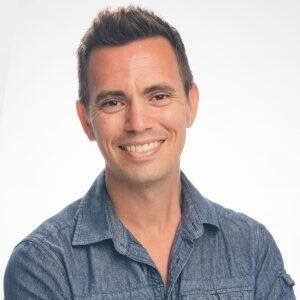 Dave Chesson is the creator of Kindlepreneur.com, a website devoted to teaching advanced book marketing. Having worked with such authors as Orson Scott Card, Ted Dekker and more, his tactics help both fiction and nonfiction authors of all levels get their books discovered by the right readers.
Other articles 
https://writersfunzone.com/blog/2021/10/26/3-best-tools-to-prepare-a-book-for-publication-by-dave-chesson
https://writersfunzone.com/blog/2020/05/14/how-to-find-the-right-background-images-for-your-author-website-by-nate-hoffelder
https://writersfunzone.com/blog/2019/05/27/how-to-choose-the-best-platform-for-your-author-website-by-rachel-mccollin
https://writersfunzone.com/blog/2018/12/24/site-security-for-authors-recommended-resources