Why Enter A Contest For a Critique? by Carol Malone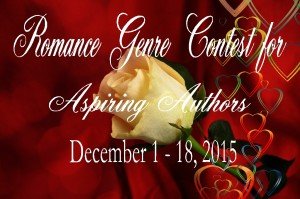 When I started writing years ago, I would have given anything for the opportunity to have a professional in the writing world take a look at my story, tell me I was brilliant. I was so thrilled to give my story to family and friends and then hurt and disappointed when they either didn't finish reading it or dodged me when I asked them if they liked it.
I feared my writing sucked. I was right, but my friends and family didn't know enough about the writing world to help me make it un-suck.
As I've wandered along the meandering path of my writing adventure, I've met numerous professionals who have not only read my work, but offer constructive criticism to me about my stories. Some comments have stung, but most has been honest and heartfelt and just what I needed at the moment. I've worked with traditional and indie published authors, literary agents, former editors from the Big Five publishing houses, and self-made specialists. And because of their influence on me and my writing, I've been able to publish three books on my own.
Receiving a fair and honest critique is worth its weight in gold.
Receiving a fair and honest critique from a professional author, agent, book coach, creative coach, or publishing house editor can be priceless.
There has come a point along my journey where I've looked back and witnessed other wannabe writers struggling to get started on their own voyages into authorship. I've thought, how can I, as a coach and editor in training help these new novelists who are struggling to know if they have what it takes to write a well-structured, a believable-plotted, and an emotional-grabbing story. I wanted to say, "Anyone can write a novel, and should go for it if they have the passion to try." We all have something the world needs to hear and whether our voices are big or small, we can accomplish doing just that with the correct amount of guidance and coaching.
My friend and mentor book coach, Beth Barany: http://bethbarany.com/ suggested that we give aspiring authors the chance to win the opportunity to have a professional read the first 15 pages of their manuscript whether complete or not, and offer constructive, corrective, and compassionate advice and helpful feedback. Thus was born the Romance Genre Contest for Aspiring Author running now through December 18th. https://writersfunzone.com/blog/contest-rules-for-the-romance-genre-contest-for-aspiring-authors/
If you are the winner of this contest, you'll receive:
You will have two 1-hour personal coaching calls with me, Carol to ask me anything about writing procedures and tips, or just discuss your submission in depth.
Your pages will receive an in-depth critique.
You'll received valuable feedback on hooking the reader, strong characters, emotional dialogue, strong romantic elements, plotting, and content.
You'll receive extensive editor notes regarding overall structure.
There will be a separate judging on how terrific a hero you've written, so the hero and the heroine must meet in the first 15 pages if you want extra credit, and receive a Hero Award, and a $15.00 Amazon Gift Card, certification, and a FREE Autographed copy of Carol's book, Fight Card Romance: Ladies Night
You'll receive a $25.00 Amazon Gift Card.
You have nothing to lose. At the very least, you'll receive feedback from me on your story even if you are not the winner of the contest. That makes you a winner regardless.
If you are ambitious and have found your passion to become an author and this is your first attempt at a novel, this is the contest for you. Take a chance. Hop on over the Beth's Writer's Fun Zone and sign-up. Click the LINK and enter. https://writersfunzone.com/blog/contest-rules-for-the-romance-genre-contest-for-aspiring-authors/
***
About the Author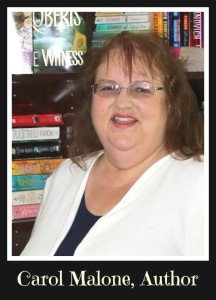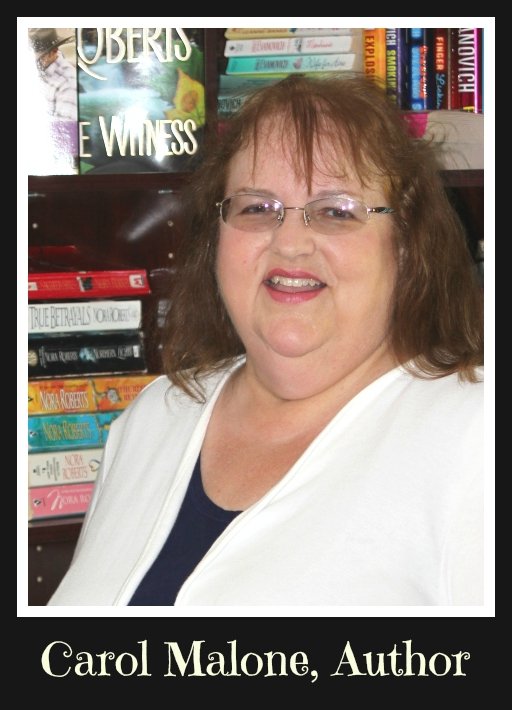 An award winning novelist, Carol Malone writes romantic suspense, rocketing readers into the past to uncover a hard-fought happily-ever-after. Based in coastal California, when not hammering out new tales, Carol reads, watches sports, the Food Network or HGTV, or spends time with her author husband. She loves to connect with her readers on her website, Twitter, and on Facebook.
Check out her books here:
Fight Card Romance: Ladies Night  
Fight Card Romance: Ladies Night Christmas