No One Is Buying My Books! Why? by Janelle Riley
Let's welcome back monthly columnist Janelle T. Riley as she shares with us "No One Is Buying My Books! Why?" Enjoy!
***
The story is written and edited, then uploaded to Amazon or other platforms for release. 
A couple of days run by and you check the account for activity and it's showing no takers. Give it a week to check again, still nothing. 
Not even reviews are showing up after weeks, even months, of your novel being published.
So what is going on? 
Why won't my novel sell? 
Well, there could be several things that could stall your novel from selling, from marketing to engaging on social media. 
Believe it or not, these items could play an enormous factor in your novel being noticed. 
The suggestions in this article could make an extreme difference in getting you and your novel seen.
BUILD A PLATFORM
Start off by building an author's website. 
With this, you could write blogs, embed a video of yourself or your voice by reading a line from your novel—better yet, show a video of your hobbies with family members or friends. 
Letting your readers see you interacting on a weekly basis can spark up for more traffic. 
Fun fact: If you don't know how to build a website, or have any ideas what to put in one, check out your favorite author's pages—most times you will get a sense of how you want your website to look. 
My website, has a section of my books and there's an area where I show off my photography and artwork I do when not writing. 
Go small, do nothing fancy.
MARKETING ON SOCIAL MEDIA
Meta, Instagram, TikTok, Twitter, and Pinterest are great social media platforms to get your novel out for the world to see. 
With the way of the world, and technology taking over often, this is a great way—if not faster—to get your novel noticed. Taking advantage of this trend can get your novel some attention if done right.
To get started, create some eye-catching mockups to promote your novel. 
Mockups are what most authors use for advertising. There are websites where these tools can be obtained for free (The 3D Book Cover Creator You'll Love to Use (diybookcovers.com) and all you have to do is plug your book cover in and any other information you choose.
Please note, these sites may give you a limit on what and how you can use these images. 
Some sites will give you a very professional look—giving your book a second glance—however, you will come out of pocket for these. (Book Brush – Ads & Social Media Images for Authors). 
The outcome could give you an increased target audience for your novel.
BOOKSTORES, LIBRARIES, RADIO. OH MY!
Did you know you can visit your local library or bookstore and let them know you're a local author? 
You would be surprised by the excitement of those knowing there is a celebrity in their town. Giving a couple of copies of your book and some merchandise can open doors tremendously.
Having a book signing in one of these establishments isn't a bad idea either to get your novel noticed. You may think no one would show up to anything held at a library, but trust me with a great advertisement on your end along with the librarians, the outcome would shock you.
Get to know the Disc Jockey's on your favorite radio program.
Hint: they're always on social media. 
Interact with them as much as you can for a few months or leading up to the release of your novel. 
Sending a professional email letting them know you're a local author could spark a chance of you being on their morning show. You never know while you're driving to school or work they may do a shout-out on the air with your novel mentioned.
Important note: Don't do direct messaging (DMs), that's a huge turnoff for most.
FINALLY, ALWAYS TALK ABOUT YOUR NOVEL
The more you talk about your novel, the more people would want to read it. 
Always have a catchy blurb or brief summary when someone asks about your novel. If you don't become excited about your creation, how do you expect anyone else will?
***
Want to read more articles like this one Writer's Fun Zone? Subscribe here.
***
ABOUT THE AUTHOR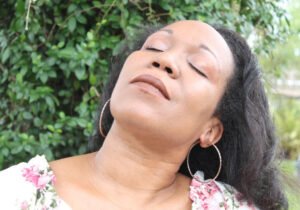 Janelle lives in Louisiana with her husband, their three children, and Hamilton their half lab half Rottweiler. Along with writing, she's a professional photographer and enjoys being outdoors photographing people and nature. When not writing or photographing, she enjoys traveling, drawing, listening to music, and cooking. 
Janelle's on Twitter @janelletriley1 and Instagram @tejay_riley5
Also by Janelle Riley
https://writersfunzone.com/blog/2022/02/08/write-the-story-as-you-want-to-not-how-others-tell-you-to-write-it-by-janelle-riley
https://writersfunzone.com/blog/2021/12/17/what-every-self-publishing-author-should-know-about-copyright-and-isbn-by-janelle-riley
https://writersfunzone.com/blog/2021/11/19/what-to-do-when-your-novel-has-been-pirated-by-janelle-riley
https://writersfunzone.com/blog/2021/09/17/self-editing-your-manuscript-by-janelle-riley