Are You Too Nice To Say "No?" by Carol Malone
Please welcome author and book coach in training Carol Malone. Today she's going to share an article regarding the dilemma faced when people demand your time and talents and you're too sweet to say, "No." Are You Too Nice To Say "No?" Enjoy!
* * *
At present, I find myself overwhelmed to the point of exhaustion with requests for help.
Of course, it's gratifying to be sought after for my expertise in something. That in and of itself is a reward. This demand has been especially challenging for me as an author.
Once I got known for my abilities to recognize good writing as in a critiquing or editing situation, the abundance of requests to read someone else's manuscript and give feedback came from all sides. But that's not all.
I joined a number of different writing groups both local and online — and you should if you want to further your career — but what happened when the leaders of these writing groups approached me, and begged me to serve within their leadership thus reducing my writing time?
Of course, I took a moment, assessed all the requests for my time and give them a firm … "Yes."
I know. You're asking yourself, "What's up with that?" I'll give you a for instance.
I belong to my local county writers' club. This club has been in existence since 1933. It has a long standing tradition of producing a wide variety of writing from fiction to poetry to memoir, and we have three contests for each form of writing during the year. I joined in 2011 because I wanted to submit a story for their short story contest. I didn't win, by the way.
Time passed and I got to know the leadership of the club and was invited to become their Social Media Manager.
My responsibilities consisted of creating and maintaining a Facebook group for the club which anyone can join. It's been a great opportunity for exposure for the club and myself. I enjoy the posting of club happenings and of sharing great writing instructional posts. As the Manager of our Social Media, I was able to attend the board meetings and participate in the leadership of the club.
I grew to love the people of the club and enjoyed the feelings of being important.
This is something that, as a shy writer I hadn't experienced much. Most of the time, I'm in my home office, or out with my laptop writing in a solitary situation.
Leadership, and the perks that come with such a position, were gratifying.
In August 2014, the current newsletter editor moved away leaving the position open. I volunteered.
After three years of producing a sixteen-page, full-color, high-quality newsletter, and writing at least two articles for it every month, I got tired and worn out.
But I'm not going to lie; there was a boost to the ego involved here. Even if no one told me I was doing a great job, or that the newsletter was the best it's ever been, my need to feel important was fueled.   
I also volunteered to assist with the production of the club's bi-annual anthology and ended up running the whole show.
For me, this was another great opportunity to be immortalized.
I'm not sure I realized that's what I craved, but over time, I could see that being in charge and publishing an anthology from start to finish by myself was a big, self-indulgent building block to my burgeoning ego.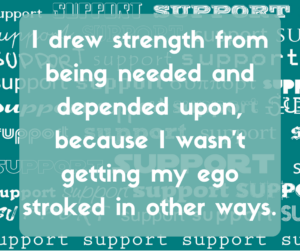 Then came the invitations to work for some of my online groups.
A V.P. of Communications / Membership for one, Facebook manager for two more, co-admin in one large group, and president of another online group. If I turned these folks down, I might have more peace and quiet in my life, but I draw strength from being needed and depended upon, because I wasn't getting my ego stroked in other ways.
It wasn't long until I noticed a shocking result of my heavy-duty volunteerism.
I wasn't writing anymore.
I didn't have time to write. I'd stopped creating with the same passion as I started writing with all those years ago when I cranked out six novels in six months. Those were the days.
I'd let the need to be needed override my passion to create, and I fell into a writer's depression of sorts.
It wasn't that I couldn't create—I still wrote a book every November, every NaNoWriMo season, but nothing in the in-between months. I'd lost my spark, and my Muse, Ellara, who's partial to 70s soft rock and John Denver music, took off. (Hey, she's my Muse. Get your own!)
Things needed to change and quickly.
Say "No?"
How do you know when it's okay to say "no, thank you?"
If you're an author, but you're not writing, then it's okay to say, "No, thanks."
If you find yourself, like me, overburdened with requests for help, you need to take a step back, analyze your situation, and judge for yourself.
Here's some questions to guide you in this analysis:
Am I meeting my own needs?
Am I really helping out when I'm spread so thin?
What should I let go of to make a difference in my life?
Is the buzz, the ego-stroke, I'm getting from working for someone else better than if I fulfilled my own dreams?
Am I always in motion but never getting ahead?
You must determine what is "essential" to your life and career.
In the book, Essentialism: The Disciplined Pursuit of Less, Greg McKeown says, "…once you give yourself permission to stop trying to do it all, to stop saying yes to everyone, can you make your highest contribution toward the things that really matter."
According to Jill Savage in her article, "Learning to say 'No,' " she says, "…keep in mind that you alone know what is best for you and your family."
We should be able to care for ourselves first, then our families, then friends, careers, and society. We have to know when we and our families come first.
When it comes time for me to produce my monthly newsletter, I have started to feel overwhelmed and discouraged. No more glee.
Time for a change.
Jill Savage also advises us to "never say yes on the spot." The best thing to do is tell the person asking for your time and talents is you'll call them back after you've had time to consider what they want, and meditate on it, and yes, even pray about it. Then you won't carry the regret when you tell them no.
Also consider the amount of "brain space" needed for a new responsibility and "how many commitments you already have."
Remember downtime for yourself is a must!
If you're no good for your home responsibilities: husband/wife/partner, children, pets, you won't have fuel to help others.
An empty bucket is hard to pour from and impossible to fill up another's bucket — let alone your own.
To truly serve other people, something to which many of us aspire, requires a filled and happy bucket.
If our bucket is nearly empty, and we're miserable with the overwhelming amount of service we're giving, how can we continue?
How can you be of service to yourself and have it be okay?
My book coach, Beth Barany asks this of me all the time.
She says to think about our "intended positive outcome. What does [the service to others] bring to you? There is a real factor to being of service. If you're not the working writer that you want to be so you can give of service, then the circuit is incomplete and you're not going to be of service to others or yourself."
Beth has given some structures and systems (and courses!) – small pieces that when put together – aid in getting to the finish line.
Create Your Own System of Support
This is not a checklist. This is something you pick and choose from and create your own system that fits your needs the best, one you can stick with.
Focus on only one structure at one time.
Then ask, "What does that feel like to you?" Write these thoughts down. Capture all your ideas and place them in a journal.
Deadlines – are you deadline driven?
Goals – do you set goals all the time for your success?
Intentions – do you like to stop along the way and notice the growth as you reach for goals?
Support – do you have sufficient help at home, at the office, in your writing?
Accountability – is there someone who checks up on you to keep you on track?
Delegate – do you have someone who could take some of your responsibility off your shoulders?
Preparation rituals – getting your area of work ready for you to dive in and keeping it clean?
Transitions – movement between one activity and the next.
Other! – What can you design that will fit your needs to be productive on the level that feeds your soul?
I'd like to hear which structure or system works best for you.
Leave a comment below about when you've said, "No" to someone other than your Muse and how it went.
***
ABOUT THE AUTHOR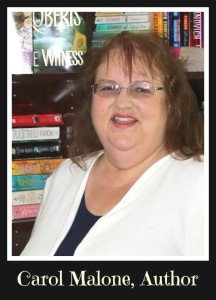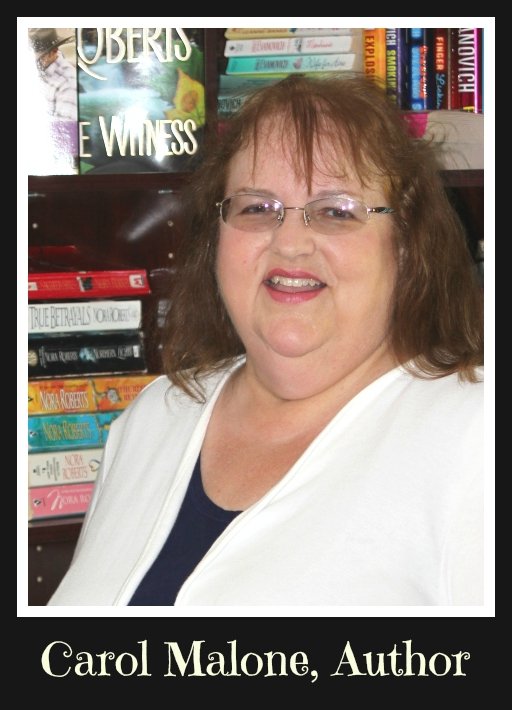 Award-winning author, Carol Malone writes new pulp-fiction suspense kissed with romance to rocket readers into the past. When not hammering out new tales, Carol is reading, or watching the Dodgers, HGTV, and the Food Network with her writer husband on the coast of California. She loves to connect with you and invites you to chat about romance and sports on her website.
---
Contact Carol Around the Web
Website: http://carolmalone.net/
Facebook: https://www.facebook.com/carolmaloneauthor
Twitter: https://twitter.com/CarolAnneMalone
Carol's Books
Fight Card Romance: Ladies Night
Fight Card Romance: Ladies Night Christmas
---