Write in the Style Of…. by LA Bourgeois
Let's welcome back LA Bourgeois as she shares with us "Write in the Style Of…." Enjoy!
***
Looking for a way to punch up your writing? 
Or maybe you've just hit a wall and can't make progress.
Try writing in someone else's style.
Writing in Someone Else's Style?
People have been doing it forever!
Think of Pride & Prejudice & Zombies by Seth Graham-Smith or the plethora of Agatha Christie lookalike books and parodies.
Recently, I devoured the wonderful Monk + Robot series by Becky Chambers, a delightful philosophical spin on sci-fi.
Writing in someone else's style forces you to think differently, an essential ingredient for creativity. By taking a scene, essay or short story and writing it in a different style, you reveal patterns, see new depths in characters, and discover new ideas for scenes and plot lines.
Why?
Instead of writing in your own voice, you're adapting your voice to that style.
This means that each word must be carefully chosen. As you struggle with the unfamiliar form, your brain fits your story into this weird shape.
Would Agatha Christie's Hercule Poirot utter this phrase?
How would Jane Austen describe the spaceship your characters live in? 
What happens when Edgar Allen Poe takes over your romance?
As the scene takes shape, themes are discovered, characters reveal traits that transcend style, and truths come to light in unexpected ways. When reading over the final version of this exercise, we may even discover something new about ourselves.
I know I usually do.
How To Write in Someone Else's Style
Select a style and take a little time with it.
Read work by writers who write in that style.
Get specific with your choice— not just mystery but hard-boiled detective story or english manor house.
Think cowboy romance, gothic ghost story, shoot 'em up sci-fi.
Here are some suggestions of styles and associated authors to get you started:
Hard-boiled Detectives – Raymond Chandler & Dashiell Hammett
English Manor Mystery – Agatha Christie & Dorothy Sayers
Scary Ghost Story – Peter Straub & Simone St. James
Gothic Horror – Edgar Allen Poe & M.R. James
Fantasy Romance – Deborah Harkness & Alice Hoffman
This list only scratches the surface.
Authors exist for every shade, shape, and style. 
You might also just grab a copy of your favorite book off the shelf and see what happens when you imitate that author.
Read a couple of stories or chapters and get into the feeling of the work. Then, put the book down and write your scene using that style.
Have fun with it.
Don't worry about how good it is, just drill down into that style and make it the most "that style" that it could possibly be.
Writing in someone else's style can unlock your imagination, reveal truths, and inspire your fingers. Give it a try and see what happens!
Have a suggestion for a style or author who might be fun to imitate? Share with everyone in the comments below.
***
ABOUT THE BOOK REVIEWER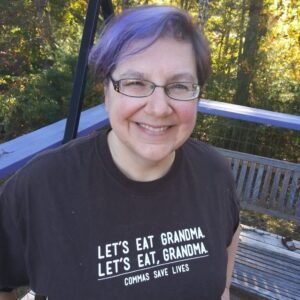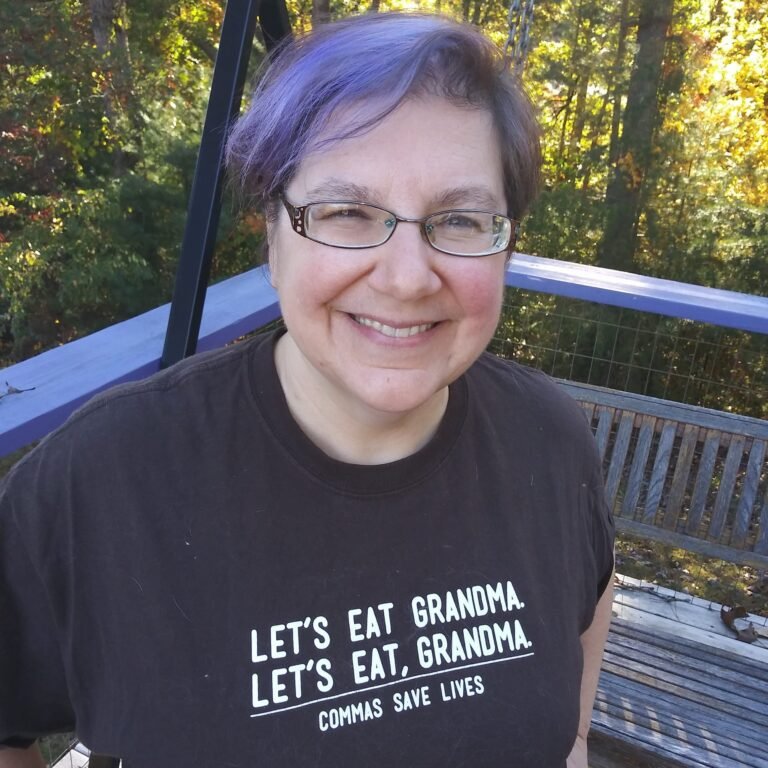 LA (as in tra-la-la) Bourgeois supports writers, makers, and other creatives in growing their creative businesses and breaking away from their day jobs.
As a creativity & business coach, she believes that exploring your creativity invites joy into your life, embracing your creativity infuses your life with joy, and manifesting your creativity gives you a joyous purpose. Writing and knitting are her non-negotiable mediums, and she can usually be found with a pen or knitting needles in her hands.
Find her free guide, Tricking Yourself into a Creative Habit online at labourgeois.biz and start writing those words today. She can't wait to read them!
Also by LA Bourgeois
https://writersfunzone.com/blog/2022/08/19/your-first-draft-write-it-crappy-by-la-bourgeois
https://writersfunzone.com/blog/2022/07/15/inspiration-from-a-new-direction-by-la-bourgeois
https://writersfunzone.com/blog/2022/04/15/your-masters-words-using-copywork-to-strengthen-your-craft-by-la-bourgeois
https://writersfunzone.com/blog/2022/05/20/inspire-your-comedy-with-old-photos-by-la-bourgeois