You're Not A Failure, Even if You've Failed by Carol Malone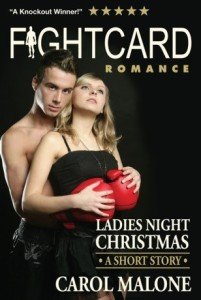 Please welcome author and book coach in training Carol Malone. Today she's going to share an article about goal setting success … or failure? Enjoy!
***
The other day, I was sitting in my home office contemplating the past twelve months like most of us do at this time of year. I attempted to assess my progress physically, mentally, emotionally, and spiritually. I noted there were times of great triumph this past year as well as great sorrow and pain. Did I accomplish the goals I set for myself at the beginning of the year? Did other things in life impede my progress and ultimately my success in one or many areas of my life? How could I have done better? What did I do right and how can I now celebrate that success?
Success means different things to different people.
To a writer, success might be to have written a new story, plotted out a new story idea, or entered and placed in a contest. Success might be placing those fabulously hard-fought words "The End" on a completed manuscript. To a budding author, nothing thrills the heart or blows the mind like completing a novel. For some, it's the crowning glory of our career.
Other career successes might mean starting and maintaining a new blog, or finding that elusive marketing brand and running full-out with it in all aspects of promotion. It might mean sending a gripping query letter and being awarded with the contracted services of an agent or having a publisher/editor ask for pages of a book or the whole manuscript. Success might mean receiving a book contract for one or more books with a publishing house.
As I look back on my year 2016, at first I didn't see much to throw a party about.
My major goal for the year was to publish as least one book. If I counted my success by books published, I fell short. I was a failure. Though I attempted to finish editing my sequel to "Fight Card Romance: Ladies Night," I did not finish. This left me feeling downhearted. When I attempted to publish my 1905 down-home on the farm novella, I was told by a free-lance editor that the characters were not likeable and the situation not plausible. This brutal edit set me back spiritually and emotionally for months.
For NaNoWriMo this year, I did write 50,000 words, but I'm nowhere near the completion of my Young Adult romance. I didn't enjoy the success of writing 50,000 words – which in itself, is a great accomplishment. With one last gasp, I attempted to publish my Christmas short sequel for "Ladies Night," but a horrible illness prevented me. Depressing, right? Not a very successful year if you take a superficial look at my progress.
Thank goodness we are not the total sum of our outstanding accomplishments, and meeting the most lofty of goals doesn't define our souls.
Success can't be defined for you by someone else's measuring stick. Though I didn't reach my main goal for the year, I do consider myself successful.
However, the world might scoff at my statement. I have learned not to care much about the world's appraisal or assessment of accomplishments.
That being said, there were moments of pure joy and feelings of completeness that came to me this year in spite of having FAILED to reach my main goal.
I finished writing Sunday Punch, the sequel to Fight Card Romance: Ladies Night in January 2016. A feat that took two years and two months. Bravo!
I wrote a short story and entered it in a local writers' Short Story contest and won Honorable Mention. Congratulations to me!
I also wrote a short memoir piece in August and won First Place in a Memoir contest. Fantastic!
I wrote ten (10) articles for Beth Barany's Writers' Fun Zone. Good for me!
I wrote and produced a video concerning critiquing techniques and presented this video during an online writers' conference for the LDS Beta Readers. Wow! Way to go!
I did pro bono editing work for the two winners of a personal Romance Contest I held in conjunction with Beth Barany and worked some more with one contestant for a few months to help her on her journey. Pat on the back for me!
I attended the 2016 RWA national conference in San Diego with my husband. We took many workshops including the master class from Michael Hague. Cheers to me and my husband!
I joined a group devoted to fighting and clearing our writing blocks, titled "The Artist's Way," in January. I have successfully worked through "The Morning" pages each day and most of the Twelve-step program. Stick with it!
With the help of a selfless workshop leader/editor, I was able to work through the process of shoving a personal wound to the back of my thoughts and keep it from defining me. Exaltation!
I mastered the 20+ movements of Tai Chi Chih and completed the advanced class. Hurrah!
I took a solo vacation in March to visit family and attend a great-nephew's wedding. Blessings to me!
---
A change of direction does not equal failure.
---
If you have been reading my articles for any length of time, you'll note that I'm not much of a goal setter. Even though at the start of 2016 I had some pretty solid goals, what happened to me during the year set me on a different path. And that's okay! I'm not a failure! 
Perhaps as you read this article you see the goals you had set for yourself that you didn't accomplish.
Does that make you feel like a failure, or disappointed in yourself because you didn't reach your goals?
I hope you can feel successful even if you might have changed your focus and re-evaluated your goals and met disappointment with hard work in spite of the change of direction.
Whatever your vision of success is, first of all, can you define it, and second, can you enjoy it?
I'm not going to define goal setting or the need to set meaningful goals or attainable goals.
We all know the drill.
There are as many ways to set goals as there are gurus who tell you that you must set goals to be happy.
What I want you to remember as you begin a fresh New Year with a blank slate of days in front of you, is to discover What is your Why? Why do you want something, and why is the goal you want important to you?
After all that, then it's a matter of showing up, be present in the moment, and engaging in hard work.
Goal setting is not easy and we do fall off course. Sometimes we get knocked off course through no fault of our own.
Then change course. Accept what is. Feel the change throughout your whole body.
Recognize your emotional responses to the course change. Make adjustments.
Accept that any progress IS PROGRESS! Baby steps are still steps!
Don't define your change in direction as a failure!
"There really is no failure until you label it a failure. It's not how many times you fall that matters; it's the number of times you stand back up and start again. That's what makes the difference." — Nozomi Morgan, MBA and certified Executive Coach said this in The Huffington Post article.
My advice for you is to set goals – if you want.
Reach high, but not unreachably high.
Be realistic yet flexible.
Never castigate yourself for a change or for not reaching your first set of goals.
Take what talents you've been blessed with and multiply them in as many areas of your life.
And, be gentle with yourself.
Notice in your body the tender or expansive feelings of great growth. Progress is progress. Brainstorm your "why" and "why you want your goal," then engage.
In the comments below, please let me know if you had a change in your major goals for 2016, and how you handled the bumps, curves, detours, and freeway closures along your journey for the year.
Blessings to you for a Happy Writing and Publishing New Year!
***
ABOUT THE AUTHOR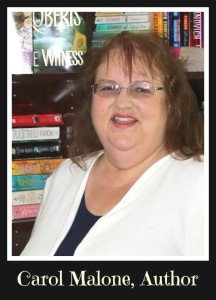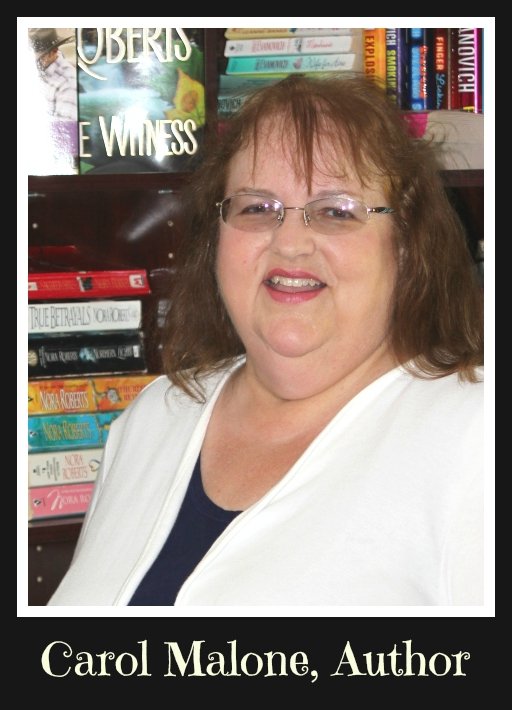 An award-winning author, Carol Malone writes new-pulp-fiction suspense kissed with romance that rockets readers into the past to uncover a hard-fought happily-ever-after. If not hammering out new tales, Carol is reading, watching the Dodgers, reruns of Castle, and the Food Network with her sci-fi author husband on the coast of California. She loves to connect with her readers and invites them to chat about romance and sports on her website.
Website: http://carolmalone.net/
Facebook: https://www.facebook.com/carolmaloneauthor
Twitter: https://twitter.com/CarolAnneMalone
Fight Card Romance: Ladies Night
Fight Card Romance: Ladies Night Christmas