Adapt Your Fiction to a Screenplay: A Conversation with Dan Calvisi and Beth Barany
Enjoy this post and video about "Adapt Your Fiction to a Screenplay: A Conversation with Dan Calvisi and Beth Barany."
***
In which Beth interviews Daniel about his Infostack offer for Write Publish Profit 5.0 on his webinar to help fiction writers adapt their material for TV.
Do you have a novel, short story collection, comic book or true story that you think could make for a great series on a streaming network?
This short, simple course will guide you to make the big decisions that will lay the foundation for a great pilot script and a dynamic pitch document (the two things you MUST have to sell a show).
It includes a webinar, a worksheet, an essay on the difference between movies and television, a sample beat sheet and two sample pitch decks that were used to sell big, hit shows.
This is the best starter kit you can find to get you on the road to making your original TV series a reality.
***
In the same Infostack offer, Beth is offering 80% off a Clarity and Change work session to help you overcome writers block, develop a writing practice, or overcome resistance and overwhelm to editing your novel.
All the details here:
ABOUT DANIEL CALVISI
Daniel P. Calvisi is a Script Doctor, writing coach and the author of Story Maps: How to Write a GREAT Screenplay and Story Maps: TV DRAMA: The Structure of the One-Hour Television Pilot. He is a former Story Analyst for major studios like Twentieth Century Fox, Miramax Films and New Line Cinema.
He coaches writers, teaches webinars on writing for film and television and speaks at writing conferences. Many of his clients have worked with the top networks and studios in the industry, such as HBO, Warner Brothers, Disney, Sony, ABC, Showtime, Apple TV+, Netflix and others.
He has been endorsed by Script Magazine and featured on Indie Film Hustle, Film Courage and L.A. Screenwriter. He holds a degree in Film and Television from New York University. He lives in Los Angeles.
HANDY LINKS
DOWNLOAD THE TV PILOT WORKSHEET:
https://actfourscreenplays.com/tv-drama-book/1-hour-tv-pilot-story-map-worksheet/
SITE:
https://actfourscreenplays.com
ABOUT BETH BARANY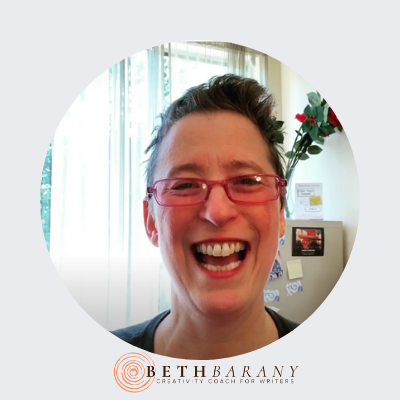 Beth Barany is an award-winning novelist, master neurolinguistic programming practitioner, and certified creativity coach for writers. She specializes in helping writers experience clarity, so they can write, revise, and proudly publish their novels to the delight of their readers. Her courses are packed with useful hands-on information that you can implement right away. Her change work sessions help you step into the author life you want with ease and joy.
She runs an online school for fiction writers, Barany School of Fiction, including a 12-month group coaching program to help them develop an editing practice and get published.
She's the author of Plan Your Novel Like a Pro, co-written with her husband and novelist, Ezra Barany. This book is based on a 5-star course that over 300 students have taken.
For more resources on publishing, book marketing, and novel writing, go to her blog, for and by creative writers, Writer's Fun Zone.
To book a one-on-one clarity change work session, go here.
When she's not helping writers, Beth writes magical tales of romance, mystery, and adventure that empower women and girls to be the heroes of their own lives.
HANDY LINKS
DOWNLOAD "7 Essential Keys to Planning Your Novel: Story Preparation for Pantsers" EBOOK:
https://BookHip.com/FKMSBJR (sign up required)
Creativity Coaching for Writers site: