Encouraging Reading by Annmarie Miles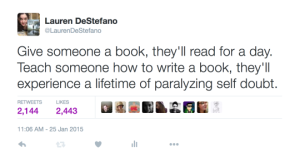 Let's welcome back monthly columnist Annmarie Miles as she shares with us "Encouraging Reading." Enjoy!
***
I found a way to encourage myself when confidence is low; and it came from the most unlikely place.
There have been some big changes in my life in recent months. One major difference being, I've gone from a full time job with a long commute, to a part time job just a 5 minute walk from my apartment. It is a new world ladies and gentlemen. I'm excited for 2016, especially to get back into a regular writing pattern and hopefully getting my second collection of short stories off this laptop and into readers' hands.
Once these changes fell into place, I could feel the pace of my writing pick up. Then I had a new problem. A crisis of confidence. The fear of having lost the ability to do it. This happens to me regularly. I laughed so hard when I saw the image below make its way around social media. It's true though…
So I went looking for my mojo. And where did it turn out to be, but in my own writing. I started to read my old work. I read old blog posts, and a number of the stories from my first collection, some of my old posts here on Writers Fun Zone, and some scribbled notes that I'd not done much with.
Here's what I found…
I liked it: It gave me the same feeling I have when I see a rare photo of myself that I'm happy with. I recognized myself in there and realized that I was still that person, that writer, and could find it again.
Other's liked it: I read the Amazon reviews of The Long & The Short of it, I looked for emails folks had sent me, I looked at blog and Facebook page comments. It reminded me that I have a fanbase. A small but loyal band of readers who have stuck with me, and look forward to reading the next thing I write.
Mistakes: I found lots of things I'd done wrong. Repeating phrases, lack of 'show don't tell', ending stories too quickly etc. Although it was frustrating, my hope is that noticing the errors means I'm developing. Even these novice mistakes were an encouragement, spotting them must mean I'm getting better.
I still love it: Reading my old work made me want to grab a pen and notebook so I could disappear somewhere to write for a while. The creative spark was awakened and not only did I feel better about myself as a writer, I also stopped caring about how 'good' or not I am at it. I just knew I love writing and want to get back to the regular habit.
I encourage you to spend some time reading your own work. Not as a vanity exercise, but as an encouraging one. I've read quite a number of 'New Year Writer Resolution" articles, many have been really helpful. Yes I will make a plan, some sort of writing/blogging schedule, and I might even stick to it. My first port of call though, is to go back to the regular habit of getting words on the page; just for the love of it.
Be encouraged; and write! 
***
ABOUT THE AUTHOR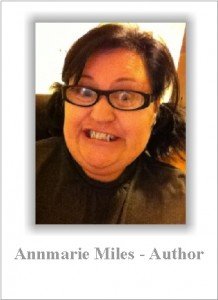 Annmarie Miles, part time writer, full time believer is 40something, Irish, Christian, married, and proud to be all of those things. She loves words, music & chocolate! You can find out all about her and her book The Long & The Short of It.
Where to find Annmarie:
Website: www.annmariemiles.com.
Email: amowriting@gmail.com
Facebook page:https://www.facebook.com/amowriting
Google+: auntyamo
Twitter: @amowriting
Personal Blog: www.auntyamo.com
Writing Blog: www.annmariemiles.com/blog