How Do You Develop Your Characters? Part 2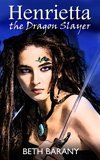 I wrote about how I developed my character, Henrietta The Dragon Slayer, in my previous post here.
Today I thought I'd reflect on one of the biggest challenges I see in the manuscripts I edit, and even in some books I read: character motivation.
If I can't relate to your character, if I don't "get" her, it's probably because I don't understand where she's coming from.
So some questions to ask:
Why does your character want that thing?
Then ask, what will having that do for her? To whatever surfaces, ask this question a few times until you get to a core fundamental desire: like safety, to be loved, to have purpose. (This question comes from NLP — Neuro-Linguistic Programming.)
What specific life experience created that motivation for your character?
What is the secret your character is running from and won't admit to herself?
When I first presented Henrietta to my critique group, they didn't like her. Really, they didn't understand her. As soon as I showed where she came from and what she was running from (You'll have to read it to find out!), and dropped little hints about her past, they "got" her and liked her. Whew!
How do you develop your characters?
Thanks for your tips!