It's In the Cards: Using Oracle Cards for Inspiration by Catharine Bramkamp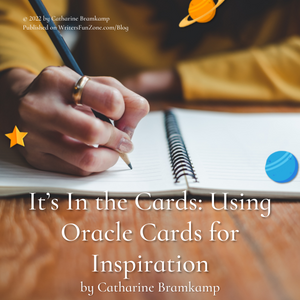 Let's welcome back monthly columnist Catharine Bramkamp as she shares with us "It's In the Cards: Using Oracle Cards for Inspiration." Enjoy!
***
Do you collect oracle cards? 
Tantalizing packs of cards that have appeared like, ahem, magic, on the counter of every bookstore in town? 
Oracle Cards? 
Card collections run from The Wild Goddess Oracle to the classic Rider-Waite Tarot. 
Some card collections are self-explanatory and some need background and study to suss out their meaning and message. 
Fun Fact: Tarot cards are not the direct precursors to our playing cards. 
While the clubs, coins, rods, and swords in the tarot deck have some correspondence to hearts, clubs, spades and diamonds, there is not a direct correlation. 
But all oracle and tarot decks hold promise and diversion, and if nothing else, art.
"The Oracle often follows a theme, such as Fairies, Cultural systems, Magic, Animals, Gods/Goddess or the process of self-improvement. The Oracle is somewhat more liberal and offers more creative sources for artisans that create decks because it is not limited to such a complex structure like Tarot cards." TarotX
It's in the Cards 
Tarot cards have a reputation of revealing the future. 
In fact, the phrase, it's in the cards connotes future foretelling. But this has never been the case, historically card readings were primarily a way to reveal our path or even enlighten and help us understand what we are currently feeling. 
Spreading out a lovely attractive deck of cards is one physical way to look at our own impulses and our own truth. 
The Oracle Author 
The cards are essentially a creative way to reveal our unconscious. 
Like casting horoscopes for your fictional characters, oracle and/or tarot readings can help illuminate and add depth to your characters. 
Tarot cards can also help answer questions about narrative and show a different direction for your plot. 
T.S. Eliot thematically links The Waste Land to The Love Song of J. Alfred Prufrock, using Tarot cards.
. . . your card, the drowned Phoenician Sailor,
(Those are pearls that were his eyes. Look!)
Here is Belladonna, the Lady of the Rocks,
The lady of situations.
Here is the man with three staves, and here the Wheel,
And here is the one-eyed merchant, and this card,
Which is blank, is something he carries on his back,
Which I am forbidden to see. I do not find
The Hanged Man. Fear death by water.
                                         The Waste Land, T.S. Eliot
We have lingered in the chambers of the sea
By sea-girls wreathed with seaweed red and brown
Till human voices wake us, and we drown.    
             The Love Song of Alfred J Prufrock, T.S. Eliot
How Can Oracle/Tarot Cards Help With Our Writing?
Since Tarot cards are often used as psychological therapy, showing why people act like they do, or how they perceive a problem, an author can do the same and gain insight to a character's motivation and responses. 
Cult film director Alejandro Jodorowsky, commented that "The tarot, will teach you how to create a soul."
Create a reading for your character. Ask the cards about the next step, motivation, emotional response. 
The cards can help you move your character through the next adventure in an interesting way with (perhaps) more interesting outcomes.
Does she stay or should she go? Pick a card.
What was her past? What were her obstacles? Place three cards down to represent the past/present/future
Not sure about your own next project? 
Ask the cards. 
Again, you will not get a definite answer, but you will get new ideas or a re-enforcement and expression of what you were thinking all along.
Give it a try – Tarot and/or Oracle Cards can be a fun new tool in your writing toolbox.

***
Want to read more articles like this one Writer's Fun Zone? Subscribe here.
***
ABOUT THE AUTHOR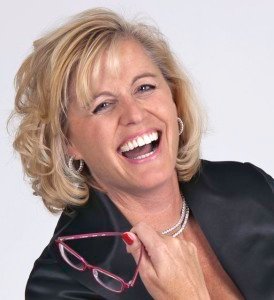 Catharine Bramkamp is a successful writing coach, Chief Storytelling Officer, former co-producer of Newbie Writers Podcast, and author of a dozen books including the Real Estate Diva Mysteries series, and The Future Girls series. She holds two degrees in English and is an adjunct university professor. After fracturing her wrist, she has figured out there is very little she is able to do with one hand tied behind her back. She delights in inspiring her readers.

Also by Catharine Bramkamp
https://writersfunzone.com/blog/2022/08/05/puzzling-your-plot-by-catharine-bramkamp
https://writersfunzone.com/blog/2022/09/02/bookshelf-brain-using-your-bookshelf-to-think-by-catharine-bramkamp
https://writersfunzone.com/blog/2022/01/07/creativity-how-to-get-more-by-catharine-bramkamp
https://writersfunzone.com/blog/2021/08/06/find-inspiration-through-overload-by-catharine-bramkamp