Empowering Your Practical Writing Life with Beth Barany – Create Your Story Podcast Interview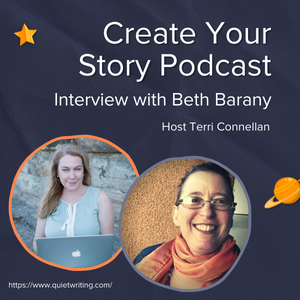 Terri Connellan recently hosted me on her Create Your Story Podcast where we discussed story-telling, empowering women, and discovering your best writing process. 
Have a listen to the show on Apple Podcasts / Google Podcasts / Spotify and Amazon Music or click the link below to have a listen on Youtube.
NOTES FROM THE SHOW
Beth Barany shares insights on fiction writing, story-telling, empowering women, and practical writing and self-publishing tips. 
Welcome to Episode 19 of the Create Your Story Podcast on Fiction Writing and Empowering Your Practical Writing Life. I'm joined by Beth Barany, award-winning author, multi-genre writer, creativity coach, and teacher.
Full transcript here: 
https://www.quietwriting.com/fiction-writing-empowering-your-practical-writing-life-beth-barany/ 
We covered:
Choosing fiction writing Genre fiction and life stories 

World-building and dialoguing with characters 

Centring women in stories as main characters

Women's power to negotiate in story and life 

Creative coaching for genre fiction writers 

Writing the best way that works for you 

Discovering your best writing process 

Beth's writing process and rituals 

Top practical productivity tips for writers 

Filling your well creatively Self-publishing tips and processes.
About Beth Barany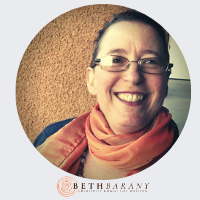 Award winning author, Beth Barany writes in several genres including young adult adventure fantasy, paranormal romance, and science fiction mysteries. Inspired by living abroad in France and Quebec, she loves creating magical tales of romance, mystery, and adventure that empower women and girls to be the heroes of their own lives. For her day job, Beth helps other novelists write, publish, and market their books as a creativity coach and a teacher.
Website: author.bethbarany.com/
Twitter: twitter.com/bethbarany
LinkedIn: linkedin.com/in/bethbarany/
About Terri Connellan
Terri Connellan is a certified life coach, author and accredited psychological type practitioner. She has a Master of Arts in Language and Literacy, two teaching qualifications and a successful 30-year career as a teacher and a leader in adult vocational education. Her coaching and writing focus on creativity, personality and self-leadership—especially for women in transition to a life with deeper purpose. Terri works with women globally through her creative business, Quiet Writing, encouraging deeper self-understanding of body of work, creativity and psychological type for more wholehearted and fulfilling lives. Terri supports women in writing and publishing their wholehearted stories. Her book Wholehearted: Self-leadership for women in transition and the Wholehearted Companion Workbook were published in 2021 by the kind press. She lives and writes in a village on the outskirts of Sydney surrounded by beach and bush.
You can connect with Terri at QuietWriting.com and on social media as @writingquietly on Instagram, Facebook and Twitter.
Books
Wholehearted: Self-leadership for women in transition
quietwriting.com/wholehearted-book
quick links to buy: books2read.com/wholehearted
Wholehearted Companion Workbook
quietwriting.com/wholehearted-companion-workbook
& quick links to buy: books2read.com/b/companion
Terri's Free Resources
Chapter 1 of Wholehearted: Self-leadership for women in transition
quietwriting.net/wholehearted-chapter-1
Personal Action Checklist for Creating More Meaning + Purpose
quietwriting.net/checklist
Coaching and writing programs
Work with me: quietwriting.com/work-with-me/
The Writing Road Trip with Beth Cregan: quietwriting.net/writingroadtrip
LinkedIn: linkedin.com/in/terri-connellan/
***
For more interviews with Beth, click here.
If you'd like to invite Beth onto your podcast, drop her a note here.