Why I Write, Or Why Am I Doing This? By Beth Barany
For many years I wanted to be a writer, from a young age in fact. At age 19, one summer, there I was journal writing in earnest 20 minutes every day before my student job at the university. Because I knew that writers wrote. And that's all I knew.
But I didn't know why I wanted to write. That plagued me.
At 19, I was faced with this not knowing of why I write and asked myself, "So what? Why did I have this drive? Why was I doing this?"
I wrote myself in circles on these questions, never coming to a satisfactory answer.
I only knew that I wanted to be a writer and writers write. (My mom told me this, which was told to her by her grandmother, my great-grandmother and published author, Meridel Le Sueur.)
I decided that was enough to keep me writing at the time because that was all I had to go on.
And writers write.
Looking back I see what I did.
I wrote in the face of deep uncertainty.
I wrote even though I had no topic, no theme, no story, no grand thing to say.
I was willing to be with the uncertainty, willing to be the amateur, willing to wade through the crappiness.
The only thing I did know with certainty was that I could write. I could write school papers and get good grades; I could write silly rhyming limericks and lovesick poetry; I could doodle and color. I was creative.
And I dreamed of being a novelist, but had no idea where to begin.
I knew I could write drivel in my journal — that was good enough for now.
I could write, yes. But how about being read? There's a difference. And to make up for that difference, I needed to get published. But I had no idea how to do that because I was just focused on being a college student.
And then things changed. I didn't know why I was in school. I felt like I was going through the motions. All my dreams of being a published author felt so far away, so impossible I didn't even know if I would ever get there. I had no specific professional ambitions other than this impossible one. School felt like someone else's plan for me. I had to get out of there.
At 21 years old, I dropped out of UC Berkeley and moved to Paris, France to be an au pair and think about what I really wanted in my life, far away from all I knew, from all family and societal expectations. I knew I would go back to school, but only once I knew WHY I wanted to.
Finally in the beautiful, inspiring, and demanding City of Lights, I had the time to focus on my desire to get published.
Yes. In addition to mastering French (which I did), getting published was my goal. After the fifth query, I got an article published in the Paris Free Voice—a free weekly for the English-speaking expat community. (Now called the Paris Voice.)
I learned a lot from my hustle to get my first short article published.
I learned:
— How to pitch in person (I learned from this experience that pitching in person was and is a strength of mine.)
— How painful revisions are, but so necessary, and can really make a piece better
— How important a good editor is, who encourages as much as demands excellence
— How much I like seeing my name in print (I think I knew this, otherwise why else would I want to be published? But it was such a validating experience to have it actually happen, I had to write another article, and did.)
But getting a byline wasn't my only motivation for wanting to be published.
I also wanted to say something useful and relevant. To contribute my voice to the world. To inspire other to jump into life with both feet. And I have and continue to do so.
Now, my Why has evolved to also include the desire to write rollicking adventures to empower women and girls to be the heroes of their own lives. And I have done this and continue to do so with two fiction series and working on a third.
YOUR TURN
Do you know your why?
Why do you write?
What steps are you taking to exercise that why?
Share your answers below. Questions are welcome too!
If you need further help on connecting with your Why for writing, check out these resources.
MORE RESOURCES ON RESEARCHING YOUR WHY
Simon Sinek's YouTube video (short version)
Carol Malone's two-part series on researching her WHY as a writer
Writer Discovery mini-course
ADDITIONAL READING
"Why I Write" by George Orwell (1946)
"Why I Write" by Joan Didion (1976)
***
ABOUT BETH BARANY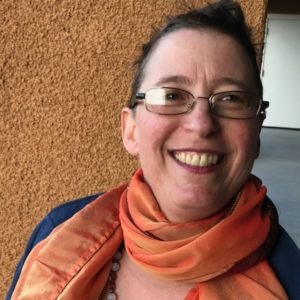 Hi! I'm Beth Barany, an award-winning novelist, master neurolinguistic programming practitioner, and certified creativity coach for writers.
Through my courses, programs, workshops and consultations, I specialize in helping writers experience clarity, so they can write, revise, and proudly publish their novels to the delight of their readers.
All my courses are packed with useful hands-on information that you can implement right away. I run an online school for fiction writers here and a 12-month group coaching program to help novelists get published here. I also offer consultations for writers here.
Get started with a free mini-course on your Writing Discovery here.
I do live workshops and presentations too. Contact me if you'd like me to speak to your group. Many of my past events are listed here.