How to Plan Your Novel Like a Pro, Interview with Beth Barany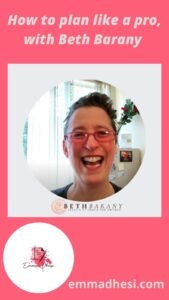 Future novelists everywhere have at one point felt that spark, that yearning to tell stories, to fill pages with fascinating characters, exciting plots, and genuine emotions. Then they encounter the big question: "Where do I even begin?"
In an interview with fellow novelist Emma Dhesi, Beth Barany tells us all about how she got her start writing non-fiction before she committed herself to writing her first novel. She then talks about her current series, sci-fi mysteries that follow protagonist Janey McCallister.
Finally, Beth tells us about how she helps potential novelists achieve their dream with her coaching programs, and she describes the steps in her book to help authors in the beginning stages of a new novel. Plan Your Novel Like A Pro: And Have Fun Doing It! guides readers to have a complete plan for their novel with short lessons paced over four weeks.
Listen Here: https://www.buzzsprout.com/971221/8861968 
***
ABOUT EMMA DHESI 
Emma Dhesi is a Scottish novelist who writes authentic contemporary fiction about the lives of women and the complexities of family life in The Day She Came Home, Belonging, and More Than Enough. She is also the host of the podcast Turning Readers into Writers and a writing coach. Emma lives with her husband and their three children in the beautiful city of Edinburgh.
***
ABOUT TURNING READERS INTO WRITERS 
In this podcast, Emma takes you right back to basics and looks at all the ways you can find time to write and build your confidence. Along the way you'll learn the practical elements of story structure and how to write great characters, as well as the tools and techniques you can use to keep yourself motivated when the going gets tough.
***
ABOUT BETH BARANY 
Beth Barany is an award-winning novelist, master neurolinguistic programming practitioner, and certified creativity coach for writers.
She specializes in helping writers experience clarity, so they can write, revise, and proudly publish their novels to the delight of their readers. Her courses are packed with useful hands-on information that you can implement right away.
Her latest book for authors, co-written with her husband, also a novelist and teacher, is Plan Your Novel Like A Pro: And Have Fun Doing It! and comes with a downloadable workbook and other goodies.
When she's not helping writers, Beth writes magical tales of romance, mystery, and adventure that empower women and girls to be the heroes of their own lives.
***
For more podcasts and interviews with Beth Barany, go here: https://writersfunzone.com/blog/category/podcast/
***
Beth is available as a guest for your podcast or blog. Contact her to get the ball rolling. She also speaks at events and conferences. More details here: https://writersfunzone.com/blog/upcoming-events/#contact.