Under An Orange Sky: The Expanding Paradigm by Beth Barany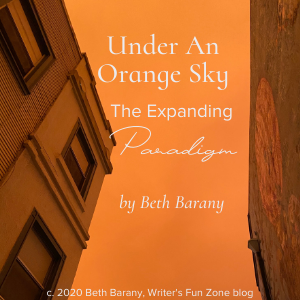 This post is about the expanding paradigm.
Our world is changing, there is no doubt about that. I acknowledge and bow to all the pain and suffering happening in the world. There is also hope, hope for something new, for something else to be born.
I would say that the dying and the being born is happening at the same time.
On Wednesday I woke up to an orange sky. The smoke had blocked out the sun. It looked like dusks at 9:30 in the morning, and stayed that way all day.
Orange skies, like a dusk I've never seen. #oakland #BayArea #weather #NOFILTER pic.twitter.com/ZF3dt3ggzD

— Beth Barany (@BethBarany) September 9, 2020
Night is day. Will day be night?
The Expanding Paradigm
We have an opportunity to create new dreams, to be open to the unknown. In fact we have no choice.
I recently talked about this and more with author and Healing Touch Practitioner, Jeri Lawson, in an Author Q&A on my YouTube channel.
Her book, A BUSINESS OF HEALING: THE DIRECT EXPERIENCE OF AN ENERGETIC PRACTITIONER is now out.
We talked about the creative process, and what is was like for her to create this book.
She also shares about the healing work she does. Interviewing her was a healing for me — a call to be in the present and be with what is.
Take a listen and let us know what you get out of it.
Click to watch on YouTube…
Now is a good time to feel into how we are but a spark of light in a vast ocean of sparks, buoyed by the Great Unknown — this life force that courses through us. It is my way of feeling supported in this time of great change.
What about you? Where do you turn to for support? Can you ask for help from others? From your version of the Great Mystery, the Divine?
Good News
I finished the revisions on my book and sent it to my beta readers early Monday morning. I feel like I have space again to step back from the book and consider final changes without needing to take action right away.
What's your good news this week? Share in the comments below.
Instead of editing, I'm managing marketing and also getting ready for final stage: scheduling the proofreader, coordinating with the designer for the print edition; gathering notes from the beta readers for final-final changes to the book.
Upcoming Event
My friend Marie Bowser is leading a wonderful series of interviews, of which I am one, that launches on the Equinox, Sept. 22, "Live Your Magical Life".
You can sign up here: http://bethb.net/magicallife.
♥
ABOUT BETH BARANY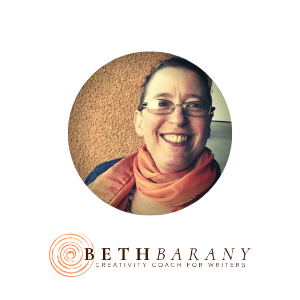 A Master NLP Practitioner and certified creativity coach for writers, Beth runs Barany School of Fiction, a full suite of courses designed to help genre fiction writers experience clarity and get writing, so they can revise and proudly publish their novels to the delight of their readers.
Based in Oakland, California, Beth Barany has presented at Ithra Center (King Abdulaziz Center for World Culture) in Dhahran, Saudi Arabia, at the Women's Fiction Festival in Matera, Italy, at Romance Writers of America National Conference, at Emerald City Conference in Seattle, Washington, at the San Francisco Writers Conference, and at San Francisco Bay Area chapters of SCBWI, CWC, and RWA.
Award-winning novelist, Beth Barany writes magical tales of romance, mystery, and adventure that empower women and girls to be the heroes of their own lives.
She is the award-winning author of Henrietta The Dragon Slayer, the acclaimed paranormal romance author of the Touchstone series, and is proud to release her newest novels, science fiction mysteries about Janey McCallister space station investigator.
The first book in the series, Into The Black, is a Page Turner Awards ebook Finalist. She has also written books for writers, including Plan Your Novel Like A Pro, co-written with her husband, thriller writer Ezra Barany.
***
Want to read more articles like this one Writer's Fun Zone? Go here.