Are you ready to write your first novel? Cool tools for you! (Online Conference)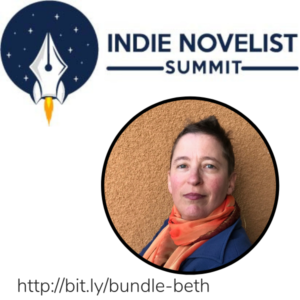 As any writing/publishing expert will tell you, if you want to be a pro at your craft, you need to have the right tools in your toolbox.
This month, my friend Brian Berni is hosting an online event packed full of incredible strategies to help you to write, publish and market your first novel. It's going to be the first event of its kind entirely aimed at first-time fiction authors!
Whether you have absolutely no idea, or you've got that half-written first draft sitting in your drawer, you'll find tons of great ideas and actionable info from world-class experts such as Joanna Penn, Adam Croft, Joel Friedlander, Dave Chesson, Derek Murphy, Matt Stone, James Scott Bell and many more. I'll be speaking there too!
And to help you jumpstart your fiction-writing career, Brian just released the Indie Writer's Bundle, jam-packed with tips, strategies, and tools for writing your first novel… and you can get it for free today!
>> Get the Indie Writer's Bundle for FREE here. http://bit.ly/bundle-beth <<<
The bundle includes:
The Novel Writing Word Count Goal Tracker. Brian built this software that lets you determine the daily words you need to write based on the type of genre you're writing and your publishing date.
The "Perfect Novel Planner." A printable PDF that will guide people through the various stages of writing, publishing and marketing their novel.
The Indie Novelist Summit Playbook. A printable PDF with info on the summit and speaker profiles.
So, grab your bundle now, and get ready for The Indie Novelist Summit, coming your way on October 17-21. http://bit.ly/bundle-beth
~ Beth
P.S. Another cool bonus — when you download the 2018 Indie Writer's Bundle, you'll automatically be registered to receive updates about the most epic online event of the year, The Indie Novelist Summit!
Download the Indie Writer's Bundle here and grab your free ticket for the summit. http://bit.ly/bundle-beth.
SUGGESTED ACTION STEPS
Write your replies in the comments or in your journal.
~ What will you write about in your first novel?
~ What are your next steps?
~ How can you start your first novel today?
***
ABOUT BETH BARANY'S PRESENTATION AT THE INDIE NOVELIST SUMMIT
"7 Essential Keys to Planning Your Novel"
In this value-packed session, author and coach Beth Barany explains how planning your story is useful in creating a 'roadmap' to guide you through the writing phase. Beth also outlines seven key steps writers can use to make the planning of their story as easy as possible, so that they can focus on the writing and overcome the obstacles that they might encounter along the way.
***
ABOUT BETH BARANY
Beth Barany is creativity coach for writers, a teacher, workshop facilitator, and speaker, who helps fiction writers experience clarity, so that they can write and polish their novels, and proudly publish them to the delight of their readers.
Owner of the Barany School of Fiction, an online training hub, Beth takes great interest in how humans learn, create, and grow, and includes all her students' life experiences, including the ancestors, into the moment.
She offers a year-long group program to help novelists edit and publish their novels. See more here.
*Want a course to help you prepare to write your novel? Check out the comprehensive home study Plan Your Novel course here or our annual October intensive here.
*Questions? Just drop Beth a line here.
*Start your writer's adventure with the Free 5-Day Writer Discovery course here: https://writersfunzone.com/blog/your-writer-discovery-mini-course/.