PARING IT DOWN: PITCH vs. TAG vs. BLURB vs. SYNOPSIS by Jami Gray
Let's welcome back monthly columnist Jami Gray as she helps you write a synopsis in this article that many literary agents request "PARING IT DOWN: PITCH vs. TAG vs. BLURB vs. SYNOPSIS." Enjoy!
***
Last month I tackled the Sinister Synopsis and some time during my battle preparations it hit me that perhaps a discussion should be had on the various incarnations of paring a book down. In this season of conferences, authors are forever challenged to wrap their precious bundle of pages into smaller and smaller packages in an effort to snag the illusive attention of those fabled editors and publishers.
Whether you're preparing to pitch for the first or two-hundredth time you will need to be able to encapsulate your creative work of art into the tastiest bait ever offered. I have found the easiest way to peel back the layers to get to the ultimate luscious morsel is to begin with the meatiest piece—the synopsis.
The synopsis can run anywhere from 1 to 5 pages in length and is aimed at editors and publishers. When crafting this dish maintain your unique authorial voice and be sure you hit three things: focus on your main character, their side-kick or romantic interests, and the villain; stick to your main plot, no drifting off-course with sub-plots; and share your stories ending.  This offering must show you know how to tell a story from beginning to end and prove your technique is strong enough to last for multiple pages. If you're looking for more, check out last month's post on DEFEATING THE SINISTER SYNOPSIS.
Once you've mastered the synopsis dish, you're ready to move on to the next level—the blurb. Merriam-Webster defines a blurb as, "a short description that praises something (such as a book) so that people will want to buy it". And as getting someone to buy our books is one of our goals, you must be comfortable creating these. Every writer follows their personal recipe when crafting their blurbs, so for this post, I'll share my recipes in relation to my book, HUNTED BY THE PAST. We start with the blurb:
Changing the past is impossible, a fact ex-marine, Cynthia Arden, understands all too well.  Struggling with the aftermath of a botched mission, a panicked phone call brings her home to face a killer's game. 
Unfortunately, the distracting Kayden Shaw returns as well, the one man she thought would stand by her, until he chose his job over her. 
To survive, will Cyn risk her heart or lose the man she loves and her life?
My serving size on a blurb is between 300-400 words tops. I don't want to serve a full course meal, I just wanted to keep you at the table and nibbling.  I'll offer a glimpse into my heroine, what she must face, introduce my hero, and then leave you craving more by a scintillating sniff of what's to come.  I tend to use my blurbs, not just to snag readers, but in my query to lure in the big guns of publishers/agents/editors.
Once I have the blurb in hand, my next step is craft that tantalizing aroma that will waft out into the world and bring discerning noses to my table. To do this, I craft a tag line. Please note, a tag line is NOT your pitch (aka log line). A tag line is designed to create dramatic effect via a catch phrase. Think of the voice behind movie trailers. If your tag line sounds cool in that voice, you're on the right track. This is not an easy dish and requires hours of fine-tuning like a delicate Amuse-bouche, with your goal to be under 25 words.
For HUNTED, I played with links to the title and my main character's psychic ability to see the past, her inability to face what happened to her initially, and the fact that she's being hunted by a killer. Eventually my tag became:
Sometimes death is the only way to out run the past…
This is on my front cover and leads right into my blurb.
Our final dish is the pitch, which in my opinion can sometimes double as your log line. This is a bright hit of flavor that shares what your book is about by giving us your main character, main conflict and what's at stake. Many advise that you consider this an elevator pitch, 1-2 lines that will get someone to pick up your book. I try to keep this under 50 words because when under pressure I tend to stumble over my words.
With HUNTED, I focused on the unique identifiers of my main character, what she faced and what brought her to this point.
A reluctant psychic faces a psychopathic killer in a deadly game where the past determines her future.
This may look simple, but I assure you, this took well over a week of constant revisions to achieve. This difficult creation can take hours and hours to nail, so be patient and have faith.
For a great article on the difference between a tag line and a log line, check out Marcy Kennedy's post with Writers Helping Writers at: http://writershelpingwriters.net/2013/09/how-to-write-a-tagline-for-your-book-and-why-you-need-to/
Now, as with all dishes, each of these are highly individualized. What works in my kitchen, may not work in yours. Just remember your goal: to tempt them to your table and keep them coming back.
***
ABOUT THE AUTHOR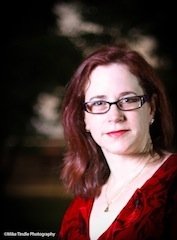 Jami Gray is the award winning, multi-published author of the Urban Fantasy series, The Kyn Kronicles, and the Paranormal Romantic Suspense series, PSY-IV Teams. Surrounded by Star Wars obsessed males and two female labs moonlighting as the Fur Minxes, she escapes by playing with the voices in her head.

If you want to hunt her down, she can be found lurking around the following cyber locations:
Website:     www.JamiGray.com
Facebook:  https://www.facebook.com/jamigray.author
Twitter:   https://twitter.com/JamiGrayAuthor
Goodreads: http://www.goodreads.com/JamiGray
Google+:  https://google.com/+JamiGray
Amazon Author Page: http://amzn.com/e/B006HU3HJI