On Writer's Health with Beth Barany and PJ Sharon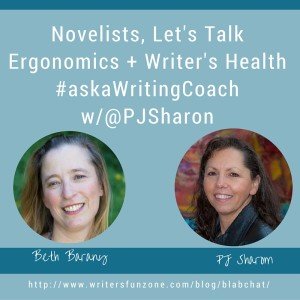 In my weekly live #askaWritingCoach chat this week, PJ Sharon and I chatted about stretches, good posture, and did desk exercises. We also gave away prizes. Tracee gave away either a copy of her book, Overcome Your Sedentary Lifestyle (A Practical Guide to Improving Health, Fitness, and Well-being for Desk Dwellers and Couch Potatoes), or one of her YA novels to a lucky winner! I gave away one digital copy of one of my books, Twitter for Authors, or A Cupcake Christmas. When you show up live and ask questions, you have a chance to win prizes!
Check out her "Ergonomics 101 for Writers and Desk Dwellers" article on Writer's Fun Zone here: https://writersfunzone.com/blog/2016/01/26/ergonomics-101-for-writers-and-desk-dwellers-by-pj-sharon/.
ABOUT PJ Sharon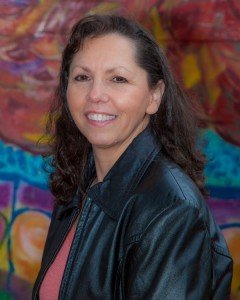 In addition to authoring award winning young adult novels, PJ Sharon owns ABSolute Fitness and Therapeutic Bodywork, in East Granby, CT. With over twenty-five years in the health and fitness industry as a Physical Therapist Assistant, Massage Therapist, Personal Trainer, and Yoga Instructor, Ms. Sharon finally wrote the holistic living, self-help guide book all her clients have been asking for. Check it out: Overcome Your Sedentary Lifestyle (A Practical Guide to Improving Health, Fitness, and Well-being for Desk Dwellers and Couch Potatoes).
ABOUT Overcome Your Sedentary Lifestyle
Is a sedentary lifestyle killing you? Are you gaining weight, developing neck pain, carpal tunnel syndrome, back problems, or other health issues that are interfering with your ability to achieve your goals or live life to the fullest?
Sedentary Lifestyle Syndrome (SLS) ™ is one of the fastest growing health care crises of our time.
In this digital age of techno-overload, where most of our waking hours are spent sitting, or otherwise "connected" to some device, we are quickly realizing the negative effects.
If you can answer yes to the following questions, you may be suffering from SLS.
• Do you sit for at least 6-8 hours per day without adequate breaks?
• Have you gained significant weight from lack of exercise and poor nutrition?
• Do you suffer from headaches, fatigue, listlessness, and lack of motivation?
• Have you been diagnosed with one or more health issues aggravated by prolonged sitting and lack of movement? (i.e.: Obesity, depression, heart disease, diabetes, metabolic syndrome)
Overcome Your Sedentary Lifestyle is the practical guide you need. Author and Holistic Health Care professional, PJ Sharon, includes tips to keep you healthy—even if sitting is in your job description. Ms. Sharon offers easy to implement solutions for proper work station set-up, exercises for injury prevention and treatment, and a practical plan for self-care success—whether you're perched on the couch, or on the way to fulfilling your dreams. Isn't it time for you to stand up for your life? Also available in full color print.