Beyond the 5 Senses: Explore the 21 Senses For Your Characters training with Beth Barany
Many authors think that a strong plot and compelling characters are enough to make their stories work. But actually, you need to build an emotional connection with your readers, immerse them into the story world, and make them care deeply so they will keep turning the pages.
Humans are wired for story. This happens due to our natural ability to match and mirror.
Scientists call this mechanism "mirror neurons." How can we take advantage of this in our writing?
Through discussion, lecture, and short exercises, we will explore this via the five senses and beyond.
In fact, we will discuss more than 21 senses.
We'll cover how to use these senses to clarify your setting, enhance character goals and motivations, and focus in on cadence and rhythm, all to heighten and strengthen the reader connection.
With each of the senses we cover, you'll practice on your own material, and I'll offer feedback.
You'll walk away from workshop with specific tools and experience you can implement in your fiction to craft compelling prose.
DATE: August 24, 2023
TIME: 7:15 PM ET – 9:45 PM ET
SIGN UP HERE: https://www.free-expressions.com/writing-success-series-2023
ABOUT THE INSTRUCTOR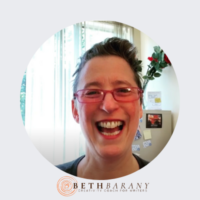 Award-winning novelist and international writing teacher, Beth Barany writes magical tales of romance, mystery, and adventure that empower women and girls to be the heroes of their own lives. She is the award-winning author of the YA fantasy, Henrietta The Dragon Slayer, and of the sci-fi mystery, Into The Black, A Janey McCallister Mystery, and of the acclaimed sweet paranormal romance Touchstone series.
Beth has also written books for writers, including Plan Your Novel Like A Pro, co-written with her husband, thriller writer Ezra Barany. Beth is currently at work on the fifth Janey McCallister science fiction mystery novel. Also, a Master NLP Practitioner, and certified creativity coach for writers, Beth runs Barany School of Fiction, a full suite of courses designed to help genre fiction writers experience clarity and get writing, so they can revise and proudly publish their novels to the delight of their readers. She also facilitates and consults on Creative Entrepreneurship for fiction writers.
A specialist in world building, Beth runs the podcast, How To Write The Future, and helps writers create positive, optimistic stories, because when we vision what is possible, we help make it so.
Based in Oakland, California, Beth Barany has presented at the San Francisco Writers Conference, Emerald City Conference in Seattle, Washington, Ithra Center (King Abdulaziz Center for World Culture) in Dhahran, Saudi Arabia, the Women's Fiction Festival in Matera, Italy, and at San Francisco Bay Area chapters of SCBWI, CWC, and RWA. Connect with Beth via her blog Writer's Fun Zone, Twitter, and LinkedIn.