To Conference, or not to Conference, That is the Question by Jami Gray
Let's welcome back monthly columnist Jami Gray as she shares with us  "To Conference, or not to Conference, That is the Question." Enjoy!
***
Welcome to 2016 my lovelies. Are you ready for the new year? I'm sure by this time, you've set your resolutions, perhaps started them, and for a few, gently shoved them into the small room at the end of the hall and locked the door.
Wait! Don't walk away, I'm not going into the pros and cons of goal setting. I'm sure you've seen/heard/read enough on those to last a good, long while. I just wanted to see if you're ready for conference season yet.
Have you picked which conference you'll be attending? Made your reservations? Bought your plane/bus/train ticket?
You don't know which one to pick? (insert sympathetic glance here) I get it, boy, do I get it.  There's so many choices, it's like cruising through Amazon with an unlimited charge card you're not responsible for. As a matter of fact, you can find list after list of available conferences. All it takes is entering "Writer Conferences" into Google and you're off.
Wow, check out all those options! A bit daunting isn't it? Let's see if we can narrow it down a bit, shall we? Here are some questions to consider as you maneuver your way through the overwhelming arena of conferences.
First, do you want to go as an author or as a reader?
It's a valid question, most authors are avid readers, so we can pull double duty if we so desire.  Conferences can cater to the writer, the reader, or both.
If you're a reader, you'll want to look at book fairs or festivals, reader appreciation conferences, or even local events spotlighting the talent nearby. For those nestled in the desert dunes of my neighborhood, there is the Tucson Festival of Books.
If you're a writer, the choices are endless, and require a few more defining characteristics.
Do you want to learn more about your craft/genre/specific subject? There are conferences that cater to specific subjects/genres. If you're into Children's books, there's the Society of Children's Book Writers and Illustrators Winter Conference in New York. Or, if you're like me and are fascinated by what goes into criminal investigations and police procedures there is The Writers Police Academy. Want to expand your bloodier tendencies? Check out Thrillerfest sponsored by International Thriller Writers each year.
Are you looking to expand your professional network or kick up your business skills? You could try out the Digital Author and Indie Publishing Conference in LA or the DFW Writers Conference in Texas.
Want to sharpen your skills and mingle with your readers? Then you want to look at such gatherings as: RT Conference in Vegas sponsored by Romantic Times, RWA Annual Conference in San Diego, or the Pacific Northwest Writer Association's conference (PNWA Conference) in Seattle.
Second: Are you budget bound, or can you splurge? Tickets to the conferences can range anywhere from $40/day all the way up to $600 for four days. That's not including your travel costs. Now, if I had access to that no limit card, I wouldn't be home from March through August, but I'm budget bound. Hence the reason I do one of the larger conferences every two years. In 2014 I did the RT Conference in New Orleans, and it was a blast. This year, I'm doing the RWA Conference in San Diego.
Do you want to travel or stay close to home? Conferences span the globe or happen close to home. Your local writing groups will generally have a conference or workshop available. In my neighborhood, our local RWA chapter hosts the Desert Dreams Conference.  If you want to mix in some bucket list traveling, you can take advantage of Kauai Writer Conference in Kauai, Hawaii or hit New York up for the Gotham Writers Workshop.  Heck, go for broke and sign up for the Publishing at Sea Cruise with Dr. Judith Briles or the Left Bank Writers Retreat in Paris. That would be France.
If this isn't enough to keep you hopping, remember when you're doing that Google search, don't limit yourself to "2016 Writer/reader Conferences," check out "writer workshops" or "writer retreats" or "writing/reader festivals" or "reader appreciations." Some authors are awesome enough to be able to offer their readers their own get togethers, like Christine Feehan or Barbara Vey. Plus, readers can also attend "Reader Appreciation Luncheons" or "Reader Appreciation Weekends."  Some organizations, such as RomCon, offer an entire conference aimed at readers.
No matter which way you go, enjoy yourself, get some new reads, meet new friends, and check another item off your 2016 "to-do" list. If you happen to stop in San Diego in July, and run into a nerdy chic with glasses, don't forget to say hi.
***
ABOUT THE AUTHOR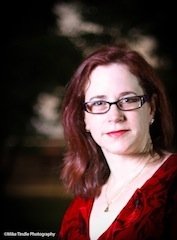 Jami Gray is the award winning, multi-published author of the Urban Fantasy series, The Kyn Kronicles, and the Paranormal Romantic Suspense series, PSY-IV Teams. Surrounded by Star Wars obsessed males and two female labs moonlighting as the Fur Minxes, she escapes by playing with the voices in her head.

If you want to hunt her down, she can be found lurking around the following cyber locations:
Website:     www.JamiGray.com
Facebook:  https://www.facebook.com/jamigray.author
Twitter:   https://twitter.com/JamiGrayAuthor
Goodreads: http://www.goodreads.com/JamiGray
Google+:  https://google.com/+JamiGray
Amazon Author Page: http://amzn.com/e/B006HU3HJI