Activate The Body And The Mind With Novelist And Creativity Coach Beth Barany (Podcast Interview)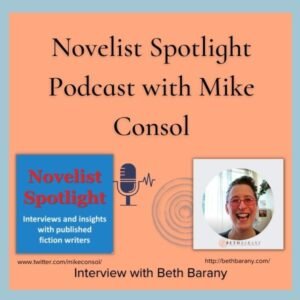 Mike Consol hosted me recently on his podcast Novelist Spotlight. We had a fun time chatting about timed writing, self-talk, NLP, and many other fun topics.
Have a listen to the show on Apple Podcasts /  Google Podcasts / Spotify or click below and have a listen with Youtube.
NOTES FROM THE SHOW
Beth Barany is a novelist, neuro linguistic programming practitioner, and certified creativity coach for writers. She specializes in helping writers experience clarity, so they can write, revise, and proudly publish their novels to the delight of their readers.
Her book titles include "Into the Black," and "Lured by the Light," and "Henrietta the Dragon Slayer."
We discussed:
>> Timed writing
>> Self-talk
>> Neuro-linguistic programming
>> Thrutopia.life
>> Writing as play
>> Activating the body in addition to the mind
>> Why genre writing
Learn more about Beth Barany at these sites
Author site /  Coaching site / School of Fiction / Writer's Fun Zone blog 
We ran out of time discussing all the above before I was able to do a reading so below you can have a listen to that on Apple Podcasts / Google Podcasts / Spotify or Youtube below. 
About Mike Consol
Mike Consol is the producer and host of Novelist Spotlight, a podcast that's described as being "a gathering place for people interested in reading and writing great fiction and literature." Mike is the author of Hardwood: A Novel About College Basketball and Other Games Young Men Play and three yet-to-be-published manuscripts, including "Family Recipes: A novel About Italian Culture, Catholic Guilt and the Culinary Crime of the Century,""Lolita Firestone: A Supernatural Novel," and the short story collection "LoveAmerican Style." Write to him at novelistspotlight@gmail.com.
We hope you will subscribe and share the link with any family, friends or colleagues who might benefit from this program.
Follow on Twitter @mikeconsol
SHARE THIS POST