How Your Custom Email Can Make You Vulnerable to Identity Theft by Nate Hoffelder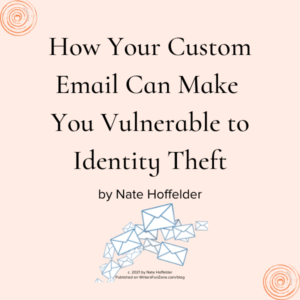 Today we welcome back Nate Hoffelder to Writer's Fun Zone. Nate is stopping by to chat with us about "How Your Custom Email Can Make You Vulnerable to Identity Theft."  Enjoy!
***
Many marketing experts will tell you that you should get your own domain and set up a branded email ([email protected], for example). That is a good marketing and branding tip.
But here's an even better security tip: 
Never Use that Custom Email Address to Set Up an Account—Not on Amazon, Not Anywhere
The reason I say this is that if you use [email protected] on, say, your Amazon account and then you let the domain registration for MySite.com expire, anyone who then registers the domain will start getting your emails, including account status emails.
It's a lot like someone registering your old phone number, and getting your calls. I know this because I like to register the expired domains of now-dead companies, just to see what happens. 
And I get all sorts of emails via those old domains, including for Twitter accounts and Paypal.
For a while now I have been getting emails from Paypal related to an account which used to belong to the Dutch e-reader company, Irex. (I can't access that account due to the increased security, but still!)

I also now control the Twitter accounts created by several dead tech companies.

Last night I even got a security confirmation email for someone's Amazon account.

Yes, I could access their Amazon account and order stuff if I wanted to.

(This scares the shit out of me, too.)
Unlink Your Custom Email from Accounts
Folks, I am never going to do anything bad with the email accounts I control, but others would. The last thing you want is an identity thief in total control of your email and every account you ever linked to it.
If you have made the above mistake, you should go fix it. Now.
Go into your accounts and replace any [email protected] with, say, a Gmail account.
(Article reprinted by permission from the author.)
***
ABOUT NATE
HOFFELDER
Nate has been helping people fix broken tech since 2010. He builds and repairs WordPress sites, and acts as a virtual IT department for authors. He also blogs about the Kindle and indie publishing. His site, The Digital Reader, has been mentioned on news sites such as the New York Times and Forbes.
Nate is the president of the Riverside Writers Club in Fredericksburg VA, and is on the board of the Florida Writers Foundation. When he's not volunteering, he spends his time working on projects such as The Speaker Bureau, Book Fair Website, and Author Website in a Box.
Stay up to date with Nate's technology newsletter for authors.
You'll receive weekly emails with essential news stories and resources to grow your audience and sell more books!
Sign up here: https://sendfox.com/natehoffelder 
***
More Like This on WFZ