The Restless Artist: The Inventor by Catharine Bramkamp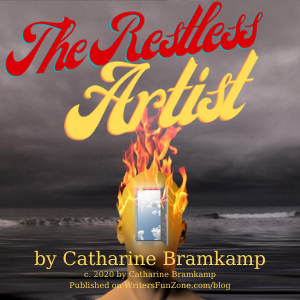 Let's welcome back monthly columnist Catharine Bramkamp as she shares with us "The Restless Artist: The Inventor." Enjoy!
***
I failed at Craft of the Month Club. My mother, a consistent and accomplished crafter, enrolled me with the hope and expectation that I would…
Succeed.

Love it.

Finish.
Surrounded by failed turkey centerpieces (made from felt and pineapple) and holiday door hangers with scenes placed into plastic fruit (it was the seventies), I discovered I couldn't follow directions and I couldn't make the same thing over and over.
What I am accomplished at is changing it up.
Let's all sing "Restless" to the tune of "Hopeless."  
One of the differences between an excellent crafts maker and an artist is similar to the difference between an inventor and a business manager.
Restless Artist is an Inventor 
The inventor cannot sit still. 
The inventor is happiest when she is creating the next great thing. She is not happy managing all the people and procedures needed to bring the last thing she made to market. 
Like the inventor, the artists often cannot "do it again," repeatedly producing the same product for the market for years and years. She resents the very idea that she should.
Often a successful artist is pressured to morph from artist into craftsperson. But that's not the nature of this restless creator. 
Painters need to suddenly write poetry, musicians need to make films, novelists want to build houses.  
The Restless Artist: How to Make A Living 
Yet to make a living, the artist must do little more than provide their greatest hits, at every concert.
There is nothing wrong with playing out the greatest hits. Who doesn't want to make a living with their art?  
But the process and the production can be enervating; it's not long before the performer cries enough! And quits the circuit, sells the business, drops the paintbrush, and finds another outlet.
Yet when an artist does mix it up, she risks disappointing or alienating her fans. 
Sometimes the blowback is extreme, which is unfair. Fans want what they want, and if the artist doesn't deliver as fast as an Amazon package, the fans may reject the next work.   
A talented craftsperson makes far more money, far more consistently: 
the genre fiction writers who create a popular character or a compelling world

the painter with an on-trend technique

the poet who gives voice to the emotional tenor of the time. 
This is wonderful, desirable, and congratulations!  
But how then can a restless artist market her work?  
How Can A Restless Artist Market Her Work? 
By selling herself, making her personality as the product, and creating a cult following for all her art, not just a single output. 
This is more difficult, and it's a long road, a much longer marketing cycle, but it can be done. In fact, this can be the most effective cross-promotion opportunity you've had.
As in…
Are you a popular punk rocker who now writes books? The books may appeal to an audience you never before reached with your music.  

Are you a popular comedian who now plays in a bluegrass band? Your fans may follow any and all artistic expressions you yourself discover and discover them as well.
That is the cult of personality. 
If you are a wonderful craftsperson. You know your business. You know what you love and you love to do it, which will give you a much higher chance at success.  
The Difficult Road of A The Restless Artist 
If you are a restless artist, you have a more difficult road to travel, one with more stops and starts, twists and turns.  
I cannot apologize to you because I'm riding in the same car. 
Need a boost and inspiration to write your book?
Then check out our latest book, Writing From the Queen's Seat.
We are holding a live workshop for Writing From the Queen's Seat November 15 – 19th. Check out more here: https://catharine-bramkamp.com/local-classes.
***
Want to read more articles like this one Writer's Fun Zone? Subscribe here.
***
ABOUT THE AUTHOR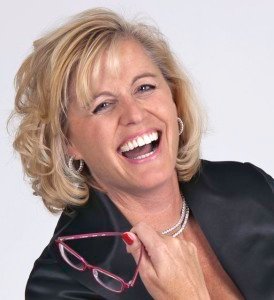 Catharine Bramkamp is the co-producer of Newbie Writers Podcast that focuses on newer writers and their concerns. She is a successful writing coach, Chief Storytelling Officer, and author of a dozen books including the Real Estate Diva Mysteries series, and The Future Girls series. She holds two degrees in English and is an adjunct university professor. After fracturing her wrist, she has figured out there is very little she is able to do with one hand tied behind her back.