How to Spot a Professional Editor: Telltale Signs That Your Editor Is a Professional by Mary Neighbour
Please welcome back guest author Mary Neighbor as she shares with us "How to Spot a Professional Editor: Telltale Signs That Your Editor Is a Professional." Enjoy!
***
"I've already wasted thousands of dollars on my first editor, and now I find typos and problems with the organization!"
All too often, a client brings his manuscript to me for an edit after being let down by a previous editor. This scenario upsets me as much as it upsets the author. But I also understand that it can be difficult for a writer to spot a professional vs. a well-intended freelancer, so I want to share twenty ways to tell if your editor is a professional—and worth every penny you spend.
Telltale Signs
Because a professional editor needs to know a great deal about the minutia of words, sentences, paragraphs, and storytelling, there are countless ways to spot a professional. In a nutshell, however, a professional editor makes your stories, your words, your books the best they can be. Here are twenty ways she does that:
She demonstrates that she understands the heart and soul of your manuscript, as well as its intended readership.

She can assess your authorial "voice" (style), and her edits are consistent with it.

She knows which style guide is appropriate for your manuscript and has previously worked in your genre.

She will provide you with references.

She values consistency and continuity.

She applies the rules of a single style guide (e.g., the Chicago Manual of Style).

She maintains a style sheet while working.

She identifies problems—grammatical, structural, or stylistic—and offers positive, constructive solutions.

She queries authors about their intentions.

She really, really understands commas; she admires the way punctuation helps writers control the story.

She knows the difference between affect and effect, lay and lie, and other commonly confused words.

She spots and corrects misused homophones (to/too; heal/heel; their/they're; etc.)

She consistently applies the rules about representing numbers in text.

She flags redundancy and repetition.

She knows the difference between a minus sign, a hyphen, an en dash, and an em dash—and when to use each.

She spots and corrects tense shifts in verbs, dangling modifiers, and passive voice.

She capitalizes "Is" in titles and headers; she corrects inconsistent capitalization.

Her comments on the text demonstrate expertise and insight.

She listens well and demonstrates patience.

She laughs out loud watching

Victor Borge's phonetic punctuation

for the fifth time.
What a Professional Editor Is Not
She is not a school marm, who applies grammar rules learned in the fourth grade.

She is not merely good at solving crossword puzzles.

She is not a journalist or other writer whose work is edited by others.

She is not simply an avid reader.

She is not a self-published author who edited her own work and now can't understand why her book doesn't sell or win awards.
Tip: A good way to assess an editor's competence in the areas enumerated above is to negotiate a sample edit—and throw in a few curve balls so you can see if she spots errors and problems.
Recommended: Shop around for an editor. Give each candidate the same sample and compare the results. Factor in your comfort level with each person.
Next week in this series: "10 Questions to Ask a Prospective Editor."
The following week: "Industry Standards for Cover Design."
***
ABOUT THE AUTHOR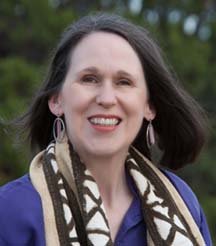 Some call Mary E. Neighbour a "book shepherd," though Mary wields a blue pencil far more expertly than a herding rod. For the past ten years, she and her husband have helped dozens of writers bring their manuscripts to the marketplace, through MediaNeighbours, their publishing services business.
Passionate about helping authors make their work shine in the world, with a combined professional expertise of over 50 years in editing and design, this family team is one you'll want to adopt as your guide through the challenging world of independent publishing.
Mary's other passion is learning about the history of slavery and how it impacts race relations today. She incorporated much of her research into her novel, Speak Right On: Conjuring the Slave Narrative of Dred Scott.
***
Other articles by Mary Neighbour:
How to Spot a Professional Editor: Editing Terms You'll Want To Know by Mary Neighbour
How to Spot a Professional Editor: Industry Standards for Editing by Mary Neighbour