How to Spot a Professional Editor: Editing Terms You'll Want To Know by Mary Neighbour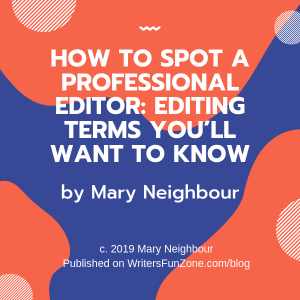 Please welcome back guest author Mary Neighbor as she shares with us "How to Spot a Professional Editor: Editing Terms You'll Want To Know by Mary Neighbour." Enjoy!
***
Editing Terms
Knowing the lingo can help writers understand the business and the goals of editing. Most authors are aware that editing entails several levels of attention and engagement. You likely are already familiar with these various stages of editing:
A

read-through

, also called a "pass" or an "evaluation". This phase helps the editor to assess the extent of editing that is warranted and to understand the "big picture" the manuscript represents. Some editors will read for free, but expect to pay for the read-through if the editor delivers substantial notes and commentary.
In my experience, a read-through is a relatively inexpensive way to establish mutual understanding and trust in the writer-editor relationship.
A

developmental edit

: Some do not consider this level as true editing, because it addresses the "big picture" elements often identified in the read-through: the work's message and ideas; whether more or less material should be included; and how the content should be organized and presented.
Level of input
This level of input, if needed, must precede the more mechanical levels of editing, because it often entails significant rewriting or reorganization.
A thorough discussion between editor and author should detail the work to be accomplished, as well as who will do the rewriting and reorganization.
A substantive edit, also called a "structural edit": This level addresses the fundamentals of communication and storytelling—whether for fiction or nonfiction. Rewriting at this stage improves style, clarity, and logic, among other overall considerations of organization and presentation. As with developmental editing, this phase precedes copyediting and requires discussion and agreement between the author and editor.

A

copyedit

, also called a "line edit": This phase moves word by word, line by line, checking grammar, style and usage, punctuation, and spelling. In sum, it applies critical thinking and style rules to every word and each instance of punctuation. It includes sentence/paragraph construction, clarity and concision, redundancy and repetition, among other things.

Fact-checking

: Sometimes this is performed by the proofreader, though arguably it should come earlier in the editing process, as it could require significant rewriting. Be clear with your editor if you want them to fact-check your work.

Proofreading

: Generally done by someone other than the editor ("fresh eyes"), proofreading corrects anything missed by the editor. In traditional publishing, typically a minimum of three sets of eyes review the manuscript to catch errors.
Typos
A word about typos: consider that your editor will likely change thousands, even tens of thousands, bits of the manuscript, from commas to concepts. Being human, she'll likely miss a few things, so proofreading is always recommended.
Speaking in terms of percentages, a professional editor likely catches 97 percent of all things needing correction or improvement; let a proofreader catch the remaining 2 percent. (No, my math isn't faulty: I believe that books rarely are 100 percent error-free.)
You may hear the above terms of editing defined, combined, and applied differently, as the distinctions between them tend to blur and blend. Essentially, every aspect of the manuscript deserves scrutiny, from concept to construction to consistency to comma—and beyond.
So by whatever name, the tasks must be completed. One editor may be competent at all levels, another may specialize in just one or two.
Tip: Authors often hire more than one editor. If you do, be sure they are compatible, open to being in communication with each other, and can work on the same file(s).
Recommended: Have your final proofreading done after the manuscript has been typeset, as a good proofreader will pick up on typesetting anomalies as well as text errors.
Next week in this series: "20 Telltale Signs Your Editor Is a Professional."
The following week: "10 Questions to Ask a Prospective Editor."
***
Click here to see the previous articles in this series.
***
ABOUT THE AUTHOR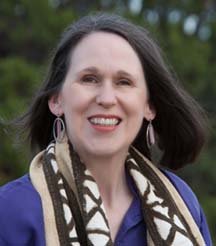 Some call Mary E. Neighbour a "book shepherd," though Mary wields a blue pencil far more expertly than a herding rod. For the past ten years, she and her husband have helped dozens of writers bring their manuscripts to the marketplace, through MediaNeighbours, their publishing services business.
Passionate about helping authors make their work shine in the world, with a combined professional expertise of over 50 years in editing and design, this family team is one you'll want to adopt as your guide through the challenging world of independent publishing.
Mary's other passion is learning about the history of slavery and how it impacts race relations today. She incorporated much of her research into her novel, Speak Right On: Conjuring the Slave Narrative of Dred Scott.