Time Sensitive End-of-Year Gifts for the Fiction Writers on Your List, or Maybe You!
SALES!
Check out these sales by trusted professionals!
Act now, as they go away at the end of the year!
For your writerly tech needs, like getting up to speed on Scrivener or sorting out issues on WordPress:
From writer's tech expert Vanessa Kier! Use the coupon code FUNGIFT15 for 15% off her coaching, tech services, and courses. Vanessa has been an expert in our community for the last few years and helped us get comfortable with Scrivener and other tech aspects of our writerly lives. Check out her services here. Offer valid through 12/31/18.
Character and Story Development Courses
From expert writing teacher, Bonnie Lynn, here's a 50% OFF coupon that will be good through New Year's Day, 1/1/2019.
All you have to do is enter this coupon code on the checkout page: WRITEBETTER
You'll get half off on any of these courses…
Have a happy and creative week! Happy writing!
Best,
Beth
P.S. I'm looking for another 5 reviewers for our Plan Your Novel Like A Pro book. If that's you, contact me and let me know. Thanks!
Plan Your Novel Like A Pro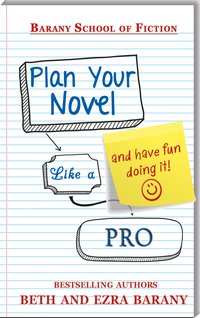 This book will help you get excited to plan your novel. The tools shared here are designed to spark your muse and give you confidence when you sit down to write your story. Plan Your Novel Like A Pro: And Have Fun Doing It! is for organic writers and pansters who want a roadmap to follow, so that they can let their creativity loose.
"I started reading it, and immediately stopped and started applying their steps to a novel I was prepared to throw away because I'd been unable to think of a way to revise it and make it meaningful. I'm now about 30K into the rewrite of that novel!
As an added bonus, there is a workbook you can use alongside the book to make the process even easier!" — Ann Shannon
In print and digital. Buy Links | Read an excerpt here.