Adaptations and Transformations for 2017 by Nevada McPherson
Let's welcome back monthly columnist Nevada McPherson as she shares with us "Adaptations and Transformations for 2017!" Enjoy!
***
It's a new year with opportunities to meet new writing challenges! I have new projects I plan to tackle in 2017—how about you?
In addition to my screenplays and graphic novels (my graphic novels have so far been adaptations of my screenplays), I've started writing my full-length play (as I mentioned in a previous post about doing research for historical projects) and now I'm adapting one of my feature-length screenplays, Piano Lessons, into a stage play. I was already considering this but was quite inspired to go forward by some things I learned from my trip to the 2016 Austin Film Festival in October. I attended panels on adapting stage plays into screenplays, and though I'm going somewhat in the opposite direction, adapting my screenplay into a stage play, I can see that there will be many similarities. The process will involve deciding which scenes can be deleted, expanded or combined, what aspects of the story will be revealed when, and how to be true to the emotional heart of the story in the fullest measure.
I once read that when Elia Kazan brought A Streetcar Named Desire to the screen from its successful run on Broadway, the plan was, like in most stage to screen transformations, to open out the story, to show more of New Orleans, and the characters' movements outside Stella's and Stanley's cramped apartment. Of course, the apartment became cramped close quarters (in the Quarter) only when Blanche came to visit. Until then, Stanley and Stella enjoyed an imperfect but thriving romantic relationship. It wasn't until Blanche arrived from the ruins of the lost Belle Reave plantation in Mississippi that the drama exploded and it was the situation of too many people in that apartment that lit the match. "Opening out the play", in this case, dissipated the very thing that was crucial to the dramatic tension in this story, so the filmmakers ended up preserving the "closeness" of the setting, including instead only one major location outside the apartment. The scene at the supper club out at the lake where Blanche tells Mitch, in the coded language that the Production Code would only allow at the time, what happened to her late young husband and why she feels responsible.
Aspects such as these are what a writer has to keep in mind when transferring a story into a different medium. When what to tell has been established, how to tell it becomes paramount. How many books have been brought to screen, to less than stellar responses from fans of that particular book? The filmmakers have hard choices to make based on the medium in which they're telling the story.
Choices I made when writing my screenplay will have to be revised to fit the needs of the stage. Movies move, and when I wrote the latest draft of the screenplay I had that very much in mind, adding material to the background to make for a vibrant and music-filled production. My screenplay is a gay teen romance set in the rural South of the 1950's, and features burger joints with jukeboxes, school dances, parties and even shoot-outs between rival bootleggers in the woods at night. I'll keep all the atmosphere of these settings but will telescope the action to focus fully on the characters and what's at stake in the scene. Locations may have to perform double duty, and this will be a major consideration as I move forward.
Have you ever adapted a piece from one medium to another? What difficulties did you face and what suggestions do you have for other writers based on what you've learned? Feel free to comment! This is a great time of year to try new things and to learn new techniques that will propel us forward in 2017. Cheers and happy writing!
***
ABOUT THE AUTHOR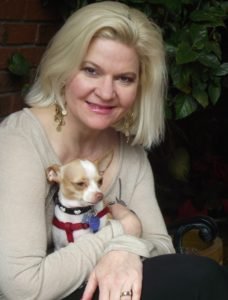 Nevada McPherson lives with her husband Bill and rescue Chihuahua, Mitzi in Milledgeville, Georgia, where she is a professor of Humanities at Georgia Military College. Nevada received a BA in English/ Creative Writing and an MFA in Screenwriting from Louisiana State University- Baton Rouge. She's written over a dozen feature-length screenplays, plays, short stories and the graphic novels, Uptowners and Piano Lessons. Queensgate, sequel to Uptowners, is her third graphic novel. For more information, visit www.nevada-mcpherson.com.