Q&A with Hugh Tipping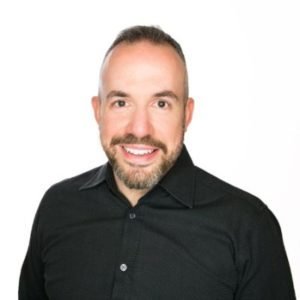 Please welcome Hugh Tipping to our Featured Q&A series at Writer's Fun Zone. If you'd like to be considered for an interview, check out our guidelines here.
***
ABOUT HUGH TIPPING
Hugh Tipping is the author of the upcoming fantasy novel "The Threads of Magic." He is a native of New York City, spending his daytime hours as a techie, and his nights writing fiction and poetry, as well as acting in local theatre. To connect with Hugh and stay current with his news, stop by his Facebook page.
On to our interview!
1. Tell us who you are and what inspires you to write in 100 words or less.
I am a new novelist who completed NaNoWriMo 2014 with invaluable help from Beth Barany. Starting there, I went on to complete a hefty first draft of an epic adult fantasy novel that I am editing aggressively.
I am inspired by the storytelling process itself, and the richness by which my favorite authors write. I aspire to write prose like Ursula K. LeGuin. The richness of her descriptions, her stories, and the ways she can "turn a phrase" leave me smiling whenever I read her books.
2. How did you get to this place in your life? Share your story!
I have always loved writing. Most of what I wrote over the years was small, but I always had the dream of writing a novel. Even with wonderful writing teachers, my life (and career) took different turns. I tried many times to start novels but could never quite finish them.
Finding Beth and the Barany School of Fiction has put me on the road to reaching the goal of being a novelist.
3. What are you most passionate about?
I am passionate about and fascinated by the creative process itself, that intangible mechanism by which a person makes something new out of nothing. Whatever the person creates, whether it is writing, painting, sculpting, or music, it is wondrous to me how the spark of a thought can travel a journey to a masterpiece.
4. Can you tell us a little bit about your writing process, routine, and/or rituals around your writing?
I may not write every day but I do write in long sessions. The continuity helps me when the thoughts and inspiration are flowing. It can take some time for me to "warm up" for a session, usually by rereading pages prior to where I am currently in a manuscript.
I also have a small stone I was given in a creative writing class. At the teacher's suggestion, I have used it as a sort of "talisman," a symbol of my writing process that helps put my mind into a mode to create. Sometimes I just hold on to it when I am staring at a sentence that I need to fix.
Though I have enjoyed time writing in cafes and other places with lots of background noise, there are times when I feel the need for the comfort of silence as I pick apart my text. Most of my first draft was written in a coffee shop. Most of my editing is done in a local writing space or at home, deep into the evening, when others are sleeping.
5. What are a few challenges you faced in creating, marketing, or publishing your creative work? And your solutions to them.
Many of my challenges were around basic craft, things such as point of view, show vs. tell, elimination of repetitive words/phrases, etc. Working with Beth as my editor has helped me learn where I was making such mistakes, and helped me more effectively edit my own work.
Once I became more comfortable with those areas, I faced obstacles with developing my characters' goals, motivations, and conflicts. Reading the Debra Dixon book "GMC" as well as doing exercises from Beth's courses, many from the Plan Your Novel Course, gave me an important framework. I let the creative process fill in the blanks.
Just like many writers, I was frustrated with mistakes I was making, the lack of perfection I was seeing, and the inability to trust myself. This took more time, requiring a lot of soul searching, reaching out for advice, and acceptance of small successes as they happened.
6. What do you wish you had known before you started writing fiction?
So much!
Mainly, I was trying to find out if I was more of a plotter or a pantser. I took the hybrid approach. While that gave me a balance of freedom and structure, I did discover that I could have benefitted from more work on the structure side that I am having to backfill now.
I also wish I would have known about some the feelings of doubt and, at times, panic that accompany the writing process. With help from other writers, I did discover that these were natural feelings, and that I was not alone. I don't think I really could have been told this, though. I needed to experience it for myself.
7. What's next for you in your creative work?
My hope is to complete the second draft of my novel within a year and get it ready for beta readers. Over that year, I will think about, though not heavily focus on, things like marketing, lining up beta readers, requesting reviews, etc.  I have gained much knowledge from the Barany School of Fiction in those areas.
---
---