What Do They Look Like? by Nevada McPherson
Let's welcome back monthly columnist Nevada McPherson as she shares with us "What Do They Look Like?" Enjoy!
***
You imagine your favorite (or least favorite) literary characters in your mind's eye, which is part of the magic of reading. Have you ever been disappointed by the casting when they made the book into a movie because then that character didn't fit the image you had in your mind? I remember years ago when the novel Interview with a Vampire was made into a film and Anne Rice was disappointed because Tom Cruise didn't fit the image she wanted for Vampire Lestat (she'd always imagined someone more like Rutger Hauer, she said). When the film came out, though, she decided that Tom Cruise made a good Vampire Lestat after all.
In the book Gone with the Wind, the first line is that "Scarlett O'Hara was not beautiful, but men seldom realized it when so caught in her charms as the Tarleton twins were." Vivien Leigh, however, the actress who portrayed Scarlett in that film was actually quite beautiful. Makes one wonder exactly what image Margaret Mitchell had in mind for Scarlett when she wrote the book. There's an interesting further description of Scarlett, but not a picture.
In my last post I discussed the possibility of creating a comic series if you're a bit wary of sinking much time and effort into creating a complete graphic novel. Like I've said before also, I'm experimenting with the idea of breaking my new project into smaller parts and collecting all the installments into a graphic novel when it's complete. It's up and running now so I'll have to see how things go. I know that even if I do that, in the end it'll be collected into one volume, so that's a done deal! If even a comic series seems a bit much for you to undertake right now, consider experimenting with creating portraits of your favorite (or least favorite) literary characters.
This is something else I've been doing, and with a twist: my favorite characters re-imagined. What happened to Blanche DuBois after she left Stella's and Stanley's place in New Orleans? I like to think that somehow, somewhere, she got the help that she needed, so I drew a picture of her a therapy session, talking with her doctor about her past experiences. (You can find it here at my art blog on my web site)
What's Hazel Motes, of Flannery O'Connor's novel Wise Blood, up to these days, as he contemplates the rolling landscape of middle Georgia, and the option to drive his big black car straight down the road, or to take the new by-pass? What if Jim and Huck Finn were navigating today's Mississippi River? What would they see along the shore? If you create your own depiction of a character just as you imagine he or she looks in a novel or short story, what characteristics come to the fore? As for Madame Bovary, how would you depict her sensuality and love of luxury? Is she beautiful? Are her eyes focused on some  distant object of desire instead of what's in front of her? Is she dressed to the  nines? Or do you imagine something different altogether?
If you're struggling with a prose description of one of your own characters, perhaps this could be an exercise to help you clear your mind, visualizing that character completely as you construct your description with words to help your reader create a picture in his or her own mind. It's quite magic if you think about it, and just another way that the visual and the written can come together to take a reader/ viewer through a whole new experience!
In honor of upcoming Bloomsday, June 16, I've started a picture of Molly Bloom and Blazes Boylan from James Joyce's novel Ulysses. In the completed version, perhaps Molly's husband, Leopold, is watching from a distance as they traverse the streets of Dublin. More on that soon. In the meantime, have a great June and happy writing—and drawing!
***
ABOUT THE AUTHOR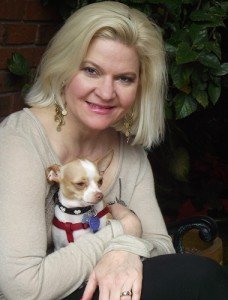 Originally from Georgia, Nevada McPherson lived in uptown New Orleans for several years and now lives with her husband Bill and rescue Chihuahua, Mitzi near Asheville, North Carolina. Nevada received a BA in English/Creative Writing and an MFA in Screenwriting from Louisiana State University-Baton Rouge. She's written over a dozen feature-length screenplays, one short screenplay, short stories and two graphic novels. For more information about Nevada and her projects visit www.nevada-mcpherson.com.