4 Main Ways I Help Novelists by Beth Barany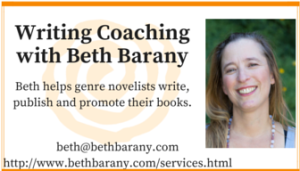 After almost 9 years in the business of helping writers, I finally have an almost complete map of offerings of the 4 main ways I help novelists.
Here's my summary:
1. Getting Started
If you want to be writing, but haven't started,
If you want to write your novel, plan it first with our:
30-Day Writing Challenge to Plan Your Novel self-paced Home study course at our Barany School of Fiction
You can also check out my ebook to help you get writing:
2. Finish Your Novel
If you need support to finish your novel, join our 12-month:
You can join this 12-month program any time during the year. You'll get a full year of support and join a vibrant and intimate community.
You can also use my book, a self-coaching guide:
A self-coaching guide to writing your book considered by writers to be a spiritual guide to writing your book from an experienced author and coach. A home study coaching guide and workbook.
3. Market Your Novel
We also cover book marketing in our 12-month Author Group Coaching program.
Upcoming Course:
I'm offering a book marketing and author branding course in July here
Self-Paced Home study course:
On running your own virtual book tour here at our Barany School of Fiction
You may also find useful, my book, available on Amazon:
"There's nothing more tragic to me than a brilliant writer with a distinct voice—and no audience. Twitter for Authors will help you find your tribe, build your platform, and boost your book sales."
—Mark Malatesta, Founder of Literary Agent Undercover, and former New York Times Bestselling Literary Agent
4. Publish Your Novel
Finally we cover your publishing options and give support every step of the way in our 12-month Author Group Coaching program.
I have a product coming soon: "3 Essential Publishing Tips for Authors"
90-minute audio training on your publishing options
10-minute self-publishing overview
PDF Report "Self-publishing vs. Traditional Publishing"
Enjoy!
To explore how I can support you, schedule a 1-hour complimentary Discovery Call here: