The November 2012 issue of the Author Entrepreneurship Magazine is out!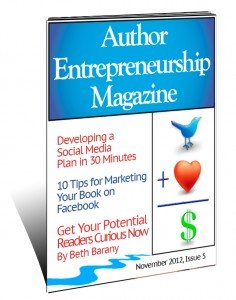 The November 2012 issue of the Author Entrepreneurship Magazine is out!
Our theme: Social Media and Marketing for Authors
From the Letter from the Editor:
In my opinion, there is only one way for you to succeed as an author these days
and that is to 1) write the best book you can; and 2) tell your raving fans about it. My coaching helps you with the former. This issue will help you do the latter.
This free online magazine is dedicated to helping authors create successful and sustainable careers.
To be sure to get each month's issue, subscribe at www.authorentrepreneurship.com.
Articles this month include:
Your Clear Message: Get Your Potential Readers Curious Now
Developing a Social Media Plan in 30 Minutes
10 Tips for Marketing and Selling Your Books on Facebook
How to Use Hashtags on Twitter
And more!
Please support our advertisers who make this publication possible and free to you!
Click on their ads for more information, and forward the magazine to your clients and customers so they can read this magazine, too! Thanks!
You can also download the PDF of this issue here.
==>
YOU CAN ALSO CLICK HERE TO READ THE MAGAZINE IN A COOL PAGE-TURN TECHNOLOGY:
[issuu width=420 height=272 embedBackground=%23000000 backgroundColor=%23222222 documentId=121114034143-ee9f83c08f6a48c491b8f948b492539d name=author-entrepreneurship-magazine-november-2012 username=bethbarany tag=author unit=px v=2]
If you'd like to write for us or advertise in future issues, go to Author Entrepreneurship for more details.
Or write the Editor-in-Chief/Publisher, Beth Barany via the Contact Form here.
PS. I could not produce this magazine with the dedication and talent of my dear husband, Ezra Barany. Be sure to check out his novel, The Torah Codes!