3 Tips to Making Great Book Trailers
Some people think book trailers are a great way to make more book sales, while others think book trailers don't truly increase book sales much at all. The truth is that book trailers can increase your book sales if your video becomes viral. For further proof of how a video could be great for your book, check out my post here.
So how do you make a video go viral?
The best way is to have puppies or women in bikinis in the video. I'm not kidding. This has actually been studied!
Of course, people who watch the video probably won't buy your book because I don't know about you, but my book has nothing to do with puppies and women in bikinis. And if they do buy your book, they'll be disappointed that there are no puppies or women in bikinis in the book and they may give you a bad review. We don't want that!
So if your book is not about puppies or women in bikinis, here are three tips to make your book trailer a great one, one worthy of being retweeted and reposted on the social networks.
1. The Promise of an Experience
I have to give a tip of my hat to my wife Beth for coming up with this one. The most important thing about your book trailer is that you are promising the viewer an experience of what they'll have when they read your book. Some time ago, I found a video created by a fan of James Patterson's Maximum Ride books. I was quite impressed with the emotion she conveyed. With her permission, I added music, images, effects and text all to enhance the emotional experience. As of this date, my video below has gotten over 4,800 views.
2. Word of Mouth
Reviews are what readers love seeing to decide on whether or not to buy your book. So give it to them! Here's a video I did for my client Liz Adams and her erotic version of Alice in Wonderland. I couldn't exactly do the full promise of an experience since YouTube would censor it! (Since Liz's readers are women, it didn't seem right to have women in bikinis in the video. However, I did place a bare-chested, handsome man in there. And instead of puppies, I added in the Cheshire cat.)

3. Call to Action
Your video will fail if you don't have a call to action. This can be as blatant as "Get your copy at Amazon.com!" or as subtle as just showing the word "Amazon.com" or "Available Now." However you choose to give your call to action, just be sure it's there.
If you want to make your own video like the slideshow I did for  Liz's "Alice," go to Animoto.com. For full length videos, it costs just $30 a year. Check out Animoto here.
By providing the promise of an experience, great reviews, and a call to action, your book trailer is bound to be head, shoulders, and elbows above the rest!
***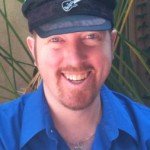 Book marketing mentor, Ezra Barany is the author of the award-winning bestseller, The Torah Codes. Contact Ezra now to begin the conversation on how he can help you. You can connect with Ezra via Facebook, Twitter, contact him through this blog, or by email: EZRA at THETORAHCODES dot COM.