How to Write Flash Fiction by Catharine Bramkamp
Let's welcome back monthly columnist Catharine Bramkamp as she shares with us "How to Write Flash Fiction." Enjoy!
***
I recently had the honor to speak to the Auburn CWC (California Writers Club) on how to write Flash Fiction.
What is Flash Fiction? 
Flash Fiction is a fictional work of extreme brevity that still offers character and plot development. 
The word count defines the category, which doesn't mean much when you are creating your very short stories, but does matter if you want to submit your stories.
Some common word count examples:
The Six-Word Story – Memoir

Old – Twitterature – 280 characters

MiniSaga – 50 words

Microfiction – 100 words

Sudden Fiction – 750 words

Flash Fiction – 1,000 words
Who writes flash fiction? 
When we consider the short story, we realize that short form works best with the spoken word. 
We can't remember all the details of a Dicken's novel,  but we do remember the moral of a short fables, parables — think bible stories or Koran stories.    
Since the invention of writing, our stories have become longer and more detailed, a direct result of emerging  technologies of the time.
A feature of a short story or flash fiction — an even shorter story — is the author's ability to hint at a larger story or idea, leaving the reader to think or consider what else could have happened or even why the ended finished as it did. 
A good example of flash fiction are our own urban myths.  
We quickly establish credibility, the cousin of my aunt told me — , deliver the terrible idea — a woman decided to dry off her poodle in the microwave —  and imply the moral of the story — don't be an idiot. 
How to write one? 
Small fish, big hook 
Flash fic readers have busy lives and short attention spans, so your first task is to convince them your story is worth their time. 
What is the hook?
How can you draw in your reader with the first sentence?
Quick character conflict
The situation needs to be bad, fast.
With less than 1,000 words, descriptions, inner life, motivation all needs to be expressed concisely and with determination. 
Wreck your characters, toss them up onto a dangerous beach, and either save them or leave them to rot in each other's bad company all in a very few sentences.  
Also, don't waste your space on words like very.    
Deliver satisfaction 
Even if the plot does not result in a happy ending, do resolve the conflict within the story's confines.  
Wrap it up.
Conclusions are the heart of flash fiction — which is why we remember parables and Aesop's fables so well.     
The main elements of Flash Fiction
Use strong imagery 
Make every single word count.
For example: 
Basement apartment coupled with moldy shower curtain, shag-rug splendor

Sweet smell of decomposing garbage

Weak imagery — color

Strong imagery — burnt red, pumpkin orange, pale gold

Weak imagery — small

Strong imagery — tiny, minuscule, miniature
Stick to one moment 
Focus on one particular moment in time.
The Story of an Hour by Kate Chopin – A woman hears that her husband is dead. And envisions freedom from her marriage.

An Occurrence at Owl Creek Bridge by Ambrose Bierce – a hanging. A man's adventure to freedom minutes before his death.

The Lottery by Shirley Jackson, a ticket is pulled. A calm acceptance of the bizarre.

The Last Leaf by O. Henry – an illness is established. The power of image and persuasion.

The Necklace by Guy de Maupassant –  A loaned necklace misplaced. Laboring for years for something that is not real.
Work with just one or two characters 
Don't spread your story too thin.
It's amazing how much you can learn about absolute strangers if you just stop to think about the kind of an animal they'll put in a test rocket… – Test Rocket  – Jack Douglas
Kate Chopin – the Story of an Hour – One woman and the man who brings her the "news" of her husband's death.   

Ambrose Bierce –  An Occurrence at Owl Creek Bridge – a single perspective, one POV.
Surprise your reader 
This is not a trick but rather delivering an ending that is surprising.
A good twist begins with the end in mind.
Think of a beginning and an ending that would be surprising.  Not like Reader, I married him.  But more like the laughing policeman.
The girl who thought a man was staring at her, but in the end, discovers he is blind.

The friendly man who feeds a starving guard dog – and moves on to rob the house.

Our wife is not a widow — Kate Chopin, The Story of an Hour.

Our escaped convict did not escape– Ambrose Bierce, An Occurrence of an Hour.
Make good use of your title
Kate Chopin – The Story of An Hour, what could possibly happen in an hour?
Ambrose Bierce –  An Occurrence at Owl Creek Bridge – the passive nature of this title belies the subject of death.
Title ideas:
Heads Rolled

Don't Look into the Laser with Remaining Eye

Take offs on popular titles or songs that evoke an image or a whole story

No Vacancy at Hotel California 

Baby, Not One more Time

Smells Like Teen Spirit
Sometimes it takes more time to craft a short story than to ramble on in a longer novella or novel.  But worth the time and effort as you create a piece you'll be proud of and your readers will remember.
***
Want to read more articles like this one Writer's Fun Zone? Subscribe here.
***
ABOUT THE AUTHOR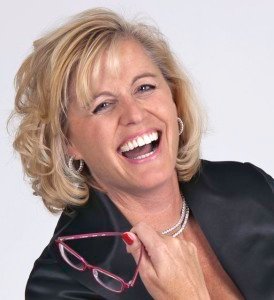 Catharine Bramkamp is a successful writing coach, Chief Storytelling Officer, former co-producer of Newbie Writers Podcast, and author of a dozen books including the Real Estate Diva Mysteries series, and The Future Girls series. She holds two degrees in English and is an adjunct university professor. After fracturing her wrist, she has figured out there is very little she is able to do with one hand tied behind her back.
Also by Catharine Bramkamp 
https://writersfunzone.com/blog/2022/06/03/too-busy-to-breathe-are-you-being-productive-or-just-busy-by-catharine-bramkamp
https://writersfunzone.com/blog/2022/01/07/creativity-how-to-get-more-by-catharine-bramkamp
https://writersfunzone.com/blog/2021/09/03/ask-better-questions-by-catharine-bramkamp
https://writersfunzone.com/blog/2021/08/06/find-inspiration-through-overload-by-catharine-bramkamp