Broaden Your Reading to Better Your Writing by Lisa Towles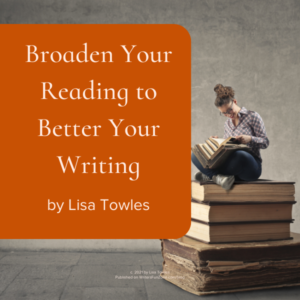 Today we welcome a new guest writer to Writer's Fun Zone, Lisa Towles as she shares with us "Broaden Your Reading to Better Your Writing."  Enjoy!
***
Not unlike the California climate, writers also go through dry spells. 
We've all been there, where creativity feels out of reach and our in-progress stories have stalled.
I write primarily mysteries/thrillers and have for a long time. So it's probably no surprise that I also read the same genre.
Part of that decision is pragmatic, to keep abreast of the economic demand for thriller fiction and study what types of thrillers readers are hungry for right now.
It's also a great way to understand the nuances of the different thriller subgenres—legal, psychological, crime, spy, etc.
Broaden Your Reading to Feed Your Passion
However, the other reason is less practical and more emotional: I have an unquenchable thirst for puzzles and the process of crime detection.
I love the web of secrets that typically surrounds a crime and, because I'm easily bored, I appreciate the breakneck speed at which crime thrillers progress.
So the last time I found myself in a creative dry spell, I took a look at what I was reading and realized I'd been feasting on the same fiction diet all year—Dark Matter by Blake Crouch, Chaos by Patricia Cornwell, The Eighth Sister by Robert Dugoni, The Witch Elm by Tana French. 
And there's nothing wrong with reading what you love. But when inspiration is at a low point, mixing it up has its advantages.
Broaden Your Reading to Break Out of Your Reading Rut
I think thriller writers (or any writers really) have rich knowledge to gain by reading outside the genres we write in. 
If I'm reading a romance novel like In Five Years by Rebecca Serle or A Postcard from Paris by Alex Brown, or if I'm reading historical fiction like The Mirror and the Light by Hilary Mantel or Salt to the Sea by Ruta Sepetys, I find elements of those rich character stories that can also apply to thrillers, igniting new ideas for my work-in-progress. 
And YA fantasy novels like The Hazel Wood by Melissa Albert and the Miss Peregrine's series by Ransom Riggs give me the ultimate escape.
And they remind me of the importance of imagination.  
The Fussy Librarian also likes the idea of mixing things up in our reading habits, citing advantages like expanding your vocabulary and broadening your perspective on the world. 
Nonfiction books like Aftershocks by Nadia Owusu, The Code Breaker by Walter Isaacson, or The Sum of Us by Heather McGhee remind me of the strength that comes from adversity and how much we can learn from one another. 
And from there, I'm inspired to infuse my characters with that same fortitude and connectivity.
I also find that reading in different age groups can boost my creativity. 
In my office, I keep a stack of the books I loved most as a child. 
When I feel like I need to recapture some childhood magic, I might re-read The Velveteen Rabbit by Margery Williams or a few chapters of The Princess and the Goblin by George MacDonald and remember that there are many things that grownups can't see.
Broaden Your Reading to Get Inspired
You see, human drama comes in many different forms. That is the common thread.
Ultimately these stories and genres are about people, their desires, and the challenges that get in the way.
I've been coached by Beth Barany, and her writing school offers a wealth of resources that cultivate a healthy writing process, which helps us enjoy the journey.
Inspiration can come from lots of different places, and you never know what kind of book might spark the idea of a lifetime!
Happy reading,
Lisa
***
ABOUT LISA TOWLES
Lisa Towles is an award-winning, Bay Area, crime novelist. Her upcoming thriller, Ninety-Five, will be released by Indies United Publishing in November of 2021. Her last two thrillers, The Unseen and Choke, each won two literary awards, and she has 4 additional mysteries published under Lisa Polisar. Learn more about Ninety-Five here and more about Lisa on her website.  
Social media links: