Writer's Block: Myth or The Real Deal? How to Defeat It by Janelle Riley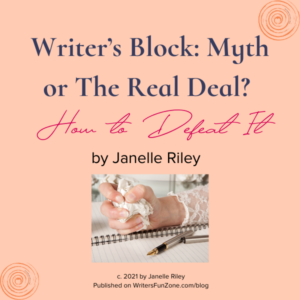 Let's welcome back monthly columnist Janelle T. Riley as she shares with us "Writer's Block: Myth or The Real Deal? How to Defeat It." Enjoy!
***
A few months back I made a joke about how writer's block was an excuse to procrastinate. 
Truthfully, it could. However, writer's block is and will always be a real thing. 
Although I'm aware that writer's block happens to the best of us, I'm also mindful of how annoying it can be especially when there are deadlines that need to be met. 
What is Writer's Block? 
Writer's block occurs from the tiniest issues occurring in one's life. Yet the greatest catastrophes can bring this ailment on just the same. It's almost impossible to stay focused—our creativity ends up suffering due to writer's block. 
There are a few who would say that writer's block is all in the head and that it's basically an excuse not to write. 
I utterly disagree. 
Not having enough money for next month's rent is a prime example that could place a writer in a mood where writing is the furthest thing from their mind.
I've come across writer's block on numerous occasions. 
For me, writer's block is usually caused by the stress of parenting.
Every day I am my children's chef, chauffeur, counselor, personal assistant, and temporary teacher. 
I've tried to find online hacks on how to cope or eliminate this fate from my system permanently. 
Sadly, there's no easy cure to getting rid of writer's block for good. 
Life will always be there throwing monkey wrenches in our way. 
So what do we do? 
How can writers alleviate this troublesome menace? 
Luckily, there are various remedies that will clear that little bugger right up. 
Defeat Writer's Block: Work On A Hobby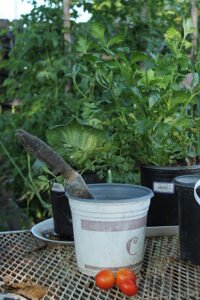 Along with photography, I've found gardening can be a great pastime when it comes to getting rid of writer's block. 
A couple of hours in the garden can motivate me to come back to the area I was stuck in with my work in progress. 
In return, I have a nice garden filled with delicious vegetables and a variety of gorgeous flowers. 
If gardening isn't your cup of tea, cross-stitching, painting, and believe it or not, cooking can carry a writer out of the writer's block funk just perfectly. 
Overcome Your Writer's Block: Organize Your Workspace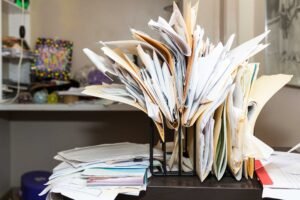 This part may come across as meaningless work and several are probably wondering, "How in the world is this going to get me to write anything?" 
Well, here's the thing. Organizing can clear your mind, which could lead to ideas, and in turn, can lead you to add more scenes to your manuscript than just the one you're stuck on. 
I started out writing a love story and became stuck with this ongoing enemy (dramatic whisper: writer's block). So, I organized my workspace along with my bedroom and came up with a great scene. It was far better than the scene I had originally come up with and improved the story for the best. 
Read Books, Go To A Movie, Go For A Walk, or Play Candy Crush 
It doesn't necessarily need to be Candy Crush, but you understand the idea… Go do something fun to rid yourself of writer's block. 
Going for walks can clear the mind from anything that's causing worry — the catalyst that's causing this annoying block. 
Hanging with friends or family to catch a new movie release can definitely ease one's mind when that pesky writer's block invades. Seeing a story on the screen can inspire your writing. 
Reading is probably the best when it comes to writer's block. 
When reading a good book or an article in a magazine, you can learn something to help you with the stuck area of your story. I know this works best for me whenever I'm finding it extremely tough to continue writing my manuscript. 
Writer's Block May Be All In Our Heads 
Writer's block may be all in our heads, but it can be eliminated from our system without any harmful side effects. 
The next time you find yourself stuck for words, or in drafting a new scene, try doing something other than writing. It can make your writing life so much more livable.
***
Want to read more articles like this one Writer's Fun Zone? Subscribe here.
***
ABOUT THE AUTHOR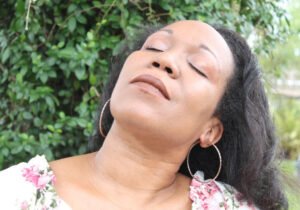 Janelle lives in Louisiana with her husband, their three children, and Hamilton their half lab half Rottweiler. Along with writing, she's a professional photographer and enjoys being outdoors photographing people and nature. When not writing or photographing, she enjoys traveling, drawing, listening to music, and cooking. 
Janelle's on Twitter @janelletriley1 and Instagram @tejay_riley5
***
OTHER POSTS ON WRITER'S BLOCK FROM WFZ
https://writersfunzone.com/blog/2020/05/28/got-covid-writers-block-get-your-creativity-back-with-the-wisdom-of-the-five-elements-by-marie-bowser/
https://writersfunzone.com/blog/2015/10/23/is-it-really-writers-block-or-something-else-by-carol-malone/
https://writersfunzone.com/blog/2019/11/19/writers-block-when-the-words-fail-to-flow-by-willow-woodford/
https://writersfunzone.com/blog/2021/01/29/working-through-writers-block-by-kay-keppler/ 
https://writersfunzone.com/blog/2018/03/14/2-steps-to-your-writers-stance-by-beth-barany/ 
https://writersfunzone.com/blog/2019/07/26/creativity-is-a-revolutionary-act-by-beth-barany/ 
https://writersfunzone.com/blog/2019/01/22/2019-goal-planning-tools-for-writers-by-vanessa-kier/