Review of Infostack's Write Publish Profit 4.0
Hey friends,
One of the things I love to do as a writing coach and teacher is direct you to resources that will spark your creativity and empower you to be the best writer they can be. 
It might be a book that illuminates a skill you want to improve, software that helps you work more efficiently, or information to edit, publish or market your book with success. 
This is exactly why I'm participating in Write, Publish, Profit for the 3rd time. This Infostack addresses all the concerns I've mentioned and more for just $49 bucks.
Let me reassure you this is the real deal.
Infostack is a discount deal site that offers various themed bundles of digital resources worth thousands of dollars for a low price (usually $49 bucks) for a short period of time.
Here's what I've heard from people who aren't familiar with the great deals available:
Sounds like a scam…

It can't be legit. How can they offer so much value AND make money? Impossible…

It sounds WAY too good to be true and we all know what

that

means…

It's probably just a bunch of bargain basement dud products no one would buy anyway… 

It's a scam.
Okay, I said "scam" twice but these days it's hard to believe you're getting a deal worth thousands for just $49. I understand why it's hard to believe there isn't a catch.
One principal at the center of my work is integrity. My clients rely on me and my advice to improve and further their abilities as writers. If I direct them to a product that doesn't give them the most bang for their buck I lose integrity, clients, and friends. That's a sacrifice I'm not willing to risk. 
Each book and course and program offered in Write, Publish, Profit is top quality, written by authors who have walked the walk and talked the talk.
In fact, many of them have won awards for their work. 
The software included are complete 1-year subscriptions — not partial products that limit your use or access. 
And the e-courses included are fully proven masterclasses and training programs that will empower you to be a better author. 
The best part? It has a 60-day money back satisfaction guarantee!
Make no mistake, Write, Publish, Profit contains a lot of resources. In fact, there are so many resources you might feel overwhelmed at first glance. 
Don't let that stop you. The resources you get, worth over $8,000 will change your writing game. The best thing to do is accept the call to adventure and start your journey, yep, today. 
"This infostack was not only the purchase that pushed me from being a hobby writer to pursuing publication, it was what connected me to Beth Barany who has become not only an invaluable coach but a friend as well. It's easily one of the best author related purchases I've ever made."
— Ann Woodford Shannon, author, and student and facilitator at the Barany School of Fiction
Need to know more? 
Here are five reasons why Write, Publish, Profit will up your author game and take your writing to the next level.
#1. They actually feature truly legit contributors
When you first receive your Super Stack, as they call it, and have a chance to review all of the contributors and all their products.
You'll be amazed at the true value of your purchase.
Here are just some of the heavyweights Infostack collaborates with to create their writing bundles: 
USA Today bestsellers

TEDx talkers

NYT & WSJ bestsellers

Bram Stoker Award finalists

Emmy nominated screenwriters 

And even the multiple Emmy-Award winning writer and producer of HBO's BAND OF BROTHERS. 
Wow!
As if that wasn't enough, Steven Pressfield (author of The War of Art) and Kate diCamillo (author of Tales of Despereaux) have given glowing testimonials for two of the products in their bundles.
AND, did you notice every indie author's favorite, Ryan Zee is included? If you don't immediately recognize his name: he's the guy who founded Booksweeps, MailerLite and Plottr, three of most indie's favorite tools of the trade.
Look who else they've worked with (the names in bold will be contributing to the upcoming writer's stack!)
Lise Cartwright – USA Today, WSJ bestseller lists
Melissa Storm – NYT bestseller
Tom Leveen – Bram Stoker Award finalist, SPAWN comics contributor
Alexa Bigwarfe – USA Today bestseller
Rebecca Hamilton – NYT, USA Today, WSJ bestseller
Alan Watt – Product praised by Steven Pressfield (author of The War of Art) 
Susan May Warren – USA Today bestseller
Heather Cardona – USA Today 3x bestseller
Esther Jacobs – Int'l TEDx speaker
Nina Amir – Published by Writer's Digest and Penguin House
Mary Buckham – USA Today bestseller
Christine Merrill – Amazon bestselling romance author
Michelle Richmond – NYT bestseller
Stacy Bauer – Bestselling children's book author
Erik Bork – Multiple Emmy Award-winning writer-producer of projects including HBO's BAND OF BROTHERS
Mark Boutros – International Emmy nominated screenwriter
Caye Kim – NYT and USA Today bestseller
Ray Brehm – USA Today and WSJ bestselling author
Eva Langston – Pushcart Prize nominee
Michelle Medlock Adams – Bestselling children's book author and journalist
Ryan Zee – Founder of Plottr, Booksweeps, & MailerLite
Maggie McCloskey – Product praised by Kate DiCamillo (author of Tales of Despereaux) 
#2. The products in the bundle aren't fly-by-night bargain basement products
Instead, you'll only find really good products. 
There may even be products you already use and have paid full price for! 
Don't worry, you'll still get a ton of products and scoop a whole year' subscription to your favorite book cover creator / social media book ad template platform for half the price you pay to subscribe to a year of Book Brush!
Here's a few of the first class products they've included in their writing stacks…
(the ones in bold will be in the next writer's stack June 2021; and this one I'm in...)
Storiad's Author Book Promotion worth $280
The Writer's Block Party 6 month sub worth $162
The Novel Factory 12 month sub worth $75 
Plottr 3 month sub worth $111
Bublish 12 month sub worth $120
30% off for life Stencil Pro worth $215
Book Brush 12 month sub worth $100
20% discount on professional editing services
ProWriting Aid 12 month sub worth $79
20% discount to Silver or Gold Membership toThe Page Turner Awards (winners awarded literary representation)

50% Discount on 100 Covers Pro Cover Design
Real products. Real prices. Real savings.
Mind = blown.
#3. This stack offers tons of value
If you need proof here are the deets about their previous writing stacks. None of them cost a penny more than $49! It's crazy…but it's true. 
Write Publish Profit 3.0:

53

Products.

Total Value: $5,695.14 

Write Publish Profit 2.0 Flash Sale:

57

Products.

Total Value: $6.057.82

Write Publish Profit  2.0:

48

Products.

Total Value: $5,267.84

Writer's Craft 2.0:

54

Products.

Total Value: $5,192.52

Writer's Craft Super Stack:

66

Products.

Total Value: $5,560.39

Kidlit Creators:

26

Products.

Total Value: $2,214.96

Coming June 8th:

Write Publish Profit 4.0: 49 Products. Total Value: $7,050.73 (and growing) (More on this next week!)
That's a LOT of content for writers…and given that the contributors and products are all top-class, it really is impressive how they've managed to put all this together.
#4. You'll be blown away by the premium quality eCourses, masterclasses, and training programs included from leading experts
As part of your infostack, Write, Publish, Profit, you'll get access to everything listed below and more as the stack grows. 
Build Your Author Platform 
The marketing membership that shows you how to build your author platform like a business to become desirable to publishers and sell more books! ($425 value)
A complete series of courses to build your author platform and launch your book like a marketing pro. ($125 value)
The course that shows exactly how to get email subscribers from your books on autopilot! ($100 value)
The ultimate shortcut to writing a great pitch that lands tons of interviews and gets your book sold. ($347 value)
A simple way to increase your income, influence and email list by hosting your own Virtual Summit! ($297 value)
Launch Your Next Book Like A SpaceX Rocket
An A-Z program that takes students from saying, "I want to write a book," all the way to post-publication marketing (and maybe even a best-sellers list!) in less than five hours a week. ($497 value)
The complete solution to build your author fan base, promote your book, and generate book sales. ($586 value)
Everything you need to successfully launch and market your book, regardless of topic or niche. ($497 value)
Self-edit like a pro and save a ton of money, too
Get a structured approach to editing your manuscript that teaches you how to self-edit your manuscript in organized layers, going from the big-picture editing of story arc all the way down to small-picture edits like grammar and style. ($249 value)
Perfect your story craft
Dive into everything you need to know to write a character-driven, action-packed, world-changing novel readers will love. ($393 value)
Craft satisfying plot twists with a self-directed workshop which will teach you how to make your story more suspenseful, unpredictable, and un-put-down-able. ($200 value)
Get the mindset to fulfill your writing dreams
Discover how to think like a successful person, and get your mindset on board with your dreams. ($197 value)
Transform the way you think and feel about yourself so you can write your book with confidence. ($553 value)
And this isn't even the complete lineup.
Wowza.
#5. You'll also get a 60-Day Money Back Guarantee
The folks at Infostack even offer a generous money back guarantee. Your insurance policy if you decide this amazing collection isn't worth your money and your time.  
What was it that Carl Sagan once said? 
"Extraordinary claims require extraordinary evidence." 
Infostack offers a lot for $49, and on the face of it, it really does look too good to be true. But the evidence proves it is kind of extraordinary.
So if you are a writer, or a self-published indie and anything turns up in your Inbox that has Infostack's name on it, you can count on it being super legit and the best value you'll ever get for $49…in maybe…ever!
Click on that link when it arrives like it's a Willy Wonka Golden Ticket and get ahead of the writing curve like a pro. You can thank me later. 
All my best,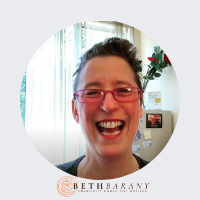 Beth Barany
Editor, Writer's Fun Zone
Creativity Coach for Writers
Award-winning novelist of Magical Tales of Romance, Mystery, and Adventure
PS. Not sure you want to dive in yet?
Then grab Infostack's new free guide here:
https://k8per9da4h2–infostack.thrivecart.com/wpp4/60b6240a673a9/.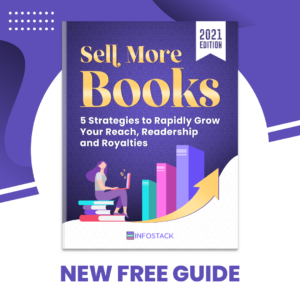 Inside, you'll discover what's working RIGHT NOW to attract more readers, sell more books and grow your self-publishing profits to new heights.
Grab your free copy today! 
https://k8per9da4h2–infostack.thrivecart.com/wpp4/60b6240a673a9/