Writing The Noir: In the Final Analysis by Nevada McPherson
Let's welcome back monthly columnist Nevada McPherson as she shares with us "Writing The Noir: In the Final Analysis." Enjoy!
***
As I prepare to submit my new novel to agents in the coming year, I'm compelled to think about the type of novel I've written. I adapted it from an earlier screenplay and have added characters and storylines whose paths crisscross and clash. 
While it was moderately successful in some major competitions, I think I can now see why it only went so far. The story was good, but it needed some meat on those bones. I've added meat, spent months trimming fat, and as I follow the characters to the logical conclusion for this story, I can already see possibilities for the next, as some of my minor characters grow into major ones for the sequel. 
I'm aware that there are books, and I'm sure plenty of them, that "transcend genre," but for now, I have to be able to place it into a genre to be able to properly pitch it.  
Writing The Noir: Elements
When I've read the notes that screenplay contest readers have written about the earlier script, I agree with almost all of them and am pleasantly surprised at some of their insights. 
One reader went into some detail about noir elements in the script and dialogue, and I was glad, because I'm a fan of classic film noir and neo-noir, and the stories upon which they're based. 
While I didn't consciously sit down to write that type of story when I wrote the original script, that is the story this reader saw emerge. 
When I've described the storyline of some of my other narratives, such as that of my graphic novel, Uptowners, the person to whom I was talking (and who hadn't yet read it) said it sounded like one of those types of stories. (And I hadn't even mentioned the word 'noir' in my description). 
My short film "Route of All Evil," based on my short script turned out to be quite noir, with greed, violence, and deception blended together with quirky southern characters inspired by '70's-era late-night detective shows. 
At first, I didn't know if I could truly call this very extended prose version of the story I wrote as a screenplay twenty years ago "noir." 
In those types of stories, characters typically are tripped up by their own bad decisions. Then fate takes a hand as well, often propelling the protagonist toward some inevitable tragic conclusion. 
There are certain noir character archetypes that populate these stories and noir motifs as well that take on greater meaning with each reference. Also, noir stories are often shot-through with a wry sense of humor. 
Writing the Noir Archetypes and Motifs
I followed an outline for the plot of this story, but as I got into the Faulknerian "sweat and fury" of the characters' lives, following where they led, discovering who they truly are, and what they're all about, I've found that my main character is becoming more and more of a noir protagonist, surrounded by other noir archetypes, that I hadn't earlier recognized as such. 
The motifs are there as well, along with a growing sense of paranoia, urgency and cynicism, that has only grown as I've closed in on the final pages. 
There is still hope for my protagonist, but only if he heeds the advice of those who have truly been to hell and back, who speak from experience when they warn him that the path he's on will lead to his destruction. 
Much of the humor comes from the characters' own "backstage" view of themselves, and their willingness or unwillingness to get real with others, to "tell a lie when the truth would suit better," since the truth has a way of surfacing at inconvenient times.
In The Final Analysis 
So, in the final analysis, as my "people" (as my first creative writing professor called one's characters) have matured and evolved on their journey, they're becoming part of a rich noir tapestry in a proud tradition of characters who are all the more perfect in their imperfection: the bad choices, the misjudgments, the failures and the breakdowns. 
How they weather these things depends on their willingness to face the worst parts of themselves. 
And of course, fate will intercede as well.
More next month. 
Happy writing!
***
Want to read more articles like this one Writer's Fun Zone? Subscribe here.
***
ABOUT THE AUTHOR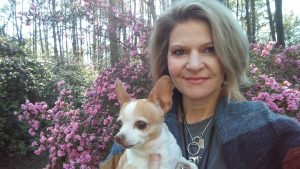 Originally from Georgia, Nevada McPherson lived in uptown New Orleans for many years and now lives with her husband Bill and rescue Chihuahua, Mitzi in Milledgeville, GA where she is a professor of Humanities at Georgia Military College. Nevada received a BA in English/ Creative Writing and an MFA in Screenwriting from Louisiana State University-Baton Rouge. She's written over a dozen feature-length screenplays, one short screenplay, a short play, short stories and two graphic novels, Uptowners and Piano Lessons. Queensgate, the sequel to Uptowners, is her third graphic novel. For more information, visit www.nevada-mcpherson.com.