You Don't Need To Go It Alone to Edit Your Novel
This is post is about how you don't need to go it alone to edit your novel.
***
Since I was a little girl I wanted to write stories, but I didn't know how. It was painful — the gap between desiring and not knowing.
I probably was in that pain for over 20 years until I finally decided to do something about it.
I was about to be 30 and had applied to graduate school in journalism, but had gotten rejected. What a blow to my confidence to be rejected! I'd always been able to succeed in school and here I was facing a big fat NO – we don't even want you.
When I finally picked my broken pieces off the floor, I asked myself what the hell happened?
I re-read my application essay and saw that I'd told the school that I wanted to be a journalist because I wanted to be a novelist.
OMG. I had told them in black and white precisely what I wanted.
I guess journalism school had been like a consolation prize I'd been reaching for without even trying to go after what I really wanted.
I was stunned. Then I saw the truth of it and knew I had to decide: do I pursue my dream of being a novelist or do I set this dream aside and dream up a new direction in my life?
Once I posed the question, it took me all of two seconds to realize that I'd regret it forever if I didn't actively pursue my dream of being a novelist.
Done. Decided. Now what?
I knew what my next step was: I needed to join a group of like-minded people all working on their dream of being novelists.
Groups were my speed, my way of learning best.
You Don't Need to Go It Alone
It was time to find that group. So I went to the hub of information: the local public library. Yep, this story takes place before the internet. I entered the Berkeley Central Library, a majestic historic building, and went straight to the community bulletin board. There it was on a 3×5 index card: an invite to a writers group at a local café on Telegraph Ave. to sit and write.
At the meeting, I got started on a story that just flowed out of me and – Boom — that was it. I was committed to the process, to the unknown that was unfolding under my pen, and to writing this book to the end.
And that's what I did. In the interim I outgrew this group that got together to write, and found a group that focused on improving one's fiction—a supportive critique group with experienced writers who knew how to give helpful and gentle feedback.
And there I stayed, dug in, and faced what was next for me—producing content and learning in the crucible of doing the writing.
Fast forward to today: My husband and I publish our own novels – over 20 between us – and I run a business helping authors learn how to write, edit, and publish their novels.
The Offer:
Go It Alone Together?
We have a 12-month group coaching program to help writers, like you, edit and publish their genre novels.
We do require that you have at least your draft already written. That's okay if it's your first novel, or maybe it's your fifth and you have yet to share it with anyone.
The Core Problem and Our Solution
Our program reduces the fear, overwhelm, loneliness, self-doubt in editing and publishing a novel and provides how to's and a road map for editing, publishing, and marketing, and mindset shifts, so you can have the confidence and support to go from messy draft to completed book you're proud to publish for eager readers.
Some questions you may have:
What is good quality writing and storytelling?
How do I measure up?
What's missing? Where am I strong?
How do I craft a page-turning novel?
How do I successfully polish and publish a novel?
How do I set up the marketing for my novel so that I can sell books?
We totally get it and we address all these concerns in our program, as we offer discerning individualized support tailored to your needs and goals.
What You Need To Know Before Being Ready To Invest with Us
This program is for you if:
You crave learning in a small online group of like-minded people and know how it can accelerate your learning/growing process. you really don't need to go it alone anymore.
You want to learn from experienced teachers who are also good writers and walk their talk and have been at it for a good while. (Ezra and I have been teachers and writers for over 20 years and between us we've taught 1000s of students at all levels of skill.)
You're willing to dive in the learning process, with all its ups and downs.
You're certain you can learn to write compelling, page-turning fiction, but you want a guide.
You're eager to step away from the "lone wolf" mentality and step into the mindset of "it takes a village to succeed".
Ready to Join us? Your Next Step
Since we have rolling enrollment, you can join anytime. Yay! If you're ready, go here to check out our program and enroll: http://coaching.bethbarany.com/.
We do have three levels of engagement so you can join at the level that's right for you.
1. Call To Adventure: Small group support, plus an all-access pass to Barany School of Fiction, including our editing, marketing, and publishing class.
2. Crossing The Threshold: Monthly mentorship calls with Beth and deep-dive edits int your book. Plus, group support and an all-access pass to the school.
3. Return With The Elixir: Twice-monthly calls with Beth and deep-dive edits; plus group support and an all-access pass to the school.
And because NaNoWriMo is now over and you may be looking around for the next step, check out our program and know that we're running a Holiday Special…
If you sign up now, you get a whole suite of bonuses, including three 1-1 mentor calls with me, where I'll read up to 20 pages ahead of our call. Then we'll look at them together and do some live editing and discuss strengths and weaknesses and next steps for your manuscript. Just this bonus alone is worth $2,400.
All the bonuses are here: https://coaching.bethbarany.com/#bonus2021
Not sure what your next step is?
Then I invite you into a call with me to chat about that. Go here to schedule that: https://coaching.bethbarany.com/contact-us/.
PS. Peek into our process here: see one of our group calls in action here: https://school.bethbarany.com/courses/calls-for-the-group-coaching-program-for-novelists/lectures/2453399. No sign up required.
♥
ABOUT BETH BARANY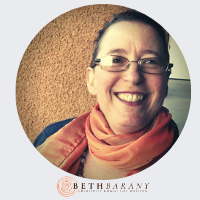 A Master NLP Practitioner and certified creativity coach for writers, Beth runs Barany School of Fiction, a full suite of courses designed to help genre fiction writers experience clarity and get writing, so they can revise and proudly publish their novels to the delight of their readers.
Based in Oakland, California, Beth Barany has presented at Ithra Center (King Abdulaziz Center for World Culture) in Dhahran, Saudi Arabia, at the Women's Fiction Festival in Matera, Italy, at Romance Writers of America National Conference, at Emerald City Conference in Seattle, Washington, at the San Francisco Writers Conference, and at San Francisco Bay Area chapters of SCBWI, CWC, and RWA.
Award-winning novelist, Beth Barany writes magical tales of romance, mystery, and adventure that empower women and girls to be the heroes of their own lives.
She is the award-winning author of Henrietta The Dragon Slayer, the acclaimed paranormal romance author of the Touchstone series, and is proud to release her newest novels, science fiction mysteries about Janey McCallister space station investigator.
The first book in the series, Into The Black, is a Page Turner Awards Finalist, and as a result, won an audiobook publishing contract.
She has also written books for writers, including Plan Your Novel Like A Pro, co-written with her husband, thriller writer Ezra Barany.
***
Want to read more articles like this one Writer's Fun Zone? Subscribe here.
***
No need to go it alone as a writer. Find your writing community!
Contact Beth if you'd like help finding your community so you can live your writer dreams. Yes, today. Dreams can become real with sustainable creativity.
***
Other Related Posts