Chef: A Movie Whose Heart is in its Food by MJ Post
Welcome back to contemporary romance writer, MJ Post, as she talks about "Chef: A Movie Whose Heart is in its Food." Enjoy!
***
This article is an analysis of a movie, so it is full of spoilers. If you don't like reading summaries of movies you haven't seen yet, go see Chef first. It was on Amazon Prime last time I checked.
Chef, a Jon Favreau-headed culinary movie from 2014, is an excellent example of using the culinary world as a backdrop for real drama. 
About Chef
Chef isn't a romantic story, like I, MJ Post would probably write, but a story about a man recovering from burnout and rediscovering himself. 
We follow the quest of Carl Casper, a celebrated culinarian, as he loses a coveted head chef position after having an on-camera temper tantrum in his restaurant when critiqued by a restaurant critic (Oliver Platt) and then being further bullied by the restaurant's owner (Dustin Hoffman).
Carl, played by Favreau, who wrote the part for himself, is left weary, depressed, and burned out. He receives support from his understanding ex-wife, Inez (Sofia Vergara), who allows him to take their son Percy (Emjay Anthony) along with him on a trip to rejuvenate his spirits. 
Joined by Martin, a faithful sous chef who quit his job in order to help his mentor, Carl accepts the gift of a step van that he can use as a food truck. 
With the help of Percy and Martin (John Leguizamo), Carl drives cross-country from Miami to Los Angeles rediscovering his love for food and cooking. 
Along the way, Carl also reconnects with his son, from whom he has been estranged, and takes the boy's help to reinvent his media image using Twitter. 
Professionally and personally, Carl gets his mojo back so that he can return to the higher echelon of restaurant management, ironically with the help of the same food critic, and even remarry his ex-wife.
My Review of
Chef 
Besides a clever screenplay and some effective acting, Chef also boasts a fantastic soundtrack made up of top-level Latinx and Caribbean music. 
I've previously talked about various types of culinary professionals who can appear as characters, and this movie shows us many of those in action. 
We have a head chef, of course; a sous chef who serves as a companion and brother-in-arms; an owner and a critic as antagonists; and in a cameo, Scarlett Johansson as a supportive hostess. 
Particularly notable are the food preparation scenes, which are shot usually as closeups of the hands doing the work. These scenes add glamor to the gorgeously shot food and meld perfectly with the music to give the intensive act of perfectionistic cooking a real sense of motion.
From these scenes I learned that a story about people who cook generally benefits from having cooking in it, both for the sake of establishing authenticity for the characters, and to make the reader's mouth water.
Redemption
The movie uses a very basic trope of redemption, of rebuilding after a fall from grace, combined with the trope of quest and the very American theme of growth and change during a road trip. 
These themes aren't specific to food writing, but they blend in very well with the culinary setting. The film Chef takes advantage of the fact that cooking and eating food together, whatever else they are, are family activities. They help a family stick together, and they bond people together as a family who aren't related by blood.
Connections to family make people stronger and enable them to overcome obstacles. Closeness and camaraderie relieve self-pity and sorrow and foster creativity. 
The heart of the film is in its food because food connects people's hearts. These are feel-good messages, and Chef is overall a pleasing film that leaves you smiling and snapping your fingers.
I give Chef five stars out of five, minus about an eighth of a star for Robert Downey Jr.'s annoying guest star appearance. It's not his fault exactly; he was told to play an unappealing character, which he is good at doing but which is a little over-the-top in this particular film. (It's fascinating that the film has Downey, Favreau, and Johansson, making it almost a reunion of earlier Iron Man films.)
***
ABOUT THE AUTHOR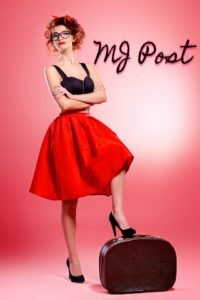 MJ Post (pseudonym) is a Brooklyn high school teacher and writer from Queens, NY. Educated in the South with an attitude straight out of Bensonhurst and Bay Ridge, MJ writes contemporary new adult romance and romantic comedy with a multi-regional flavor. MJ is happily married.
MJ's work includes five romance novellas with Mysti Parker, one solo romance novel, and under her real name, five novels and two nonfiction books as well as miscellaneous other collections.
MJ's novel Chef Showdown: A Romance, two young chefs fall in love while competing on a reality TV cooking show under the watchful eye of the toughest judge imaginable. It will make you hungry for some love and some great food.
Amazon author page:  https://www.amazon.com/MJ-Post/e/B074HX7TJK/
Facebook Readers' group and street team: https://www.facebook.com/groups/432743907149227/
Facebook Author page:  https://www.facebook.com/MJ-Post-Author-302156203319243/
Newsletter signup:  http://eepurl.com/dyVqqz
Instagram: http://www.instagram.com/MJPostAuthor
Twitter: http://www.twitter.com/MJPostAuthor