How to Spot a Professional Book Shepherd by Mary Neighbour
Please welcome back guest author Mary Neighbour as she shares with us "How to Spot a Professional Book Shepherd." Enjoy!
***
Telltale Signs Your Book Shepherd Is a Professional

Having familiarized yourself with the earlier blogs in this series, you can anticipate some of the telltale signs that have to do with the consultant's prior experience in your genre.
Book Shepherd
Even so, read the entire list below to learn more signs that will indicate whether a book shepherd has the necessary breadth of knowledge and expertise to guide you through the publishing channels.
She maintains a website and posts a list of books she has shepherded, which you can evaluate for quality in editing, design, and manufacture. She freely offers to provide references from other authors in your genre.
She knows the standards for quality publishing, and living up to them is an important aspect of her work ethic.
She will make recommendations for how to achieve the highest quality results for your book. If she believes your book has a low expectation of marketability, she will say so.
If she is not "hands-on" in one or more areas, she knows professionals who are, and she will make referrals.
Example: Not all book shepherds will be able to execute the design and layout of your book, but they will have worked with and can recommend book artists.
She understands the audience for your book and can help you generate a minimum of three to five detailed reader "personas" (also known as "avatars").
She uses reader personas to evaluate the appropriateness of everything, from the author's goals to storyline to writing style to editing and design to product specs to distribution and marketing plans.
She commits in writing to work within a budget and timeline that are mutually negotiated. She flags issues that might require an adjustment to the estimates.
She clearly communicates and identifies concrete ways that she can help you reach your goals.
Tip: Be wary of anyone who claims to be able to ensure market success. Whether it's a predetermined number of reviews, a number-one ranking, a certain amount of sales, or any other type of achievement—book shepherds do not control markets (even though they understand them).
She demonstrates willingness and flexibility in working with emerging ideas and evolving methods.
She stays abreast of changes in the industry, which are frequent.
She explains the pros and cons of the choices you need to make. She is able to refer you to relevant articles that will help you make decisions.
She has developed tools and resources to make the entire journey comprehensible and orderly.
In sum, a skilled book shepherd will bridge your path over many a troubled water. It's a long journey, so take the time to hire wisely.
Next week in this series: "Questions to Ask Your Book Shepherd Before Hiring."
***
ABOUT THE AUTHOR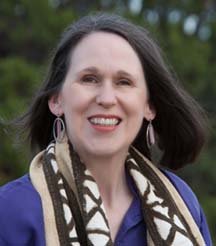 Some call Mary E. Neighbour a "book shepherd," though Mary wields a blue pencil far more expertly than a herding rod. For the past ten years, she and her husband have helped dozens of writers bring their manuscripts to the marketplace, through MediaNeighbours, their publishing services business.
Passionate about helping authors make their work shine in the world, with a combined professional expertise of over 50 years in editing and design, this family team is one you'll want to adopt as your guide through the challenging world of independent publishing.
Mary's other passion is learning about the history of slavery and how it impacts race relations today. She incorporated much of her research into her novel, Speak Right On: Conjuring the Slave Narrative of Dred Scott