How to Escape Newsletter Hell by Catharine Bramkamp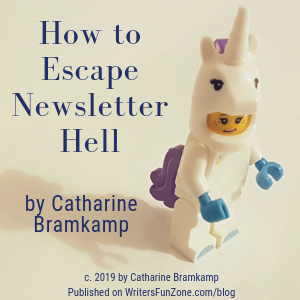 Let's welcome back monthly columnist Catharine Bramkamp as she shares with us: "How to Escape Newsletter Hell." Enjoy!
***
Newsletter Hell
Was this you?
At seven, did you say, "When I grow up I want to write and produce a popular newsletter with over 10,000 contacts that I work to scrub weekly. I'm looking forward to writing into the wonky and awkward interfaces of Constant Contact or Mail Chimp. I want to argue over syntax and grammar with my readers who only respond to the mailing if there is an error. My big goal is a 35 percent open rate!"
My seven year old wants to be a unicorn.
If you are like the rest of us, you are currently eyeing the Mail Chimp landing page and can't get past the flapping bird image because what the heck do you have to say and why do we NEED such a thing?
What if you drive the information superhighway in the slow lane?
Cue the flapping Mail Chimp graphic that increasingly looks like a raven.
The comic Kathleen Madigan has a routine titled "Bothering Jesus." Worth hearing.
I feel, strongly that newsletters bother readers — here I am again, open me, take up precious time with, yes ME.
That belief, right or wrong, has been internalized by a whole generation who also can't get behind taking selfies in front of the Taj Mahal instead of taking a picture OF the Taj Mahal.
This is one of our biggest, heaviest newsletter block:
Who wants to hear this? Who wants to know?
Newsletters expand in importance until they are terminally delayed.
One of the worst assignments in the business/arts/nonprofit arena is the newsletter.
Many organizations don't send newsletters simply to keep the peace.
With the input, corrections, search for quotes and information, and creation of that information, newsletters suck up hours of time and energy. Hours that are either unpaid or resented because that project pulls the organizer away from their core work.
Even those who are involved with assigning the newsletter, do not appreciate the work. A coordinator or editor cannot win on this one.
This person wants to correct, that person found errors, this person wants to add an article right before launch date. This person needs a delay. That person is tired by a twice-a-month effort and the boss wants the newsletter out every week. The interview doesn't call back, the effort does not, again, match with the response.
To make you feel better, here are newsletter instructions from a former client: This announcement is important so it should be placed at the top of the newsletter. Oh, and THIS announcement is also important, so it should be at the top. And this third important announcement should be near the top. At some point physics intervened and the third most important announcement ended up third in place. The client was very unhappy. All the announcements should have been at the top.
Another challenge with newsletters is their magical properties.
Like my seven year old self — the newsletter is as magical as a unicorn. Many clients and committees insist that with this ONE Newsletter, sales and signups will increase to mythical proportions. Especially if we can get these three most important announcements at the top.
How to You Can Escape Newsletter Hell
So what to do with this particular freighted missive? Yes, Tips!
Just as all the hype suggests, newsletters really are one of the best ways to communicate directly with fans. So of course you want to give them what they signed up for. It's just a question of how often and how much.
For those weekly newsletters (not every other day), reference other works, and other ideas, a weekly newsletter doesn't need to be all about you or a long form of anything. Make a list of links of things and ideas you like, add a couple comments with a call to action on the bottom, and you are finished.
That is for you, the solo effort, controlling what you say and how you say it and sending out the same on a regular weekly schedule.
For those embroiled in the committee newsletter, insist on a single editor. One person should be free to create a newsletter that has personality and a clear voice. The caveat to this is the editor must be able to field criticism. Newsletter readers do not often respond to the call to action (an average rate of 3%) but they will find errors and reasons to criticize. You will get mail.
Why do newsletters make Creatives cringe? 
Newsletters are endless. For the most part, creatives like to finish: publish the poem, submit the novel, hang the painting, produce and post the video.
Newsletters are not like any art form we are accustomed to or even purposefully pursue.
The seven year old will finish second grade, but a newsletter will celebrate 10, 20, 30 years of success. Enough to make you weep.
What is the newsletter solution now that I bothered both you and Jesus? (So you don't have newsletter hell.)
Newsletters can be sent weekly, monthly or quarterly depending on you and your tribes' desire for information.
All the information in your newsletter does not need to be original.
If you are the editor for a company newsletter, consider devoting about 4 to 6 months on the project then hand it off to a colleague, preferably before you go mad and make unfortunate comments in a board of director's meeting.
And when in doubt, send out a newsletter that is short and on schedule instead of lengthy and perpetually under editorial review.
Or maybe you love the whole process — which make you, like my granddaughter, a unicorn.
Sign up for more posts like this — even a newsletter! — at http://www.catharine-bramkamp.com.
Join us in Carmel, California this Fall 2019 for Writers Boot Camp: https://www.writingforlifeworkshops.com
Want to journal better, or even start? https://story-university.teachable.com
***
Editor's Note: Authors, Creatives, how do you feel about receiving newsletters? Writing newsletters? Is newsletter hell real for you? Or are you having a different experience? Post in the comments below. Catharine and I would love to hear.
***
ABOUT THE AUTHOR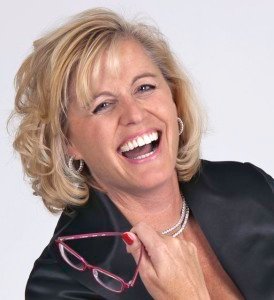 Catharine Bramkamp is the co-producer of Newbie Writers Podcast that focuses on newer writers and their concerns. She is a successful writing coach, Chief Storytelling Officer, and author of a dozen books including the Real Estate Diva Mysteries series, and The Future Girls series. She holds two degrees in English and is an adjunct university professor. After fracturing her wrist, she has figured out there is very little she is able to do with one hand tied behind her back.
Unicorn lego image credit: Photo by Inês Pimentel on Unsplash
***
Subscribe to Writer's Fun Zone and get posts like this in your inbox.