Video: Beth Barany on the Planning Your Novel
Are you planning your novel but are a little lost?
Do you wish you had a roadmap to follow but want to meander off the path sometimes?
Then take a listen to this video I did and take 1 step toward planning your novel today.
***
We're getting excited over here about our course, the Plan Your Novel: 30-Day challenge.
NOTE: The next course will be in October 2019 — just in time for NaNoWriMo. Clicking on the link will bring you to the waitlist page, so you can be notified when enrollment opens Summer 2019.
Here's a short video interview I did with one of my coaches, and my friend, Leslie Nipps:
More about PLAN YOUR NOVEL course — this is the home study version. The live version comes with live coaching support and direct contact with the instructors:
http://30daywritingchallengefornovelists.bethbarany.com/
VIDEO NOTES
Authors mentioned in this video:
Shout out to my interviewer: Leslie Nipps is an active reader and movie goer and runs a personal transformation business here: http://www.conviviumconstellations.com/
CONNECT WITH ME ON SOCIAL MEDIA
Twitter:
http://www.twitter.com/beth_barany
Facebook:
https://www.facebook.com/bethbarany
Resources
8 Tips on preparing your novel: http://wp.me/p13IRf-42B
Your 4 stages of writing a novel: https://writersfunzone.com/blog/4-stages-writing-novel/
Free course: Writer Discovery course: https://writersfunzone.com/blog/your-writer-discovery-mini-course/
What is your challenge for preparing  and planning your novel?
What is the one step you can take in planning your novel today?
Post in the comments below. I'd love to hear!
***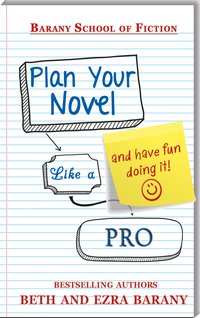 NEW! PLAN YOUR NOVEL LIKE A PRO
You can also check out our newest book, Plan Your Novel Like A Pro, here!
This book will help you get excited to plan your novel. The tools shared here are designed to spark your muse and give you confidence when you sit down to write your story. Plan Your Novel Like A Pro: And Have Fun Doing It! is for organic writers and pansters who want a roadmap to follow, so that they can let their creativity loose.
"Beth's book is like plotting for pantsers!"—Tess Rider, Science Fantasy Romance Author
***
ABOUT BETH & EZRA BARANY
Beth Barany, an award-winning novelist and certified Creativity Coach for Writers, runs Barany Consulting, a coaching and consulting firm dedicated to helping novelists write, publish, and market their books. She's the author of the award-winning young adult fantasy series, Henrietta The Dragon Slayer, and the paranormal sweet romance collection, Touchstone Series. She's currently working on a science fiction mystery series.
Ezra Barany, an award-winning novelist and the bestselling author of The Torah Codes series, is also a teacher and mentor.
Together they help authors get their books out into the world.