April 21st Event: "Plan Your Novel Like a Pro" with Beth Barany
I'll be presenting 7 key tips from our Plan Your Novel Like A Pro book on Sunday, April 21, for the Berkeley branch of the California Writers Club, meeting in Oakland. Read on for all the details.
***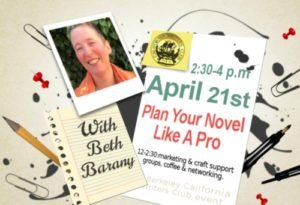 Learn the 7 Keys to Story Planning on April 21st in person—or catch the lecture online later!
In this interactive lecture, we'll help you brainstorm the steps to create your novel—from character development to plot structure to story themes and world building—so you can start writing your novel with clarity and confidence.
We'll do bite-sized exercises step-by-step to help you stretch your imagination and get excited about the writing process.
If you have never written a novel, still feel lost on how to go from brilliant idea to The End, or always hit that sagging middle and lose focus, this event will help you dream up exciting ways to torture—er, challenge—your characters all the way to the resolution of the story.
This mini-workshop, "7 Keys to Story Planning," is a mini-course Beth offers at her online school, The Barany School of Fiction, which she runs with her husband Ezra, who is also a novelist.
Which means: if you can't make it to our meeting, you can still see the lecture!
Beth will be providing a coupon to all who attend so that they can access the lecture for free at any time. If you can't make the meeting and would still like to see the lecture, sign up for the course here. Half of the $17 fee will be donated to the Berkeley Branch of the California Writers Club.
Register for the online version of Easter Sunday's workshop.
Thank you, Beth!
About Beth Barany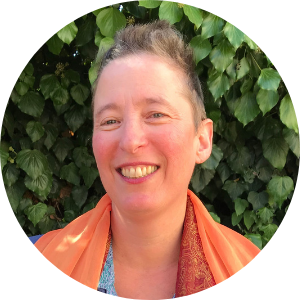 Beth Barany, An award-winning novelist, Master NLP Practitioner, and certified creativity coach for writers, Beth Barany specializes in helping genre fiction writers experience clarity so they can write, revise, and proudly publish their novels to the delight of their readers. Her courses are packed with useful hands-on information that you can implement right away. She runs Barany School of Fiction, an online school for fiction writers, which includes a 12-month group coaching program to help you get published.
Beth is also the editor of the Writer's Fun Zone blog, for and by creative writers, where you can download her free reports on book marketing and novel writing. She's also the author of books for writers, including The Writer's Adventure Guide, Overcome Writer's Block, Twitter for Authors, and Plan Your Novel Like A Pro: And Have Fun Doing It! Ready to embark on the next step in your writer's adventure? Sign up for her free 5-day Writer's Discovery Mini-course here: http://bethb.net/discover.
More about Plan Your Novel Like a Pro here: https://writersfunzone.com/blog/plan-your-novel-like-a-pro-and-have-fun-doing-it/.
But Wait, There's More!
EVENT INFORMATION
Get Marketing Support, Get Your Craft Questions Answered, and Network with Other Writers…
Event: California Writers Club, Berkeley Branch monthly meeting
Location: Preservation Park, 1204 Preservation Park Way, Oakland, CA 94612
Cost: $5 for members, $10 for non-members* Pay at the door. No need to pre-register.
Coffee is provided, bring cookies and treats to share!
Admission includes 1 free raffle ticket; bring a few bucks to purchase additional tickets at $1 each or 6 for $5. Support the club and win a book written by our club authors!
*Empty pockets? Ask about our sponsored guest program at the door. We are committed to supporting writers.
Be sure to arrive early on the day of our meeting, to participate in the Craft and Marketing support groups. These are interactive conversations where you can talk to other writers to resolve the issues in your writing and your writers career.
Make the commitment to be join us every third Sunday; your writing career is important and you deserve this.
Non-members and guests can audit any of our critique & support groups before joining.
Enjoy the buzz of our networking time from 2-2:30 p.m. Have some coffee and make some great connections!
Say you're coming on Facebook!
MEETING SCHEDULE
12:00–1:00 – Craft Support Group
1:00–2:00 – Marketing Success Group
2:00–2:30 – Writer Networking
2:30–3:00 – Welcome, Raffle & Club Announcements
3:00–3:15 – CWC Featured member
3:15–4:00 – Keynote, Beth Barany
LOCATION
Preservation Park
1204 Preservation Park Way, Oakland, CA 94612
Map (Good for printing) | Google Maps
Our meetings are right off 980 in downtown Oakland, at beautiful Preservation Park. Just off 12th Street, naturally you can get there from the 12th St. BART station. Those with limited ability can use the parking lot off of MLK Way; otherwise there should be plenty of FREE parking within the park and on surrounding streets.
More about the CWC, Berkeley Branch. The California Writers Club is a nonprofit 501(c)3 organization open to writers in every genre and at every level of experience, from novice to notable. Their purpose is to promote fellowship and to provide practical information that supports all members in achieving their literary and professional goals.