Brainstorming Techniques During NaNoWriMo So You Can Get Back to Your Novel by Beth Barany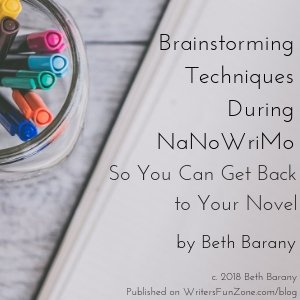 You've started your novel with NaNoWriMo. Hurrah and congrats!
But maybe on some days you lose your focus and don't know what to write next. If you haven't planned your novel ahead of time, then you may need some help coming up with ideas of what to put in your next scene or what kind of characters to bring into your story.
You probably want to come up with a new idea quickly and then get back writing. So here are 15 prompts to help you do that.
Whenever you're stuck, pick a number between 1 and 15 and use the corresponding prompt to brainstorm, then get back to your writing.
Do tweak the prompt however you'd like. And if you don't like the prompt you've chosen, chose another one.
1. Set the timer for 5 minutes and write as many ideas as you can of what could happen next. Then choose the one that scare you and write that into your story.
2. Choose two very different items in your environment and ask, "How could these be connected?" Use that connection in your next scene.
3. Ask, "What could be worse than this?"
4. Ask, "What's the most exciting thing that could happen next?"
5. Ask, "What would be the opposite of the obvious next action?"
6. What character would be the least likely to show up now? Have them show up.
7. What next action would make you laugh? Use that.
8. Pick a location you've never been to and use something from what you know in the next scene.
9. Think of someone you don't like or get along with and ask what they would do in this situation. Have your main character do that.
10. Observe people in a public setting and give one (or more) of these details to your main or secondary character.
11. Introduce a random event into your story that then needs to be logical explained.
12. Pick two items from your kitchen and use them as props in your scene.
13. Put someone in your story that you've always wanted to meet and have them say the unexpected thing.
14. Write the next thing that scares you because it tells the truth in the clearest way you can through the words of your character.
15. What if the impossible happened? What would life be like for your character? Write that next.
That's it!
Happy writing!
***
Originally published on The Writer's Life blog by Susan Palmquist here: https://thiswriterslife.com/2018/11/06/brainstorming-techniques-during-nanowrimo-so-you-can-get-back-to-your-novel-by-beth-barany/.
***
(This material is adapted from the book, Plan Your Novel Like A Pro: And Have Fun Doing It! by Beth and Ezra Barany.)
ABOUT BETH BARANY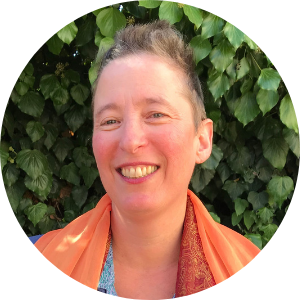 Beth Barany is an award-winning novelist, master neuro-linguistic programming practitioner, and certified creativity coach for writers. She specializes in helping writers experience clarity, so they can write, revise, and proudly publish their novels to the delight of their readers. Her courses are packed with useful hands-on information that you can implement right away.
She runs Barany School of Fiction, https://school.bethbarany.com/, an online school for fiction writers and a 12-month group coaching program to help them get published. More resources on publishing, book marketing, and novel writing on her blog, Writer's Fun Zone, https://writersfunzone.com/blog/.
When she's not helping writers, Beth writes magical tales of romance, mystery, and adventure that empower women and girls to be the heroes of their own lives.