NaNoWriMo Presents NaNoLitMo! Featuring Beth Barany and Plan Your Novel Like A Pro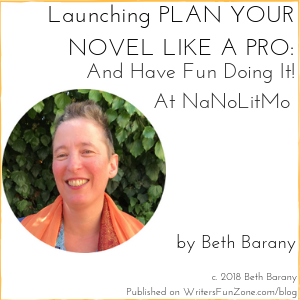 The new, exciting, literary reading series for Wrimos and the wide world of local writers who dare to write greatly (or you know, who dare to write anything at all, which totally counts.)
Our next event will feature best-selling author and creativity coach for writers, Beth Barany, who is the author the award-winning YA fantasy series, Henrietta The Dragon Slayer. She also writes sweet magical tales of romance and adventure in the Touchstone series. She's the author of several books for writers, including the new Plan Your Novel Like A Pro: And Have Fun Doing It!, co-written with her husband, award-winning and bestselling author, Ezra Barany. Founder of Barany School of Fiction, she's coached and taught hundreds of authors in the US and Europe, helping them write, revise, and proudly publish their novels to the delight of their readers.
Come listen to her read, then partake in a mini-writing challenge and enjoy what promises to be a raucous Q&A.

Please join our host Shannon Monroe, on Thursday, Dec. 6th, at 7.00 p.m., at the Octopus Literary Salon, which is located at 2101 Webster in Oakland.
Support your fellow, local authors and help us celebrate NaNoWriMo all year long! Write on!
Follow on Twitter: @nanolitmo
When: Thursday, Dec. 6th, 2018, 7pm
Where: Octopus Literary Salon, 2101 Webster, Oakland
More about NaNoLitMo on Facebook: https://www.facebook.com/nanolitmo/
RSVP on Facebook here. or just show up!