Write your novel with confidence!
Write your novel with confidence!
Once upon a time there was a writer who wanted to write a novel, but didn't know where to begin.
Everyday, she sat down to write but didn't know how to start the story.
One day, she realized there had to be a better way and reached out for help.
Because of that, she found the Plan Your Novel: 30-Day Writing Challenge live workshop.
Because of that, she planned her novel with ease.
Until finally, she wrote her novel with confidence.
And you can too!
Join us for our Plan Your Novel October 2018 Workshop
Dates: October 1-31, 2018, 5 Tuesday calls in October, 5:30-7:30pm PT (90-120 minutes) (Calls are recorded, in case you can't make it live.)
Cost: $394
Landing page: https://school.bethbarany.com/p/plan-your-novel-30-day-challenge-oct-2018/
Registration deadline: September 30, 2018
With our live October course, you'll:
Discover your creative process for planning a novel.
Step into a sense of satisfaction and creative accomplishment.
Get ready and excited for NaNoWriMo.
Believe that you can write a novel.
Write your novel with confidence!
This course is for:
Experienced writers or ambitious writers who want to plan their novel in an organic or step-by-step way.
This class is good for you if:
You have never written a novel, and have always wanted to, and still feel lost on how to go from brilliant idea to The End, then you will be stretched in new and different ways.
You're an experienced novelist, with 1 or 2 completed or partially completed novels under your bed. You may find this course structured in a way that's new to you and yet familiar.
You have 3 or more unfinished novels sitting in a drawer, and always hit that sagging middle and lose focus or lose interest. This course will help you dream up exciting ways to torture, I mean challenge, your characters all the way to the resolution of the story.
What this course includes
We will help you think and write through the steps to create your novel – from character development to plot structure to story themes and world building.
Start NaNoWriMo prepared.
We help you plan your novel in 30 days.
You can do each assignment in small, manageable bite-sized pieces.
Access to curriculum for the lifetime of the school.
Membership to Fellowship of the Pen, in a private Facebook community; membership extends for the lifetime of the community.
You'll get 30 days or 4 weeks worth of lessons:
Week 1: Elevator Pitch & Short Synopsis
Week 2: Get to Know Your Main Characters
Week 3: Story Plot & World Building
Week 4: Scene-by-Scene Outline & Plotting
Once you sign up, you'll get:
Access to the whole course, including Videos, Handouts, Checklists, Quizzes, and Surprises! You'll also get all future updates.
What Past Students Have Said
"I want to thank Beth Barany and Ezra Barany for taking the time … Their encouragement helped to get me on the stick and get ready to write my novel."
– Carol Malone w/a Jill Tunney, author of Ladies Night, a Fight-Card Romance
"Beth and Ezra are super accessible… and they have great ideas for guiding an author's success. It's been fun to virtually meet other creative writers as well. The support is fabulous…a real community."
– Tricia Riel, author of the Zephrum Gates series
"Just wanted to say thank-you to Beth and Ezra – I have really enjoyed your course. … I especially enjoyed the weekly tasks, which allowed me to take time and really delve into my characters' motivations and conflicts."
– Triana Willard, author of Autumn Magic
"This course helped me get out of my writing rut. I am not one to outline or get to know my characters before writing. By taking this course I learned that plotting and characterization can be fun. Now I find writing to be fun again. Thanks."
– Kay LaLone, YA Paranormal Mystery Author
"It's exclusively due to taking this course that I took the plunge to write my very first fiction writing piece. I wouldn't think of starting book two of the series I'm planning to write without taking your upcoming course being offered in October!"
— Mary Van Everbroeck, Women's Fiction Author
"This course helped me understand my main character so much better."
— Priyanka Holsinger, Novelist
REGISTER HERE
Ready to sign up or want to learn more? Dive in here:
https://school.bethbarany.com/p/plan-your-novel-30-day-challenge-oct-2018/
***
ABOUT THE INSTRUCTORS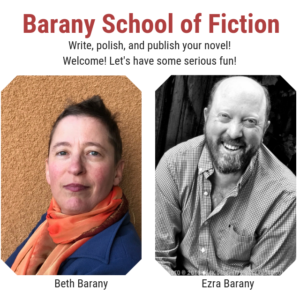 This course is offered by Beth and Ezra Barany, writing teachers and novelists.
We walk the talk.
We're award-winning, best-selling novelists, who have worked with hundreds of authors to help them get their books written and published. Happily married for over 18 years, we're passionate about writing, storytelling, and guiding authors to achieve your dreams.
*Questions? Just drop Beth a line here.
*Start your writer's adventure with the Free 5-Day Writer Discovery course here: https://writersfunzone.com/blog/your-writer-discovery-mini-course/.