Why Does It Feel So Bad to Finish Your Book? by Beth Barany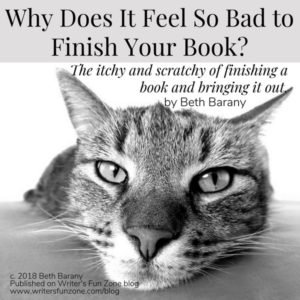 Why Does It Feel So Bad to Finish Your Book?
The itchy and scratchy of finishing a book and bringing it out…
When I am about to finish a book, whether I'm finishing the first draft, the final draft, or I'm about to publish my book, I get anxious, worried, even grouchy.
I noticed this in my clients too.
I was mentioning this to a friend and fellow NLP practitioner and he reminded me how every project completion (or stage completion) includes feelings of anger and grief.
Do you notice this in your own life?
How does it feel when you're about to finish your book?
Some people will even create a way to extend the project and never finish, because facing the end of the project calls up feelings that are difficult to handle but entirely appropriate: anger, sadness, worry, grief.
Entirely appropriate emotional states, feelings, experiences.
My friend explained it this way: When we're working on a project (like finishing a book) we have expectations and hopes about how it will turn out. But then when we finish the project, we know how it's turned out. We just experienced it. So hope is gone, and reality is in its place.
Our hopes have been dashed. And hope feels good, really good. It's probably the best feeling state we human experience.
So without hope, we feel angry, cranky, itchy and scratchy.
And that's OK. And makes total sense.
If we have put a lot of hopes and dreams into our book, and then we complete the first draft, or the final draft, or truly finish your book, or hit the publish button, those hopes and dreams are now realities. And maybe we like the outcome. Maybe we don't.
I don't know about you, but most of the time reality doesn't match my hopes and dreams — my expectations. So we feel sad or cranky. Totally normal. Totally OK.
But what if you were in the middle of a project, and you want to manage your expectations, so that you won't go through such a dip of anger and anxiety, what do you do?
I have my ways that I'll share here. Perhaps you have a few coping mechanisms too that help you manage your expectations about the outcomes of your creative projects. You can use these three steps at the start of a project, in the middle, as you're finishing, or after you've completed your project.
#1: HOPES AND DREAMS
I get clear about my hopes and dreams for the book and I write them down. I check to see how realistic they are. Where are they on the scale of fantasy versus reality?
#2: GET FEEDBACK
I celebrate my big dreams and I ask for clarity from friends and those who love me to see how far out I am. I can't always tell 🙂
#3: FEEL THE FEELS
I allow experience of my emotions, anger, the angst, the worry, that itchy and scratchy. It's all OK. We humans are wired this way, so breathe.
YOUR TURN
How do you cope with the end of the project? I'd love to hear, post in the comments below. And thanks!
***
Resource: The friend I reference in this article is also my nonfiction editor, NLP Master Practitioner, Jon Low. More about him and how he helps people here.
***
ABOUT BETH
Hi! I'm Beth Barany, an award-winning novelist, master neurolinguistic programming practitioner, experienced writing teacher, and certified creativity coach for writers.
Through my online school, programs, workshops and consultations, I specialize in helping writers experience clarity, so they can write, revise, and proudly publish their novels to the delight of their readers.
All my courses are packed with useful hands-on information that you can implement right away. You can check out my free course "Writer Discovery Mini-Course" here.
Any questions? Just ask.